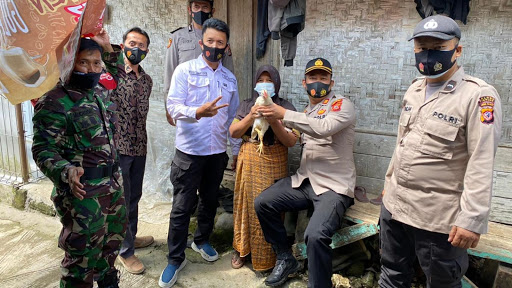 Local authorities in rural Indonesia are giving away live chickens as an incentive for older residents to be vaccinated against COVID-19! 
In the news
On the Blog
In late April, AIYA Queensland held a webinar in partnership with the Indonesian Students Association (PPIA) Queensland and Universitas Indonesia's Society of Renewable Energy. The webinar, titled, 'Integrating Sustainability: Career and Day-to-day', examined how students and young professionals can be more sustainable, both in their careers and their everyday lives. Read the takeaways from the event

here

.
Events
JOIN AIYA ON DISCORD!

AIYA would like to cordially invite you to join

our new Discord

, an online group-chatting platform. We will be using Discord a digital hub for AIYA activities including:
FLEX – our online language exchange is shifting over to Discord from UniBridge

Games nights – AIYA will be hosting casual and impromptu gatherings on Discord

Ngobrol santai – any AIYA member will be able to join and chat with other members whenever you want.
JOIN AIYA IN-PERSON LANGUAGE EXCHANGE!

LX is back in multiple locations across Australia. Connect, chill, and converse with like-minded youth, meet new friends and engage in cross-cultural exchange. In-person language exchange is on:
WA: Every Wednesday fortnight, 6 PM, Old Shanghai Northbridge. Follow @aiya_wa on Instagram or Facebook for more info. 

NSW: Every Wednesday, 6 PM, Darling Square (food court underneath library). Follow @aiya_nsw on Instagram or Facebook for more info. 

VIC: Every Wednesday, 6 PM, Kathleen Syme Library Kathleen Syme Library, Multipurpose room 2. Follow @aiya_vic on Instagram or Facebook for more info
Throughout June – Monash Indonesia

will become Indonesia's first ever foreign University

from October 2021, and welcome people interested in its study opportunities to attend one of its many info sessions that cover study options. Register

here

.
18-27 June – Festival Sinema Australia Indonesia

is back! If you are based in Indonesia you can watch a selection of Australian and Indonesian films for free online

here

. 
19-20 June – Taronga Zoo

will be hosting an Eid event to celebrate the end of Ramadan.

50% discount on single tickets for the festive weekend using promo code EIDIND21. More info

here.
21 June –

Bergabunglah dengan pakar film Australia Danny Lachevre (FanForceTV) dan Dr Sian Mitchell (Deakin University) saat mereka berbagi wawasan terbaru seputar promosi dan pemasaran film. 10am WIB/1pm AEST, register

disini.
22 June – BisnisAsia together with CIPS

is holding a webinar on 'Foreign Investment in Indonesian Agriculture'. Held at 11am WIB/2pm AEST, register

here.
23-26 June – AIFIS-MSU Indonesian Studies Conference

will be held featuring 10 parallel sessions on a wide range of topics from history, music, environmental issues, economy and many more. Registrations are now open

here.
27 June – Festival Sinema Australia Indonesia

is hosting a virtual screening of 'The Furnace.' This Australian film screening is free for Indonesian viewers, and will be hosted at 1pm WIB. More info

here. 
1 July –

Join

AIYA NSW

for a workshop at Haymarket HQ. The branding yourself on LinkedIn workshop will discuss ways to stand out from the crowd when looking for opportunities online. $5 for AIYA members, $10 for non-members, event starts at 6:30pm AEST, register

here.
1 July – Perth USAsia Centre

is holding a report launch, 'Beyond the Bilateral: Regional Value Chains and the Next Phase of Australia-Indonesia Economic Engagement'. Held at 1pm WIB/4pm AEST, register

here.
7 July – SPARK Deakin

is hosting a webinar on 'Creative Approaches to Tourism,' from experts in Melbourne and Bandung. This session aims to answer what tourism would look like in a post-COVID world. This will take place at 1pm WIB/4pm AEST, with more information

here.
Bali Beat –

Established in March 2020, The Bali Beat gathers together the biggest news and each day's COVID-19 data on the Island of the Gods Subscribe. Follow Bali's latest articles

here

. 

Suara Indonesia Dance

is hosting online Indonesian dance classes via Zoom. They're held on Friday nights between 6:30pm-7:30pm AEST. All ages and levels welcome.

Read more

and book via Paypal

here

.

Kremes Podcast

provides lovers of Australia and Indonesia

with a chance to listen to a range of Aus-Indo topics from casual chats about our shared cross-cultural experiences to more informative discussions like tips on living/studying/working in Australia. Listen

here

. 
Opportunities
Cardno

has a Gender and Social Inclusion internship opportunity open! This role is to support the integration of gender and social inclusion issues across Prospera's portfolio work. If you are interested, apply

here

by 18 June.
Asialink

is hiring Manager, Projects & Development responsible for shaping and delivering programs and projects and supporting the Director Asialink Arts in the advancement of partnership opportunities. Apply

here

before 21 June.
AIHSP

is seeking a part-time Subnational Activity Coordinator (COVID-19 Response) based in Bali, who will provide technical assistance, further details

here

. 

PATHWAYS mentoring program

has officially opened its second round! If you would like to become a mentor or mentee apply before 25 June

here

. 

Katalis

is looking for individuals to join their panel of experts across a range of sectors to maximise the implementation of the Indonesia-Australia Comprehensive Economic Partnership Agreement. Check out the opportunity before it closes on 25 June

here

.  
Prospera

is seeking a Senior Adviser (Budget Policy) to develop and improve fiscal policies and strategies. This job requires working closely with the Indonesian government to undertake economic analysis. Apply by 28 June

here. 
Applications are open for the

Alumni Grant Scheme 2021 Round 2.

If you have an idea or initiative that can create a positive impact on your profession or community, it's time to take it forward. Apply by 28 June

here.

Women in Asia Conference

is calling for presentations in the format of  paper, and video and audio podcasts of 8 minutes in length. Submissions open until 30 June

here

.
The Australia-Indonesia Centre

is seeking a Digital Communications Coordinator. If you would like to work in the Australia-Indonesia sphere and have a communication background, this is the job for you! Apply by 30 June

here.
Australia Indonesia Awards

nominations are closing soon! Nominations are closing on 30 June, so be sure to do the application beforehand

here.
International Internships

has two Indonesia related positions open! They are looking for a Participant Engagement Coordinator and a Placement Coordinator. If you are interested in facilitating better Indonesia-Australia relations, this is the position for you! Apply by 5 July

here. 
KIAT

is looking for a Lead Adviser, Urban Mobility. The position

will coordinate and lead the design, implementation, monitoring and evaluation, and sustainability of KIAT activities in the urban mobility activity stream within the transport sector. Apply by 9 July

here

. 

DFAT

is currently recruiting for the role of Director, Historical Research Section, the ideal candidate should be a specialist historian, able to contribute to other historical publications, engage with academics and the public to enhance understanding of Australian foreign policy. Applications close on

12 July

. 
ANU

is hiring a Lecturer in Indonesian Language and studies. This position will be based in Canberra, with teaching beginning in Semester 1 2022. If you are a scholar that is looking to making substantial contribution to ANU's Indonesian language program, apply by 15 July

here.
NAILA

2021 competition is now open. With the theme 'Travel' or 'Bepergian' with 7 categories open to anyone from Kindergarten all the way to professionals. Make sure to submit your application by 31 August. More info

here.

Palladium

is seeking an Education Consultant to work on their INOVASI program who will support the Ministry of Education and Culture by contributing to writing or the development of curriculum related documents, academic/research papers, reviews, guides, and other related documents. Apply

here

. 

OnlinePajak

is looking for a

Senior Product Analysis and Google Analytics

, a

Fullstack Engineer

, and a

Python Developer

. These positions are based in Australia and have flexible working arrangements.
Twitter

is

currently seeking a Communications Manager to report to the Head of Communications for Southeast Asia to craft and execute PR/communications programs and activities for Twitter in Indonesia and Malaysia, based in the company's Jakarta office. Apply

here.
Australian Volunteers

is temporarily suspending overseas placements but are continuing to support partner organisations through

remote volunteering

. If you're interested in volunteering in-country then check-out a range of opportunities

here

.
Have you got some stories to share about Southeast Asia? Pitch an idea to

The Sydney Southeast Asia Centre.

SSEAC is looking for a breadth of disciplinary focus including history, law, political science, agriculture, medicine, among others. For more info click

here.
Inside Indonesia

publishes original pieces on a wide range of political, social, environmental, and cultural issues in Indonesia. They accept articles from a diverse range of people who have an interest in Indonesia. To find out how to contribute, click

here.

 
Like what we do? Want to join or support your local chapter to contribute to our exciting activities? Sign up as an AIYA member today!