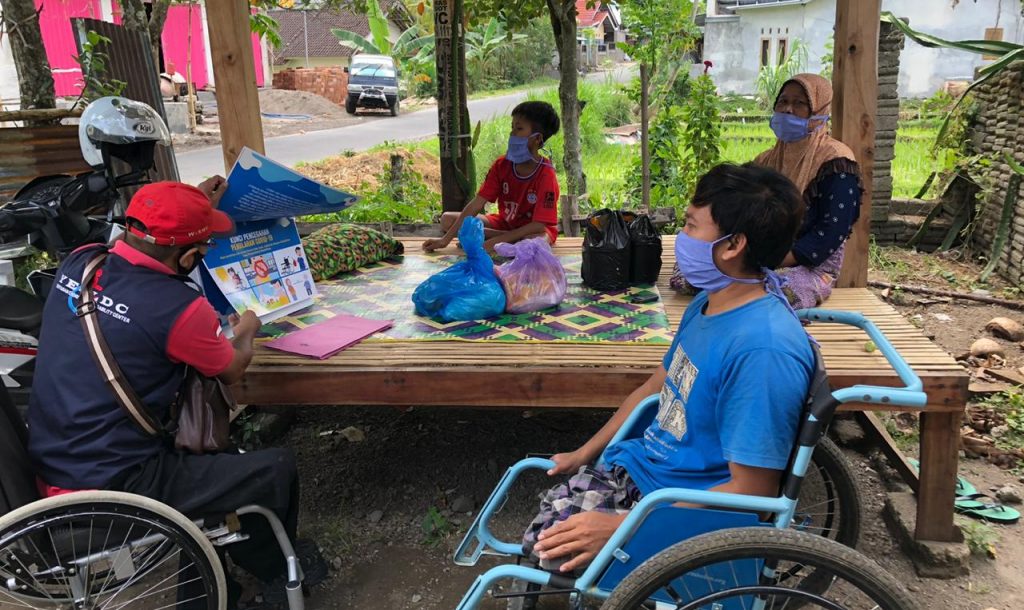 A waiter named Fardlan who lives with a hearing impairment aptly captures the struggles of Indonesians with a disability during the pandemic.
In the News
Tune in
Vocalist Karina Utomo and percussionist Rama Parwata from Rinuwat explain to Sri Dean the challenges and joys in making their unique music, how it affected them personally and why the title of Dua Naga represents the balance they sought to achieve. Listen to the interview here.
Dr Dave McRae chats with Dr Amalinda Savirani about one such example, the emergence of the Indonesian Solidarity Party (PSI) to contest the 2019 elections. Listen to this week's episode of Talking Indonesia here.
Events
AIYA Indigenous Engagement Events! Kumpul, AIYA's Indigenous Engagement Committee have worked to construct and host some events in celebration. Interested? Join the WA group here and/or the FB group here.
JOIN AIYA ON DISCORD! AIYA would like to cordially invite you to join our new Discord, an online group-chatting platform. We will be using Discord a digital hub for AIYA activities including:

FLEX – our online language exchange is on Discord and open to anyone with any level of Indonesian and English. FLEX will return on 16 January 2022. Stay tuned!

Games nights – AIYA will be hosting casual and impromptu gatherings on Discord
Ngobrol santai – any AIYA member will be able to join and chat with other members whenever you want.

JOIN AIYA IN-PERSON LANGUAGE EXCHANGE! LX is back in multiple locations across Australia. Connect, chill, and converse with like-minded youth, meet new friends and engage in cross-cultural exchange. In-person language exchange is on:

WA: Every second Wednesday, 6pm, Old Shanghai Northbridge. Follow @aiya_wa on Instagram or Facebook for more info. 

AIYA SulSel and AIYA Yogyakarta is hosting a Sharing Session about the Australia Award Scholarships on 12 Feb. Register here.
AIYA NTT is hosting an LX Valentine's Day virtual event via Zoom on 12 Feb. Register here.
AIYA Jakarta is hosting the Australia-Indonesia Case Competition (AICC). This event aims to increase Australian and Indonesian Youths critical thinking in business cases. Enter by 14 Feb here.
Monash University Indonesia is hosting an online event to explore innovative partnerships between Australia and Indonesia and how these can help achieve the SDGs. Register for 15 Feb here.
Sydney Australia Masterclass will be held from 7 – 17 Feb, bringing together some of Australia's most renowned academics. Join them as they shine a light on the global issues defining our future. More information here.
AIBC is hosting a webinaron Indonesia-Australia Skills Development Exchange Pilot Project. Join the talk on 17 Feb and register here.
Charles Darwin University is hosting the Understanding Indonesia: Movers and Shakers conference on 18 February. Register here.
Dharma Wanita Persatuan of the Indonesian Embassy is hosting a joint webinar to share knowledge and experience and equip the audience with the know-how in dealing with the pandemic as an individual, family members and community. Register by 19 February here.
AIYA NSW is hosting Malam Trivia on 19 February via Zoom covering topics on all things Australia and Indonesia. Contact Nathan Franklin and register here.
AIATSIS Summit calls for papers! This year's theme, Navigating the spaces in between, foregrounds the brilliance and value of Indigenous ways of knowing and seeing the world. Submit your abstract by 15 Mar and attend the summit on 30 May – 3 Jun. More info here.
Opportunities
Like what we do? Want to join or support your local chapter to contribute to our exciting activities? Sign up as an AIYA member today!