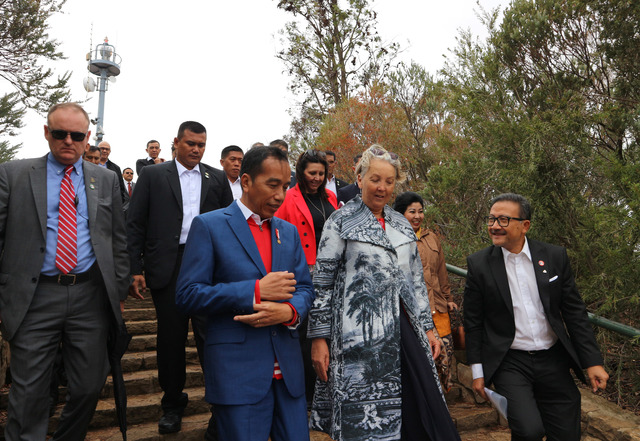 Pemerintah Buruh Australia menginginkan hubungan persahabatan dengan tetangga Asia mereka. Dengan sedikit keberuntungan dan semangat yang besar, mungkin sekarang saatnya bahasa Indonesia muncul kembali di sekolah-sekolah Australia.
In the News
Tune in
Indonesian art collective Taring Padi made headlines around the world last month. The collective's 8×10 metre banner, "People's Justice" (2002), on display as part of the prestigious art exhibition documenta 15 in Kassel, Germany, was dramatically covered and subsequently taken down. Dr Jemma Purdey speaks with Dr Wulan Dirgantoro, lecturer in Art History and Curatorship in the School of Culture and Communication at the University of Melbourne, and Dr Elly Kent, deputy director of the ANU Indonesia Institute. (Talking Indonesia)
Events
AIYA Indigenous Engagement Events! Kumpul, AIYA's Indigenous Engagement Committee have worked to construct and host some events in celebration:
JOIN AIYA ON DISCORD! AIYA would like to cordially invite you to join our new Discord, an online group-chatting platform. We will be using Discord a digital hub for AIYA activities including:

FLEX – our online language exchange is on Discord and open to anyone with any level of Indonesian and English.
Games nights – AIYA will be hosting casual and impromptu gatherings on Discord

Ngobrol santai – any AIYA member will be able to join and chat with other members whenever you want.

JOIN AIYA LANGUAGE EXCHANGE (IN-PERSON or ONLINE!) LX is back in multiple locations across Australia. Connect, chill, and converse with like-minded youth, meet new friends and engage in cross-cultural exchange. In-person language exchange is on:

VIC: Every Wednesday, 6pm, Gallery Room, Multicultural Hub, 506 Elizabeth St, Melbourne VIC 3000. Follow @aiya_victoria on Instagram or Facebook for more info.
NSW: Every Wednesday, 6pm, Online on Zoom. Follow @aiya.nsw on Instagram or Facebook for more info.
Opportunities
Like what we do? Want to join or support your local chapter to contribute to our exciting activities? Sign up as an AIYA member today!