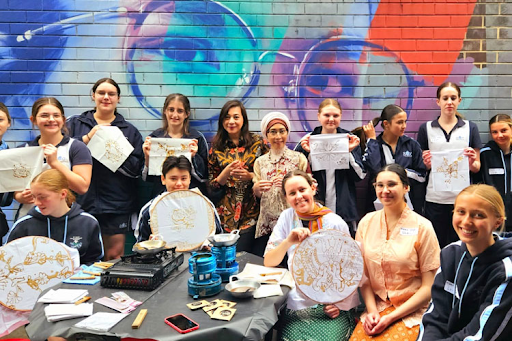 AIYA Links: 18 September 2023
St. Mary College Australia menyelami kekayaan budaya Indonesia bersama Konsulat Jenderal Republik Indonesia (KJRI) di Sydney. Sambutan meriah dan hangat dari St Mary Star of the Sea College ini dalam rangka kegiatan Indonesia Goes to School (IGtS) sekaligus juga Hari Indonesia atau Indonesia Day. (Kementerian Luar Negeri Indonesia)
In the News
Tune In
Events
AIYA National's Cultural Diversity Committee! The "Kumpul" Committee, meaning "gathering" in Indonesian, was established to connect with and celebrate the Indigenous cultures of Australia following NAIDOC week 2021. It has now broadened its scope to encapsulate the cultural diversity of both Australia and Indonesia.
JOIN AIYA ON DISCORD! AIYA would like to cordially invite you to join our Discord, an online group-chatting platform. We will be using Discord a digital hub for AIYA activities including:

Games nights – AIYA will be hosting casual and impromptu gatherings on Discord
Ngobrol santai – any AIYA member can join and chat with other members whenever you want.

JOIN AIYA FLEX – our online language exchange is open to anyone with any level of Indonesian and English! It is held monthly on the first Sunday of the month at 1pm WIB/4pm AEST. Join FLEX here.
JOIN AIYA LANGUAGE EXCHANGE (IN-PERSON or ONLINE!) LX is back in multiple locations across Australia. Connect, chill, and converse with like-minded youth, meet new friends and engage in cross-cultural exchange. In-person language exchange is on:

NSW: Every Thursday, 6:30pm, alternating between in-person and online on Zoom. Follow @aiya_nsw on Instagram or Facebook for more info or find the schedule here.
VIC: Every Wednesday, 6pm, Kathleen Syme Library and Community Centre. Follow @aiya_victoria on Instagram or Facebook for more info.
YOGYA: Biweekly on Mondays, 7pm, Lokio Cafe. Follow @aiya.yogyakarta on Instagram or Facebook for more info.
Opportunities
Like what we do? Want to join or support your local chapter to contribute to our exciting activities? Sign up as an AIYA member today!