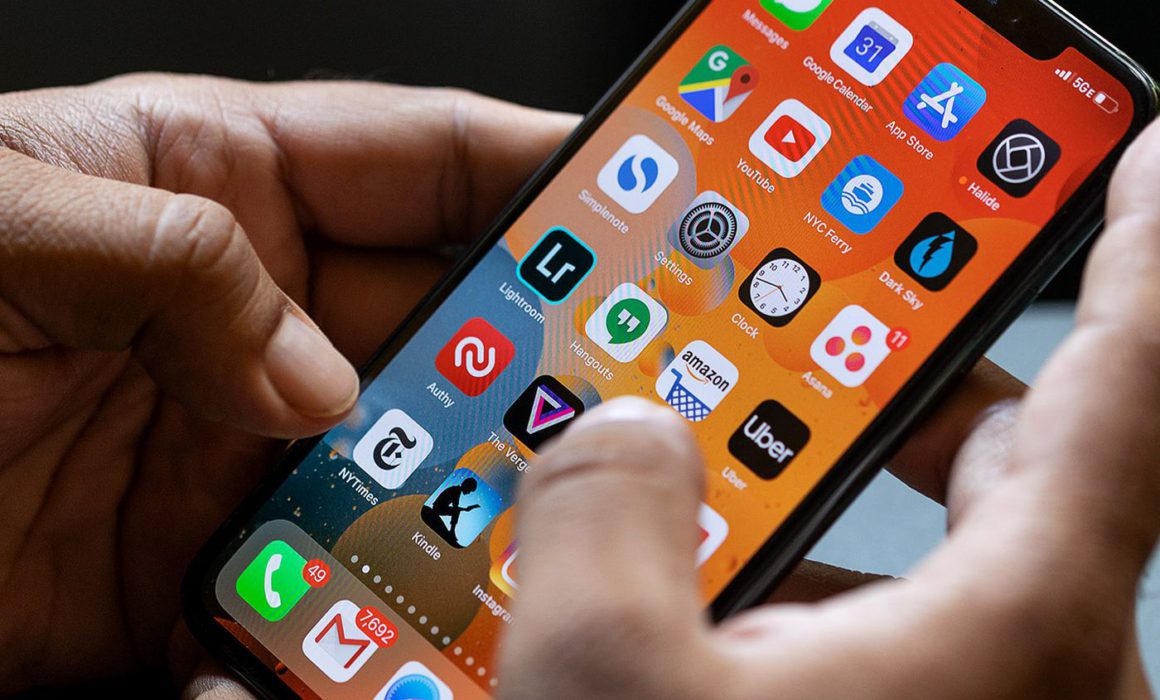 Ditulis oleh Lotte Troost – National Blog Team
Diterjemahkan oleh Gabriella Pasya – National Blog Team
Klik di sini untuk versi Bahasa Inggris
Penantian panjang akhirnya berakhir; setelah dua tahun penutupan perbatasan, Indonesia telah mencabut semua aturan karantina untuk Pelaku Perjalanan Luar Negeri (PPLN) yang telah divaksinasi penuh. Selain itu, per 21 Maret 2022, visa-on-arrival di Bali telah diperluas dan kini mencakup total 42 negara, termasuk Australia. Sebelumnya pada bulan Februari, pemerintah Australia juga telah mencabut pembatasan perbatasan internasionalnya untuk pelaku perjalanan yang telah divaksinasi penuh.
Masa depan perjalanan antara Australia dan Indonesia terlihat cerah. Bagi Anda yang sedang mempersiapkan perjalanan ke Indonesia maupun yang baru saja memasuki negara ini: pastikan untuk membaca dan menyiapkan ponsel Anda!
Dengan populasi digital Indonesia yang berkembang pesat dan merupakan salah satu pasar telekomunikasi yang paling cepat berkembang di dunia, aplikasi seluler telah menjadi bagian integral dari kehidupan sehari-hari. Transportasi, pengiriman makanan, mendapatkan diskon dan menemukan restoran terbaik; apapun itu, pasti ada aplikasinya.
Ribuan aplikasi buatan Indonesia telah memasuki pasar selama beberapa tahun terakhir. Artikel ini akan membahas beberapa aplikasi yang berguna (dan gratis!) yang akan membantu Anda menavigasi kehidupan sehari-hari Anda saat tinggal di Indonesia, sehingga Anda dapat membenamkan diri ke dalam cara hidup orang lokal Indonesia.
Kamus
Kamus Bahasa Indonesia
Tersedia di App Store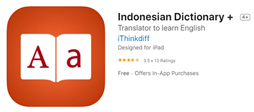 Beberapa aplikasi dalam daftar ini hanya tersedia dalam bahasa Indonesia, sehingga Kamus Bahasa Indonesia wajib dimiliki. Di tengah banyaknya aplikasi terjemahan, ini adalah aplikasi favorit saya. Apalagi kamus dwibahasa Inggris dan Indonesia bisa digunakan secara luring. Pencarian Anda menghasilkan berbagai pilihan terjemahan dan sinonim sehingga Anda dapat memilih opsi terbaik untuk situasi spesifik Anda. Terlebih lagi, aplikasi ini juga memungkinkan Anda untuk meningkatkan kosakata Anda melalui opsi kartu flash, Word of the Day, dan permainan Tebak-Kata.
Kesehatan
PeduliLindungi
Tersedia di Google Play Store dan App Store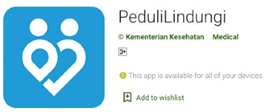 Aplikasi PeduliLindungi adalah keharusan mutlak jika Anda ingin memasuki Indonesia; Formulir E-Hac (Electronic Health Alert Card) di dalam aplikasi ini harus diisi sebelum atau saat tiba di Indonesia. PeduliLindungi adalah aplikasi pelacakan kontak dan banyak ruang publik, seperti mal, stadion, dan fasilitas olahraga yang mengharuskan Anda untuk memindai aplikasi sebelum memasuki fasilitas tersebut. Jika Anda divaksinasi di luar Indonesia, vaksinasi luar negeri Anda perlu diverifikasi terlebih dahulu melalui https://vaksinln.dto.kemkes.go.id sebelum dapat diunggah ke PeduliLindungi. Hasil tes antigen dan PCR juga akan diunggah ke PeduliLindungi.
HaloDoc
Tersedia di Google Play Store dan App Store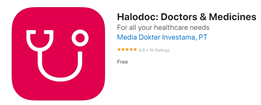 Hal yang paling menyebalkan saat pergi berlibur adalah jika sakit di tengah menikmati liburan. Jika Anda membutuhkan solusi medis yang cepat, Halodoc dapat membantu. Namun, tetap Anda disarankan untuk menemui dokter di rumah sakit, dibandingkan melalui aplikasi. Daftar dengan nomor telepon Indonesia maupun Australia untuk menemukan spesialis atau berkonsultasi dengan salah satu dokter yang tersedia. Semua dokter dalam aplikasi ini berafiliasi dengan rumah sakit dengan rekam jejak yang baik, dan selain itu Anda dapat membaca ulasan dan menyaring dokter berdasarkan pengalaman. Konsultasi dibanderol mulai dari Rp 10.000 (0,93 AUD) dengan menggunakan diskon dan dapat dibayar dengan GoPay atau dompet Halodoc. Fitur aplikasi lainnya termasuk pemesanan obat, artikel kesehatan, dan beberapa pelacak kesehatan.
Tempat Tinggal
Mamikos
Tersedia di Google Play Store dan App Store

Mamikos adalah tempat calon penyewa bertemu dengan pemilik tempat. Oleh karena itu, aplikasi ini adalah pendamping digital Anda saat berburu tempat kost. Sesuaikan preferensi Anda, seperti lokasi, fasilitas, harga, dan jangka waktu pembayaran sewa, dan dapatkan daftar kos-kosan, termasuk dengan gambar yang sesuai dengan keinginan Anda. Anda dapat menyewa kost langsung melalui Mamikos atau menghubungi pemilik kost setelah membuat akun dengan nomor telepon (Indonesia) Anda dan mengatur preferensi Anda. Aplikasi ini membutuhkan kemampuan Bahasa Indonesia tingkat menengah.
Promo dan Diskon
Fave
Tersedia di Google Play Store dan App Store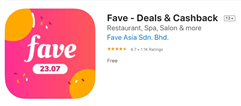 Jika Anda ingin menikmati waktu luang Anda dan menemukan tempat menarik di kota Anda tanpa menghabiskan terlalu banyak uang, maka lihatlah Fave. Aplikasi ini menawarkan voucher diskon untuk perawatan kecantikan, restoran, aktivitas, akomodasi, dan lainnya. Voucher dapat dibeli dengan kartu kredit/debit seperti Visa dan MasterCard, dengan e-money melalui OVO, atau di minimarket Indomaret. Penggunaan Fave hanya dapat dilakukan di empat kota besar di Indonesia yaitu Jakarta, Medan, Bandung dan Surabaya, dan di bagian wisata Bali seperti Denpasar, Ubud, Seminyak dan Kuta.
Transportasi
Traveloka
Tersedia di Google Play Store dan App Store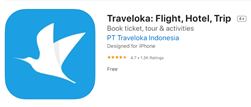 Di negara yang indah dan beragam seperti Indonesia, Anda mungkin ingin bepergian melintasi kota dan pulau. Jangan khawatir, Traveloka bisa menyediakannya untuk Anda. Aplikasi ini memungkinkan Anda untuk mencari dan memesan penerbangan domestik, bus, kereta api, atraksi, aktivitas, dan akomodasi. Serta, ada tambahan yang bagus bagi para penutur non-Indonesia : aplikasi ini sepenuhnya dalam bahasa Inggris. Aktifkan pemberitahuan untuk mendapatkan info pemesanan dan penawaran eksklusif harian di aplikasi. Anda dapat menggunakan kartu debit Anda untuk melakukan pembayaran.
GoJek and Grab
Tersedia di Google Play Store dan App Store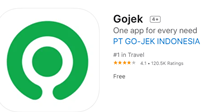 Pernahkah Anda melihat pasukan berjaket hijau menunggu di seberang jalan atau di depan warung? Mereka adalah pengemudi Grab dan GoJek yang memfasilitasi hampir setiap bagian dari kehidupan sehari-hari warga. Baik GoJek maupun Grab menawarkan layanan transportasi, baik dibonceng dengan sepeda motor maupun menggunakan mobil pribadi. Pilih lokasi keberangkatan dan pengantaran Anda, dan aplikasi akan menghubungkan Anda dengan pengemudi terdekat. Tidak perlu tawar-menawar; harga didasarkan pada jarak dan dengan demikian tetap. Pengemudi haruslah sudah terdaftar dan akan dinilai oleh penumpang lain, jadi kedua aplikasi ini adalah opsi yang aman. Tambahan yang bagus: untuk berkomunikasi dengan pengemudi, aplikasi memiliki terjemahan frasa umum yang tersedia untuk penutur non-Indonesia.
Kedua aplikasi juga menawarkan layanan pesan-antar makanan, baik melalui GoFood maupun GrabFood. Untuk hari dimana anda merasa malas, saya akan merekomendasikan GoJek daripada Grab karena jangkauan layanannya yang luas. Tergantung di mana Anda tinggal, GoJek menawarkan beberapa layanan sesuai permintaan seperti layanan film/streaming (GoPlay), pengiriman bahan makanan (GoMart), pengiriman obat (GoMed) dan pembayaran tagihan (GoBills). Jika Anda sedang bermurah hati, Anda dapat menyumbang ke badan amal yang sudah dikategorikan dengan menggunakan GoGive.
Trafi
Tersedia di Google Play Store dan App Store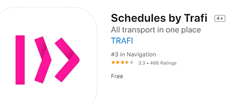 Apakah Anda akan mengunjungi Jakarta, ibu kota Indonesia yang ramai, ataupun masih berencana untuk melakukannya? Apakah Anda ingin bergerak di sekitar kota metropolis ini dengan kemungkinan terkecil untuk terjebak dalam kemacetan lalu lintas? Trafi adalah pilihan terbaik Anda! Aplikasi ini menghubungkan dan membandingkan opsi mobilitas kota (mis., TransJakarta, MRT, kereta api, angkot), sehingga Anda dapat memilih opsi yang paling efisien, tercepat, atau termurah. Aplikasi ini menunjukkan kepada Anda waktu keberangkatan dan memberi tahu jika ada penundaan atau gangguan. Peta dan rutenya detail dan mudah dipahami, bahkan untuk penutur non-Indonesia.
Berbelanja
Tokopedia dan Shopee
Tersedia di Google Play Store dan App Store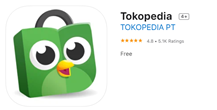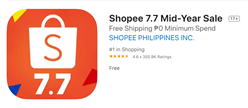 Indonesia adalah salah satu pasar e-commerce yang paling dicari di dunia, dan kedua aplikasi ini termasuk yang paling banyak digunakan. Tokopedia menawarkan rangkaian produk terluas, mulai dari fashion, elektronik, kosmetik hingga furnitur. Namun, pecinta fashion mungkin lebih memilih Shopee daripada Tokopedia karena raksasa e-commerce ini lebih mapan di bidang fashion dan kecantikan. Shopee menawarkan diskon dan promosi besar, dan membebankan biaya pengiriman lebih sedikit dibandingkan dengan Tokopedia. Sejak baru-baru ini, Shopee telah memasuki pasar pengiriman makanan Indonesia dengan nama ShopeeFood.
Navigation
Maps.me
Tersedia di Google Play Store dan App Store

Aplikasi ini adalah penyelamat Anda ketika Anda tersesat di salah satu dari banyak jalan yang ramai di Indonesia. Aplikasi ini menawarkan peta luring. Namun, pastikan untuk mengunduh peta terlebih dahulu. Peta yang diunduh akan secara otomatis didasarkan pada lokasi Anda dan menunjukkan restoran, hotel, dan atraksi lainnya di daerah Anda. Petunjuk arah mengemudi, bersepeda, dan berjalan secara instan juga tersedia. Sudahkah Anda menemukan atraksi luar biasa yang belum termasuk dalam peta? Maps.me menggunakan data dari OpenStreetMap, artinya siapa pun dapat dengan bebas memodifikasi dan berkontribusi pada peta. Asyik!
Waze
Tersedia di Google Play Store dan App Store

Sama seperti Maps.me, Waze adalah aplikasi peta berbasis komunitas yang menggunakan data dari pengguna aplikasinya untuk menyediakan rute navigasi. Manfaatnya adalah informasi terus dikumpulkan dan diperbarui, mendukung Anda untuk menemukan rute tercepat, menghindari kemacetan lalu lintas, pemeriksaan polisi, dan menemukan fasilitas terdekat. Jangan panik jika Anda baru saja kehabisan internet; aplikasi dapat digunakan secara luring. Apakah Anda berencana untuk melakukan perjalanan jauh di dalam mobil? Waze memungkinkan Anda untuk menghubungkan akun streaming musik Anda, seperti Spotify, untuk musik yang bagus selama perjalanan.
Pembayaran Digital
LinkAja, OVO and GoPay
Tersedia di Google Play Store dan App Store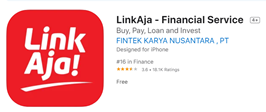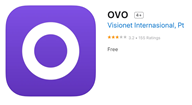 Di negara di mana kurang dari separuh konsumennya menggunakan rekening bank, dan hanya sebagian kecil penduduknya yang memiliki kartu kredit/debit, pembayaran elektronik berkembang pesat di Indonesia. LinkAja adalah platform e-wallet yang dikeluarkan oleh Telkomsel yang menawarkan diskon dan kenyamanan cashless. Opsi serupa adalah OVO (oleh Lippo Group) dan GoPay (oleh GoJek). Saldo LinkAja dapat diisi ulang melalui transfer bank (ATM, mobile banking), kartu debit atau di minimarket terdekat. Jepret QR pedagang atau tunjukkan token Anda untuk melakukan pembayaran. Aplikasi ini mengharuskan Anda untuk memberikan nomor telepon operator seluler Indonesia.
Wise (sebelumnya bernama TransferWise)
Tersedia di Google Play Store dan App Store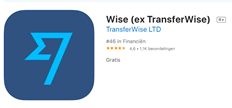 Jika Anda ingin mengirim uang ke teman, keluarga, atau bisnis Anda di Indonesia dari rekening bank Australia Anda atau sebaliknya, Wise adalah aplikasi yang direkomendasikan. Wise menawarkan layanan online yang nyaman dan aman untuk mengirim uang Anda ke luar negeri dengan biaya yang jauh lebih rendah daripada bank lokal Anda. Setelah Anda mendaftar di aplikasi dan menghubungkan kartu debit Anda, prosesnya akan memakan waktu kurang dari lima menit untuk menyelesaikan transaksi, dan mungkin butuh satu hari bagi uang Anda untuk mencapai rekening bank asing yang ditunjuk.
Hidup di Indonesia memang menyenangkan namun terkadang menyebabkan kewalahan, terutama ketika Anda baru mengenal hampir semua hal: budaya, makanan, bahasa, suara, bau, orang-orangnya, infrastrukturnya. Untungnya, dunia digital tempat kita hidup membuat segalanya lebih nyaman. Dan aplikasi yang tercakup dalam artikel ini hanyalah sebagian untuk membantu Anda memulai.
Apakah Anda melewatkan aplikasi penting yang tidak ada dalam daftar? Beri tahu kami dalam balasan!