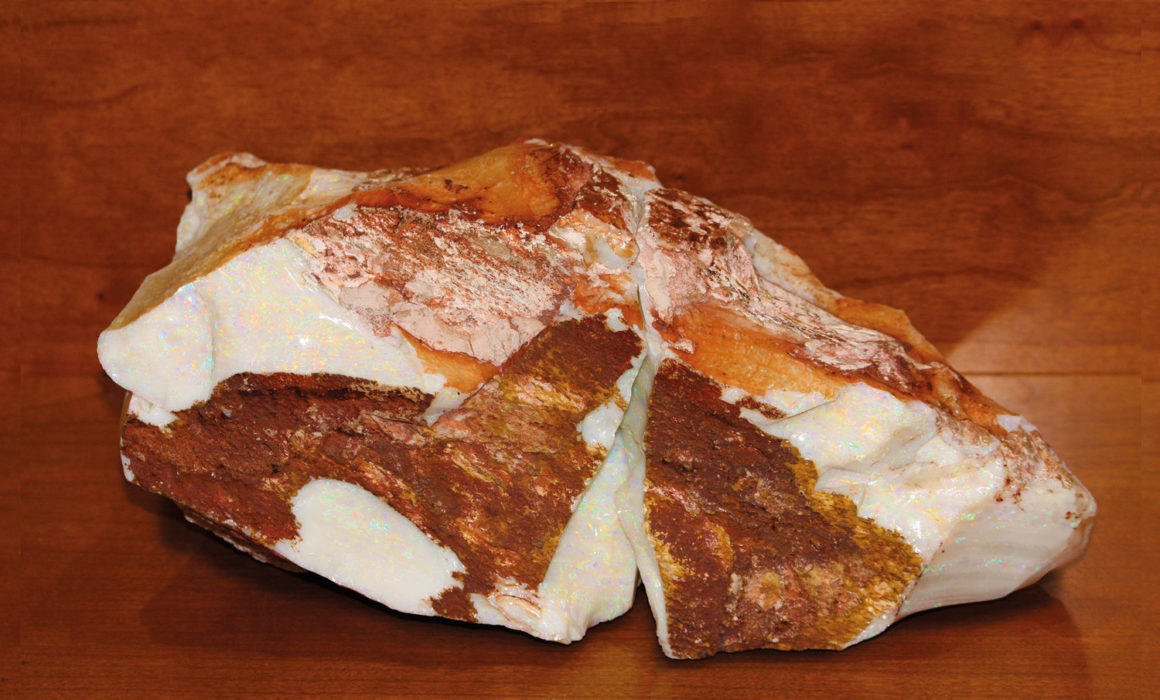 Ditulis oleh Maddie Crothers – AIYA National Blog Editor
Terjemahan oleh Gabriella Pasya – AIYA National Translation Team
Klik di sini untuk versi Bahasa Inggris.
Terletak lebih dari 800 km di utara ibukota Australia Selatan, adalah kota Coober Pedy yang terkenal sedunia. Dengan populasi yang sedikit yaitu 1700, apa yang membuat lebih dari 150.000 turis per tahun datang ke kota terpencil ini? Mengapa lebih dari setengah populasinya tinggal di bawah tanah? Dan bagaimana sumber air di gurun pedalaman ini?
Tanda Hollywood 'tiruan' di Coober Pedy. Gambar: @parky.au (Instagram), diposting di Facebook Australia Selatan.
Kota Pertambangan
Berdasarkan bahasa Aborigin, nama Coober Pedy secara kasar diterjemahkan menjadi 'lubang orang kulit putih', merujuk pada budaya pertambangan di kota tersebut. Pada tahun 1915, seorang remaja laki-laki menemukan opal pertama di Coober Pedy, setelah meninggalkan lokasi perkemahannya untuk mencari air. Kejadian ini mendorong masuknya penambang- penambang ke kota tersebut.
Coober Pedy dikelilingi oleh gundukan tanah tempat poros penambangan telah dibangun. Gambar: Australian traveller.
Pada tahun 1945, sumber utama opal yang baru ditemukan oleh wanita Aborigin Toddy Bryant. Opal itu terletak hanya 20 sentimeter di bawah permukaan bumi. Ini adalah awal dari ladang opal sepanjang 8 mil, di mana pada tahun 1956, opal terbesar di dunia ditemukan. Opal 'Olympic Australis' memiliki berat 17.000 karat yang bernilai sekitar 2,4 juta dolar Australia (Rp25 miliar).
Opal Olympic Australis. Dipajang di showroom Altmann + Cherny, Sydney, Australia. Gambar: Altmann + Cherny.
Opal adalah batu permata yang unik karena kemampuannya untuk memantulkan cahaya dan memancarkan warna yang berapi-api. Dibandingkan dengan wilayah lain di dunia, opal yang ditemukan di Australia memiliki kualitas yang lebih unggul, sehingga harganya semakin mahal. Kualitas biasanya ditentukan berdasarkan pada warna, permainan warna, pola, waarna (body tone), kecerahan, bentuk dan asal. Jenis opal Australia termasuk black opal,white opal, crystal opal, fire opal dan boulder opal. Berbagai jenis opal memiliki nilai yang berbeda. Misalnya, 'fire opal' Australia memiliki warna pucat pada latar belakang yang lebih terang, dan harganya lebih terjangkau, dibandingkan dengan 'black opal', yang merupakan jenis paling mahal karena latar belakangnya yang gelap dan kontras warna cerah hijau, merah dan ungu, sehingga jenis ini dinilai lebih berharga. Opal penting bagi orang Australia, bukan hanya karena keindahannya tetapi juga karena nilai ekonominya. Produksi opal bernilai sekitar 47 juta dolar Australia (sekitar Rp510 miliar) pada 2007-2008.
Ketenaran Berkelanjutan Kota Coober Pedy
Saat ini, upaya penambangan telah menurun, namun, Coober Pedy tetap terkenal dengan opal-nya. Pada tahun 1970-an, Coober Pedy memiliki lebih dari 1000 penambang, saat ini hanya ada sekitar 100. Meski begitu, Australia tetap memproduksi 95 persen opal dunia, di mana 85 persen opal berada di Coober Pedy, menjadikan kota ini berhak meraih gelar Ibukota Opal Dunia. Jalan utama kota ini penuh dengan toko-toko yang menjual opal dalam segala bentuk, wujud, dan ukuran yang menjadi perbelanjaan souvenir yang populer bagi wisatawan.
Selain itu, para penyuka film juga tertarik datang ke kota ini. Coober Pedy telah menjadi lokasi untuk banyak film populer seperti 'Mortal Kombat', 'Mad Max', 'The Adventures of Priscilla, Queen of the Desert', 'Pitch Black' dan banyak lagi.
Baru-baru ini, Coober Pedy dianggap menarik bagi banyak wisatawan karena proses keberlanjutannya yang progresif. Daerah tersebut telah mengoptimalkan iklim melalui penggunaan panel surya dan kincir angin yang menggerakkan kota dengan 70 persen energi terbarukan.
Bagi kebanyakan orang Australia, Coober Pedy adalah tempat persinggahan untuk berkemah yang populer saat dalam perjalanan untuk mengunjungi Uluru, Alice Springs atau Adelaide, oleh karena itu, kota ini selalu menjadi destinasi wisata yang terkenal.
Siapa yang tinggal di sana dan mengapa?
Kira-kira, 60 persen penduduknya adalah keturunan Eropa, yang pindah ke Coober Pedy setelah perang dunia kedua. Selain itu, masyarakat Antakirinja juga tinggal terutama di sekitar Coober Pedy dan Oodnadatta, dengan 17 persen penduduknya adalah penduduk Aborigin atau Torres Strait Islander.
Di Coober Pedy ada banyak rumah di atas tanah, namun sebagian besar penduduk setempat memilih untuk tinggal di bawah tanah. Dengan rumah-rumah yang diubah dan diperluas dari lubang penambangan tua. Penduduk setempat telah menemukan rumah bawah tanah sebagai cara paling keren dan paling berkelanjutan untuk hidup, karena suhu bisa mencapai hingga 53 derajat celcius. Dikatakan bahwa beberapa penduduk akan menggunakan bahan peledak di rumah mereka untuk menemukan opal dan terkadang secara tidak sengaja meledakkan juga rumah tetangga mereka. Sementara beberapa keluarga di Coober Pedy tidak sengaja menemukan batu opal saat proses renovasi. Salah satu penduduk mengatakan, 'Coober Pedy mungkin adalah satu-satunya tempat di dunia di mana Anda dapat melakukan renovasi atau perluasan dan menghasilkan uang' karena menemukan opal. Bukan hanya penduduk setempat yang hidup dengan cara yang unik ini, tetapi gereja, toko, dan hotel juga dapat ditemukan di bawah tanah.
Gereja Ortodoks Serbia Santo Elijah. Gambar: Steve Collins.
Air Di Gurun
Lingkungan Coober Pedy yang keras telah menyulitkan penduduk untuk mendapatkan air yang aman dan dengan jumlah yang memadai. Pada tahun 1922, pemerintah membangun tangki air yang menampung 2 juta liter air. Namun, ada upaya lanjutan untuk memperkenalkan sumber air yang lebih andal. Pada tahun 1967, fasilitas desalinasi surya dilaksanakan untuk memanfaatkan air asin dari bawah tanah untuk menghasilkan air tawar. Sekarang, fasilitas pengolahan modern mengelola sanitasi kota. Namun, Coober Pedy terus berjuang menghadapi tantangan pasokan air. Infrastruktur dan pipa yang menua telah menyebabkan 35 persen air yang diolah hilang di tanah. Oleh karena itu, penduduk setempat membayar tiga kali lebih banyak untuk air dibandingkan dengan negara bagian lainnya. Pemerintah negara bagian saat ini secara aktif bekerja untuk menemukan solusi yang semakin baik.
Coober Pedy adalah kota ikonik dengan sejarah yang kaya. Kombinasi batu permata langka, rumah bawah tanah, dan gurun pasir, menjadikan kota ini unik bagi Australia.