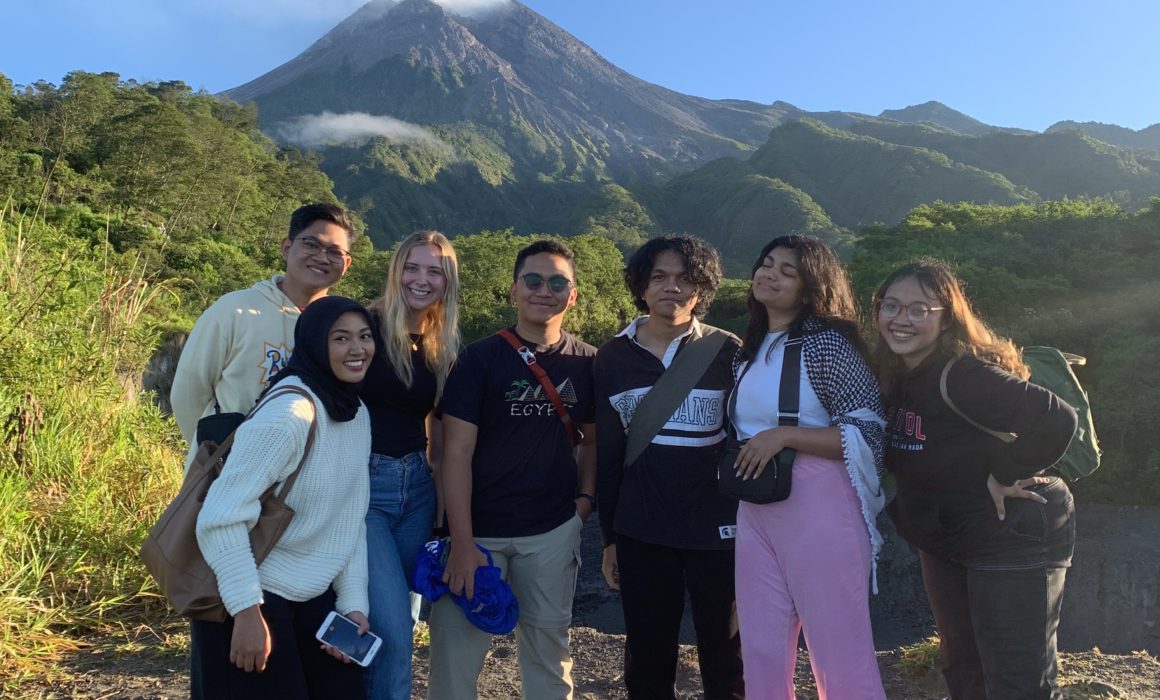 Written by Maddie Crothers – AIYA National Blog Editor
Indonesian translation co-written by Gabriella Pasya – AIYA National Translation Team and Maddie Crothers
Click here for Bahasa Indonesia version.
The first cohort of international students have arrived in Indonesia after a two year hiatus. As a student studying at Universitas Gadjah Mada (UGM) organised through the Australian Consortium for 'In-Country' Indonesian Studies (ACICS), this article will help students wishing to undertake a student exchange post COVID lockdowns and the benefits of in-country study compared to online learning.
Post COVID Logistics
Visas
Obtaining student visas to study in Indonesia after the pandemic was a lengthy process. The student visa (KITAS) took over 5 months to process, with many of the visa's arriving a week prior to departure. Some students had to change departure dates due to the lengthy processing time. Therefore post lockdowns, if wanting to study in Indonesia it must be planned far in advance.
Obtaining an internship visa in Indonesia is currently challenging, in part because of post COVID policies, however there are companies that offer support and can organise a visa on your behalf – though it comes with some limitations of location and working hours. Although currently the visa situation is more complicated, as countries recover from COVID, it is possible that these regulations may become less restricted in the future.
COVID Requirements
My arrival in Indonesia was straightforward, with no COVID test or isolation requirements. Indonesia has an app PeduliLindungi, where you must register your vaccination information before entering Indonesia. This is used to verify your double vaccination status. I have found this app is often only used in malls, some restaurants or when attending large events. When compared with Australia, in Indonesia many stores require temperature checks and masks are often worn in indoor spaces.
Currently, if testing positive to COVID it is required that you isolate for 10 days. Gojek and Grab (rideshare and delivery services) have the option to chat with drivers for delivery methods. Therefore accessing food and water is easy while in isolation. If needing medication, Halodoc is a medicine delivery service app, where it is easy to order various pharmaceutical items to your location.
A new process introduced for long-term stays in Indonesia, is registering your phones IMEI. This must be done at the airport. The registration area is easy to miss and if you don't register your mobile within 24-hours, you must pay 40% of your phone's current cost. If registered within 24 hours, the first $500 (of the 40%) is paid for. For example, if you own an iPhone 13 and do not register it, the cost can be up to $600 to continue to use your phone's sim. If your phone is not registered, after three months your Indonesian sim becomes invalid.
Although the process of undertaking a semester abroad in Indonesia has changed it is still reasonably straightforward. ACICIS has supported 37 students to undertake a semester abroad with even more international students completing a direct exchange, opportunities to learn abroad in Indonesia has recommenced.
Online Language Learning Compared to In-Country
Penny Williams, the ambassador for the Australian Embassy in Indonesia, visited Yogyakarta and spoke with the exchange students and staff of ACICIS. During her discussions she stated that there is a difference between studying a language and speaking a language, which is definitely something I have discovered through this exchange.
I have completed over three quarters of my university qualification of a Diploma of Indonesian entirely online. Having spent two months in Indonesia, my language skills have improved phenomenally, something online learning cannot emulate. I have found my reading and writing skills have improved and my speaking and listening skills are receiving its much needed attention. Over the pandemic, at university it was difficult to practice Indonesian discussion through Zoom. With 8 students in my class and the slower process that comes with Zoom discussions, I found that in an hour and a half lesson I would practice speaking less than 5 minutes per week (this is where I found AIYA online language exchange catchups to be very valuable). After my experience of language study, it would be beneficial to explore Australian qualifications of Bahasa Indonesia, where the entirety of the course can be completed in-country to achieve a higher quality of education in the language.
Formal classes of Bahasa Indonesia have been valuable, however immersive learning and direct interactions have been extremely beneficial. Not to mention immersion has also been a lot more enjoyable than Zoom. Conversations with Gojek and Grab drivers, ordering food, reading signs and menus, speaking with locals at markets, cultural performances and catching up with Indonesian students are all certainly advantages that cannot be replicated from online studies. I would consider in-country study to be a requirement for any language study, as theoretical practice has only provided me with the foundations of language study, while the practical experience is what has enhanced my ability to understand and practically use Bahasa Indonesia.
A COVID safety precaution that is still in place for some campus learning this semester is the hybrid learning mode. In general, classes are predominantly held in person, although it is important to note there are still many classes that are hybrid learning, being both in person and online through the semester.
With study abroad experiences recommencing in Indonesia, it is vital Australia does not lose a generation of competent Bahasa Indonesia speaking Australians. The accessibility of learning abroad in Indonesia post COVID-19 restrictions should be promoted by universities in both Australia and Indonesia. This way, we can ensure students know the available study abroad opportunities, including NCP grants and scholarships to continue to build study abroad momentum post COVID lockdowns.