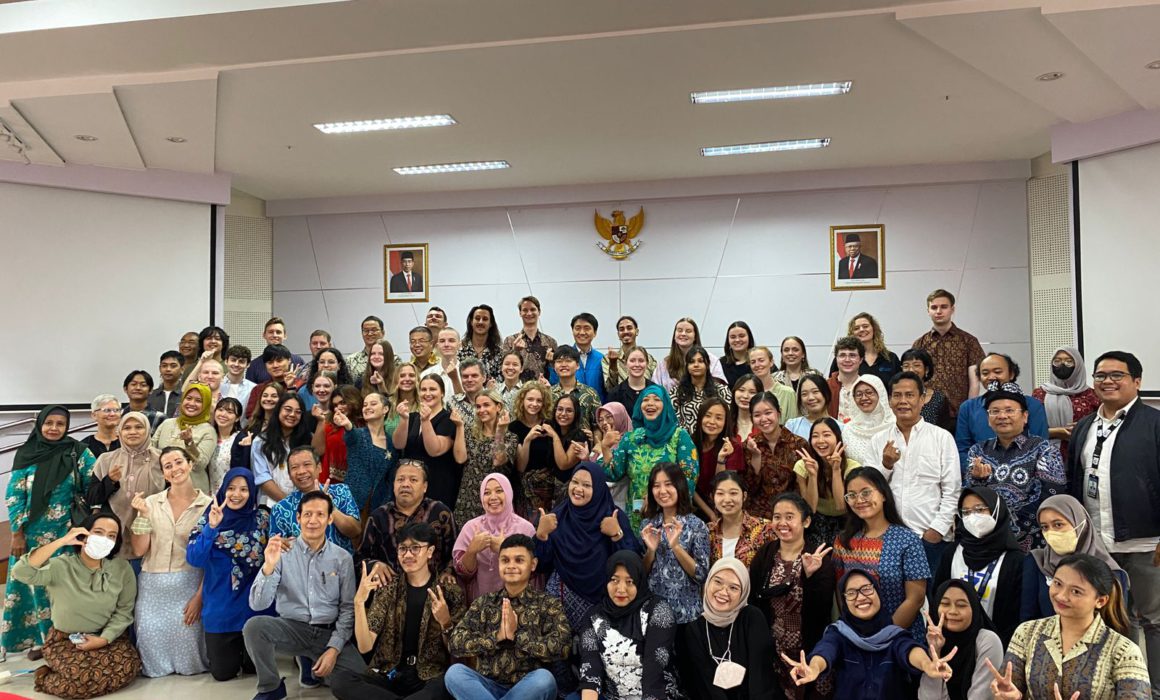 Written by Madeleine Crothers – AIYA National Blog Editor
Indonesian translation by Iffa Zuraida – AIYA National Translation Team
Click here for Bahasa Indonesia version.
Firstly, if you are considering studying abroad in Indonesia I couldn't recommend it more! If you are already going to embark on this journey, I am so excited for you to have this once in a lifetime opportunity! This article gives a rundown of my experience and recommendations to help inform international students prior to departure.
There are over 22 universities in Yogyakarta, making the region largely a student city. As a result, there are more than 3000 cafes, giving students a variety of study spots. Universitas Gadja Mada (UGM, pronounced oo-geh-em) is a popular university for exchange students as it is one of the oldest, largest and best universities in Indonesia. For example in 2018, around 2,300 international students from 91 countries studied at UGM. The Australian Consortium for 'In-Country' Indonesian Studies (ACICIS) is a great and simple way to get involved in an exchange program. ACICIS can help with visas, enrolment and accommodation for a 4-6 month semester abroad. ACICIS offers various programs, for example with the FLIP program students can study the Indonesian language and various disciplines as credit towards a degree. Although there are many other universities and ways to organise a study abroad, this is a great option.
Costs
As Yogyakarta is a student city, it is a very affordable place to live. Meals, accommodation and experiences are on average much cheaper compared to places like Jakarta and Bali. For example, most Indonesian meals cost anywhere between $1-3 (AUD), while western meals may cost around $5-8. Accommodation can cost anywhere from $100-$400 a month with most students staying at a kos, homestay or hotel. Kos accommodation is similar to student accommodation, usually consisting of various simple rooms with a private bathroom. Laundry on average costs approximately $1 a kilo (although I would recommend not to take any expensive or sentimental clothing as laundry can go missing or get wrecked in the dryers)! From my experience, having just over $8000 in savings is enough to live comfortably (while travelling around Indonesia) for the duration of the semester.
Transport
The cost of transportation is also affordable, with a Grab bike and Gojek costing approximately 85 cents to $2 depending on the distance or approximately $3-$4 for a car. This was the method of transport I used for the entirety of the semester. Grab bikes and Gojek drivers provide helmets for the trip, however, better quality helmets can be purchased for approximately $30.
Several students have hired their own motorbikes. Generally, to be covered by insurance a motorbike licence and international motorbike licence must be obtained in Australia before departure. In my opinion, traffic in Yogyakarta is less hectic than in areas like Jakarta and Bali, therefore is a good place to start riding a motorbike if you're interested.
Accommodation
The best way to organise long-term accommodation in Yogyakarta is to begin searching when in-country and visit the different accommodations. However, to have an idea before arriving, applications like Mamikos or Airbnb can be very helpful. I recommend booking accommodation in a hotel for the first week, and then begin exploring locations. If completing a study abroad program through ACICIS, they will provide you with an Indonesian student 'buddy' who supports you in finding accommodation, making the process much less stressful. Rent is only paid monthly, so you are not locked into any one accommodation for the duration of your stay. Most accommodation will include weekly room cleaning, a shared kitchen, a private toilet and an air conditioner. Note that some accommodations have curfew, gender or alcohol regulations.
I would also recommend booking accommodation no further than 15 minutes from your university, as most of your time will be spent at the university and within its surroundings for study, student societies, events and activities.
It is important to note that it is not essential to have long-term accommodation sorted before arrival, as getting a place that you like before you are in-country is very difficult. Be assured that you will find something when you arrive, it may just take a bit of searching.
Student Life
Most universities will have an expo demonstrating all the clubs and societies. At UGM, it is called the Gelanggang Expo or 'Gelex'. From my experience, there are a large variety of university clubs, from sports like Muay Thai, judo, tennis and soccer to clubs like chess, snorkelling, traditional dance, art and music.
I would highly recommend learning some Bahasa Indonesia before a semester's study in-country, to account for the language barrier. Wisma Bahasa is a reputable Indonesian language class, where lessons cost $30 for 1 hour and 45 minutes, classes can begin online before the semester starts and continue at the Yogyakarta Wisma Bahasa centre during the semester. Wisma Bahasa also has options to learn the language while doing field trips, like going to Borobudur, making batik, cooking classes or exploring hidden parts of the city. I found the teachers extremely engaging and an excellent way to further develop my Bahasa Indonesia skills.
Internships and volunteering
As it is likely you will not be working during a study abroad in Indonesia, it is an excellent opportunity to gain in-country experience in various fields of work whether it would be part-time while studying or at the end of the semester. Yogyakarta has a large variety of organisations that are happy to receive part-time interns. ACICIS has an extensive list of placement organisations in Yogyakarta whether you are interested in law, development, journalism, business, international relations or sustainability among other fields.
One of the activities the international students enjoyed was volunteering at Rumah Impian by supporting high-risk children to learn and practise their English skills. If you are native or fluent English speaker, there are many opportunities to volunteer to teach English as many Indonesian students want to gain experience and develop their English language skills from a native speaker.
Payment methods
For a long-term stay in Indonesia, OVO is a great application to pay for transport, restaurants and shopping directly from your phone. It requires scanning a barcode, inputting the amount owed and finalising the payment. Setting up an account is straightforward. By using an online money transfer application like 'WISE', it can convert Australian dollars to Indonesian dollars at a low exchange rate and easily transfer to your OVO account.
In general, students receive a KITAS visa for a semester abroad, this allows students to open an Indonesian bank account, after approximately 3 months.
Other cards popular with students this semester include WISE and UP, which has no added conversion fees and does not charge ATM fees. Similar to ING, however, with ING there must be a transfer of $1000 into your savings, the card must be used 5 times per month, and cannot be used by a user residing overseas – as the card automatically locks after 5 months. Westpac has an extremely low transaction fee when you withdraw at a partner CIMB Bank ATM, but has credit card payments fees. Overall, I would recommend WISE and UP, and to have multiple cards to explore the options as each card has various benefits.
Yogyakarta is a safe, liveable city, rich in language and culture with affordable prices, friendly locals and amazing travel destinations. It is an incredible place to complete your study abroad!