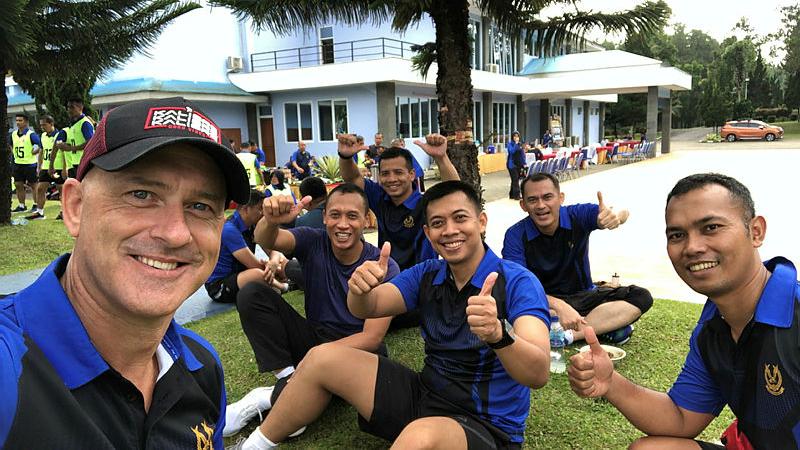 On graduating from the Indonesian Air Force Command and Staff course, Squadron Leader Smith reflected on the life-long connections he formed with the Indonesian Air Force (TNI AU) and other foreign officers during his posting to Lembang, West Java.
In the News
Tune In
Executive director of the ASYLUM Association, Atika Yuanita Paraswaty peeled the importance of coordinating refugee handling, including with neighbouring Indonesia such as Australia, Malaysia and Thailand. (SBS Indonesia)
Events
AIYA Indigenous Engagement Events! The Kumpul Committee was established to connect with and celebrate the Indigenous cultures of both Australia and Indonesia.
JOIN AIYA ON DISCORD! AIYA would like to cordially invite you to join our Discord, an online group-chatting platform. We will be using Discord a digital hub for AIYA activities including:

Games nights – AIYA will be hosting casual and impromptu gatherings on Discord
Ngobrol santai – any AIYA member will be able to join and chat with other members whenever you want.

JOIN AIYA FLEX – our online language exchange now moved to Zoom! It is open to anyone with any level of Indonesian and English, and held monthly on the first Sunday of the month at 1pm WIB/4pm AEST. Starting on 4 September, join FLEX here (a recurring link).
JOIN AIYA LANGUAGE EXCHANGE (IN-PERSON or ONLINE!) LX is back in multiple locations across Australia. Connect, chill, and converse with like-minded youth, meet new friends and engage in cross-cultural exchange. In-person language exchange is on:

ACT: Every Wednesday, 6pm, Marie Reay Building, ANU. Follow @aiya_act on Instagram or Facebook for more info.
VIC: Every Wednesday, 6pm, Gallery Room, Multicultural Hub, 506 Elizabeth St, Melbourne VIC 3000. Follow @aiya_victoria on Instagram or Facebook for more info.
NSW: Every Wednesday, 6pm, Online on Zoom. Follow @aiya.nsw on Instagram or Facebook for more info.
YOGYA: Biweekly on Mondays, 7pm, Lokio Cafe. Follow @aiya.yogyakarta for more info.

AIYA NSW will be hosting 'What's After Graduation?' on Wednesday 7 December on Zoom, a seminar for young Indonesians, particularly international students studying at Australian TAFEs and universities that are finishing up with their studies.
AIYA ACT will be Screening of returning ReelOzInd! short film festival at Palace Electric cinema on 15 Dec. Buy your tickets here.
Opportunities
Like what we do? Want to join or support your local chapter to contribute to our exciting activities? Sign up as an AIYA member today!