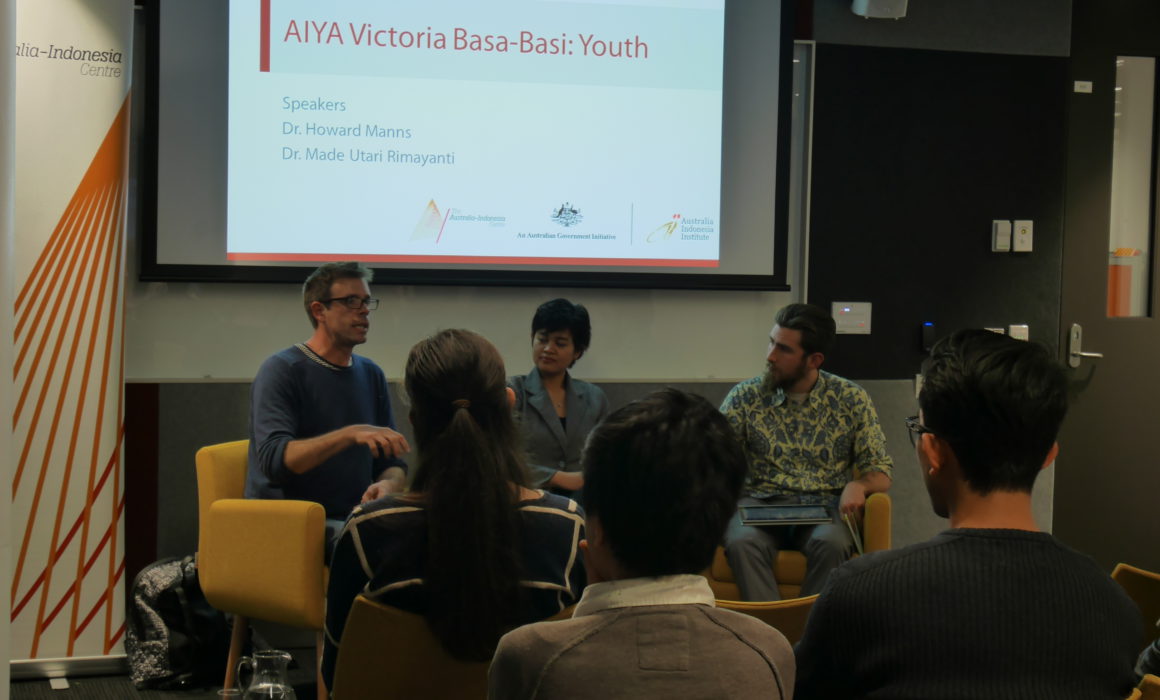 For today's youth, the challenges connected to the Australia-Indonesia relationship are plenty. How best to confront these obstacles imposed by sometimes rocky governmental relations?
Luckily, AIYA Victoria recieved valuable input at their recent Basa Basi event from two experts in bilateral relations on the theme Strengths, challenges and opportunities for young people in the Australia-Indonesia relationship. Kurniastuti Lestari shares a rundown of these messages of youth empowerment.
Late last month, Basa Basi, as organised by AIYA Victoria, endeavoured to make a strong impression on the attending youth that every young person CAN make a difference to be the solution for their country and to have a significant role in the bilateral relationship between the two countries.
The speakers for this exciting event included Dr. Howard Manns, a course coordinator and lecturer for the Masters of Applied Linguistics program at Monash University, and Dr Made Utari Rimayanti, a medical professional who is now studying a Masters of Public Health at the University of Melbourne. Attended by university students from both Australia and Indonesia, the three-hour discussion managed to be a helpful and engaging eye opener for the lucky attendees.
In the discussion, Made encouraged youth to change common habits of complaining to the government and blaming them for slow progress in dealing with problems faced by the country today. He urged them instead to come up with solutions to these problems, as even the smallest actions they make can have an impact. Indonesia in particular has a significant youth population, meaning that if every young person managed to make the most of their potential to be part of the solution, the Indonesian Government's target to foster a golden generation for Indonesia, and thus make a significant difference to the nation by the year 2045 or beforehand, would be achieved.
Howard stated that young people face many challenges, especially in reaction to social media. Social media on the one hand puts people into contact with a plethora of wonderful and diverse views, but on the other hand can also expose them to phenomena with a more negative influence, indicating a number of drawbacks more evident than ever. In dealing with this, Howard encouraged youth to maintain a positive attitude about the critical issues between the two countries. By maintaining this energy about such topics, they can more effectively take action rather than wasting their time and energy on negative habits, which will not get them any closer to possible solutions.
The fact is, youth can indeed have a influential role in the bilateral relationship between Indonesia and Australia. As one Australian student who had never been to Indonesia and had never learned the language explained, she nevertheless has been introduced to Indonesian cultures by her Indonesian friends undertaking study in Australia. This has made her interested about knowing more about Indonesia, even attracting her to attend the Basa Basi event.
There was an intriguing question from an Indonesian student about whether education (in this case, the study of Indonesian as a subject) can have an important role in the bilateral relationship. Sadly, the number of Australian students studying Bahasa Indonesia at school and university has been decreasing. Howard suggested that this is triggered by the fact that education institutions need to make sure that such programs will at least break even, as it would otherwise be difficult for them to be convinced such programs should continue.
Howard further explained that one possible solution is to make Indonesia a hot and popular topic in Australia. Yacinta, a lecturer in Indonesian studies at Monash University who also attended the discussion, added that Australia has become one of the most favoured countries chosen by Indonesian students in which to undertake postgraduate study. Therefore, it is expected that Indonesian youth will be able to contribute toward making Indonesia more popular and appealing in the eyes of Australian students, thereby making the latter interested in learning more, especially Indonesia's languages and cultures.
This will, consequently, help enhance and maintain a good and positive relationship between the two countries.
Read about another recent Victoria-based event about the Aus-Indo relationship here.