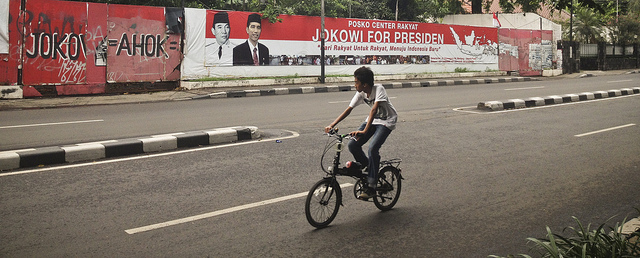 Jokowi for President campaign posters in December, 2013. Photo by Eduardo Mariz.
2014 is going to be a year of change for Indonesia, not only in terms of the Presidency. In July, Indonesians will elect a new President, with the incumbent, Susilo Bambang Yudhoyono, not eligible to run again having served two terms. The legislative election in April, prior to the Presidential elections in July, opens the door for the plethora of political parties in Indonesia to stake their claim in Indonesia's democracy. The number of candidates who will be eligible for the Presidency depends on the outcome of the legislative elections, however the media in Indonesia and abroad have already started naming potential candidates, including the current Governor of Jakarta, Joko Widodo.
But it wont be just the incoming President and Parliament making waves this year. Two-thirds of Indonesia's population are aged below 30. Around a third of Indonesia's approximately 186 million registers voters are aged 17-30, and approximately 21 million of them will be voting for the first time. The youth of Indonesia hold a powerful position to shape and influence the outcome of this election like never before.
How the youth choose to shape the 2014 elections continues to be an area, which is under focused by those vying for residence in Istana Merdeka. Since the fall of Suharto, Indonesia has changed dramatically, and many of the first time voters do not hold their own memories of the turbulence of 1998 and Reformasi. This has created a divide between the youth of 1998 and the youth of 2014 who are concerned with contrasting issues. For the youth activists of 1998 and the following elections democracy was a key focus of their voting patterns.
Perhaps more than their elders, young voters are mainly concerned about social welfare, the economy, access to jobs and equality. Successful parties will need to engage this generation and address their issues, which will require actions rather than campaign slogans. Yet despite the growing number of young voters, many are disengaged and uninspired to participate in the upcoming elections.
Indonesia's swinging vote accounts for 35-40% of the total vote. Young voters are likely to be a crucial constituency this year since many are swing voters. They are not members of political parties and are in stead more focused on individual candidates rather than political party platforms.
To engage this vote could alter the outcome of the elections.
For the political elite and Presidential candidates engaging the youth is key to ensuring that they are elected, however to do so they will need to engage with key issues. Money politics are continuing to hinder Indonesian governance. The recent case against former Forestry Minister MS Kaban has highlighted the culture of money politics in Indonesia, which has alienated younger voters.
Gaining the youth vote will also require political parties to utilize social media. Jakarta along is known to produce the largest number of tweets per day, while Indonesia has one of the highest number of twitter users across the globe. Many political commentators are drawing correlations with the re-election of President Obama in 2012, in which his campaign utilized social media, particularly Facebook to engage the youth vote. As is evident in the election campaign of Jokowi and Ahok, who utilized youtube to share their platform. The Gerinda Party has also started creating a presence on social media, producing a number of videos for Youtube. They also have a team of 45 media-savvy Gerindra supporters who are running a 24 office developing the party's social media presence.
The Indonesian election has been noted as one of the top elections to watch in 2014. Indonesia's expanding youth population are in a powerful position with the potential to shape Indonesia's Government and political journey for the next 5 years.