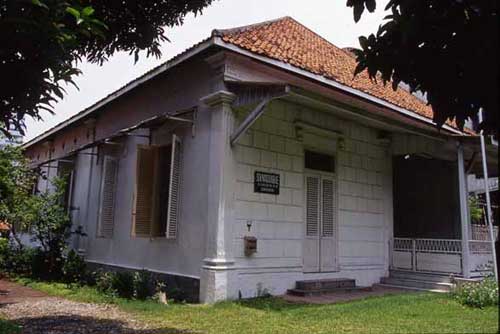 My interest in the topic of Judaism in Indonesia is actually personal in nature. My grandmother and her family were Jewish and lived in Surabaya from her childhood until approximately 1943. They were forced to flee Surabaya during World War Two, upon Japanese occupation of Surabaya and other areas of what was then known as Hindia Belanda.
Little is known about Judasim in Indonesia and indeed my own Jewish ancestry. When the topic of religion is discussed in an Indonesian context, very rarely is there a mention of Judaism. Judaism is a religion that until now is yet to be officially recognised in the Pancasila. In fact it is often believed that Judaism does not exist within Indonesia.
But, did you know, that there are approximately 2,000 Jews currently residing in Indonesia?
I interviewed Faisal Assegaf, a blogger and journalist for merdeka.com . He is currently writing a book about Judaism in Indonesia, in the hope of finding out more about these people who form a missing link in the story of Indonesia's history.
During my interview with Faisal, I asked a range of questions including what was the current population of Jews living in Indonesia, where do they live, what do they do for employment and whether the Jewish community living in Indonesia associated with other Jewish communities throughout the world.
I also asked about the synagogue that was destroyed in Surabaya in 2009 and the Jewish community currently residing in North Sulawesi. We also discussed how to strengthen the relationship between the Indonesian Jewish community with Muslims, Christians and other religions within Indonesia. Finally, we discussed why Judaism is yet to be recognised as an "official" religion in Indonesia.
Here are some interesting things I find out from the interview:
According to Benjamin Verbrugge, the Head of the United Indonesian Jewish Community, there are approximately 2000 Indonesians with Jewsish ancestory currently residing in Indonesia. These Jewish Indonesians can be found scattered throughout the archipelago all the way from Aceh to Papua. Many people in the Indonesian Jewish community work in private companies, but some have also become Rabbis.
Faisal discussed how members of the Indonesian Jewish community also played a role in helping Indonesia achieve independence from the Dutch. For instance, Charles Mussry was a Jewish Indonesian who fought against Dutch occupation of Surabaya on 10 September, 1945.
We also talked about the Surabaya synagogue, which had been actively serving the Surabaya Jewish community since shortly after the Second World War (1948), but was destroyed in 2009. Faisal explained the synagogue was not destroyed by Muslim hardliners (as was initially suspected), but was actually sold to a Chinese businessman. This was without the permission of the Mussry family, which had the largest share (saham besar) in the synagogue.
Unlike Arab, Chinese and Indian ancestors in Indonesia little is known about the Jewish community. Faisal believes that educating the young generation about Judaisim can help us understand a missing link in Indonesian history.
If you would like to learn more about Judaism in Indonesia read the full transcript (in Bahasa Indonesia) of my interview with Faisal Assegaf.
The opinions expressed in this article are the author's own and do not necessarily reflect the views of the Australia-Indonesia Youth Association or its partners.