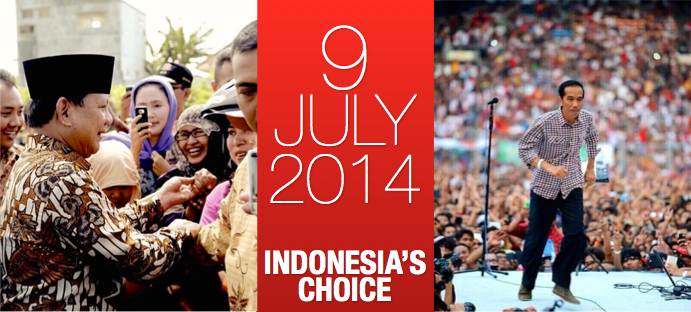 Today, nearly 190 million Indonesian voters have the chance to choose the president who will replace Susilo Bambang Yudhoyono in October. If you're a political tragic and want to tune in to watch the voting and counting unfold, here are AIYA's tips for a fun and informative election day.
Kick back, open a cool tehbotol and witness the miracle of democracy at work.
Polling stations are open from 07:00 until 13:00 local time—since Indonesia has three time zones, that means the first votes are cast in Papua at 08:00 AEST and the voting stops in Java and Sumatra at 16:00 AEST.
Did we mention that this election is huge? It's the world's biggest single-day direct presidential election, with nearly 190 million voters on thousands of islands eligible to participate. That means that, with the limited resources available to it, Indonesia's electoral commission, the Komisi Pemilihan Umum (KPU), can't possibly count the votes on election day like we're used to in Australia. The official KPU numbers won't be released until some time after the election day.

So, private polling agencies team up with TV networks to release 'quick counts', which are based upon data sent in by reporters stationed at a randomly-selected sample of voting booths. These quick counts are generally accurate to within a few percentage points—but given that recent opinion polls predict an extremely close result tomorrow, the quick counts potentially may not make it clear who has actually won on Wednesday. It may take days, weeks or even months to know the official outcome if the result is particularly tight.

All the major television networks will be running live election returns based on quick counts. Try streaming online at Mivo or following the links to 'Live Streaming' on the TV stations' websites.
Keep in mind: this Indonesian election has been marked by some pretty shameless barracking from media outlets aligned to one candidate or another. Metro TV is pro-Jokowi, and tvOne is pro-Prabowo, as are RCTI and MNC. More neutral sources include Kompas TV, BeritaSatu, SCTV or the TransTV stations.
Online & social media
The candidates' official Twitter accounts are @Prabowo08 and @Jokowi_do2.
Of course, @AIYA_National will be red hot with RT's and updates on the days' developments, so keep an eye on us!
There are too many great Indonesian tweeps to mention, but those who tweet at least partially in English will include academic @YohanesSulaiman, the Jakarta Post's @simplysita, the Jakarta Globe's @aqbastian, and political analyst @pjvermonte. Keep an eye out on their feeds for RT's from other sharp Indonesians.
Aussies watching from Jakarta will include @_DaveMcRae_ from Melbourne University, @catriona_cc of the Lowy Institute, @AubreyBelford of Reuters, freelance corro @katieolamb and @mbachelard from Fairfax.
Also make sure to follow @SidneyIPAC and Lowy's @ConnellyAL.
The Jakarta Globe team will maintain an English-language live blog here.
ANU's New Mandala live blog will be manned by AIYA friends @Indobaker, @RossTapsell and @Gammonator with ANU colleagues @EdwardAspinall, @MarcusMietzner and @Oomberg. The @IndoNewMandala account will also be RT'ing choice tweets from observers on the ground so keep an eye out.

Photos above via Prabowo Subianto on Facebook and @gm_gm on Twitter.