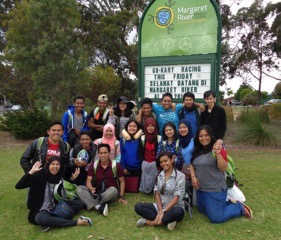 Australia: Perkenalan Pertama dan Jadian
It was my first time mengunjungi Australia ketika aku menjadi salah satu participant Australia Indonesia Youth Exchange Program (AIYEP) 2014/2015. Ini juga kali pertama aku mengunjungi sebuah negara yang lumayan berbeda dengan Indonesia. Sebelumnya aku hanya mengunjungi beberapa negara Asia.
AIYEP di tahun lalu berlokasi di Western Australia dengan fase kota di Perth dan fase desa di Margaret River. My first impression for Western Australia adalah dingin dan sepi. Aku bereskpektasi bahwa aku akan mengunjungi kota yang ramai dan sibuk. Tapi ternyata Perth sangat dingin dan santai. Populasi tidak terlalu tinggi dan sepertinya penduduknya tidak terlalu sibuk, maybe because I compared it with Jakarta, kota tersibuk di Indonesia.
Honestly I like Perth, it's a nice city for living. Suasana kotanya tenang dan tidak terlalu macet tentunya. Selama dua bulan tinggal di Western Australia aku belajar banyak hal (serius) mengenai budaya Aussie yang banyak perbedaannya dengan Indonesia. Mulai dari bagaimana keluarga Aussie, budaya kerja, bagaimana orang-orang menghabiskan waktunya, dan lain sebagainya. Walaupun pada awalnya ada banyak hal yang terasa dan terlihat sangat aneh dan mungkin sulit untuk dilakukan, tapi semuanya seperti campuran sayur dalam gado-gado (makanan tradisional Indonesia), yang ketika disantap, hmm lezat rasanya.
AIYEP memperkenalkanku untuk pertama kalinya dengan Australia. Persamaan yang paling terasa bagiku secara pribadi antara Indonesia dan Australia adalah tentang betapa pentingnya meluangkan waktu dengan keluarga. AIYEP juga membuatku menjadi semakin mengenal Indonesia. Seperti halnya ketika kita ingin mengenal diri kita sendiri dengan membandingkannya dengan orang lain, kita bisa melihat diri kita lebih dalam. Begitu juga dengan Indonesia, aku bisa mengenal Indonesia lebih dalam ketika aku berada di Australia. Kedua negara ini memiliki banyak hal yang dapat dieksplor, sehingga ini kesempatan yang besar untuk saling bekerja sama satu sama lain sebagai tetangga dekat.
Berkenalan dengan negaranya dan orang-orangnya membuatku berpikir, let's say this is the beginning. Kedepan aku berencana untuk mengembangkan hubungan ini dan mempelajari lebih dalam mengenai Australia dan Indonesia. I am just thinking about "what's next?", apakah aku akan bekerja yang berkaitan dengan hubungan kedua negara, atau mungkin tahun depan aku akan belajar di Aussie. After AIYEP, semua pengalaman dan pelajaran yang aku dapatkan menjadi sesuatu yang memberi warna baru dalam hidupku. Aku berencana untuk kembali ke Australia, at least to visit my host family, my counterpart, and my AIYEP friends.