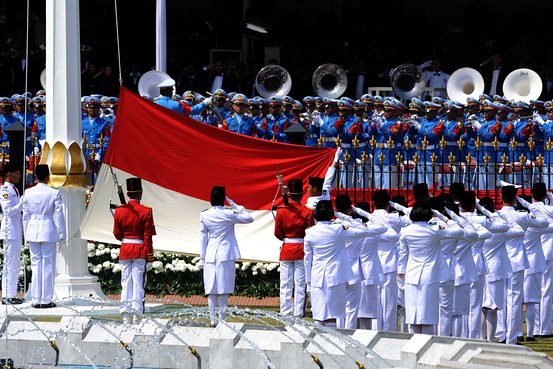 Indonesia will celebrate its 70th independence day on the 17th August, and there are various celebrations and games which Indonesians usually do on this day to recall the true meaning of freedom as a nation. Here are a list of some of the fun games and activities that Indonesians do on Independence Day:
1. Upacara Bendera (Flag Raising Ceremony)
Government officials and numerous students participate in flag raising ceremonies on the morning of Independence Day. A celebration is held at the Istana Merdeka (State Palace) annually. The Indonesian flag consists of two colours; red and white. The red means courage while the white stands for purity. We call the flag "Sang Saka Merah Putih (The Lofty Red and White)".
The ceremonies also consist of musical performances from Indonesia's diverse provinces and are regularly broadcast live on local television stations. Indonesian Air Force fighter jets will fly through the sky before the flag arrives at full mast.
2. Panjat Pinang (Palm Tree Climbing)
Panjat Pinang is a very famous competition in many Indonesian neighbourhoods on Independence day. At the top of palm trees, which have been lubricanted with clay and oil, interesting prizes such as toy bikes or electronic devices are placed. People from kids to adults must reach the top of the slippery challenge. People learn to collaborate together to win the prize. We can take the moral value that in this world, we need to believe in teamwork to achieve goals.
3. Lomba Makan Kerupuk (Cracker Eating Competition)
Indonesian children love to play this game where crackers are tied on raffia strings then the children try their best to eat the crackers while their hands are tied behind their backs. The child that finishes their cracker first wins! For Indonesians, crackers are a traditional snack that is relished by both poor and rich people. By playing this game, Indonesian people try to appreciate the importance of equality and humility. Furthermore, those hanging crackers and handcuffs remind us that success is accomplished by integrity and patience.
4. Gotong Royong (Giving Back to the Community)
In a lot of Indonesian neighbourhoods, both young people and elders perform shared work, which is ]known as gotong royong where people get together to clean up their neighbourhood. Generally, gotong royong is done during Indonesia's independence day, however it's best if it is exercised throughout the entire year. Gotong royong represents the true spirit of Indonesian nationalism.
5. Lomba Balap Karung (Gunny Sack Race)
Gunny Sack Race is a popular race where our bodies are cooped inside rice sacks as we hurtle towards the finishing line. The rice hinders us as we move rapidly towards the finish line. In addition, more than once, we will fall down and we have to get back up and continue hopping to reach the end point. Lomba Balap Karung teaches us a lesson about the importance of perseverance and it reminds Indonesian people of the tremendous efforts our forbearers made to achieve independence. Moreover, it teaches us that in life, we will stumble but we need to get back up and keep fighting to reach our goals.