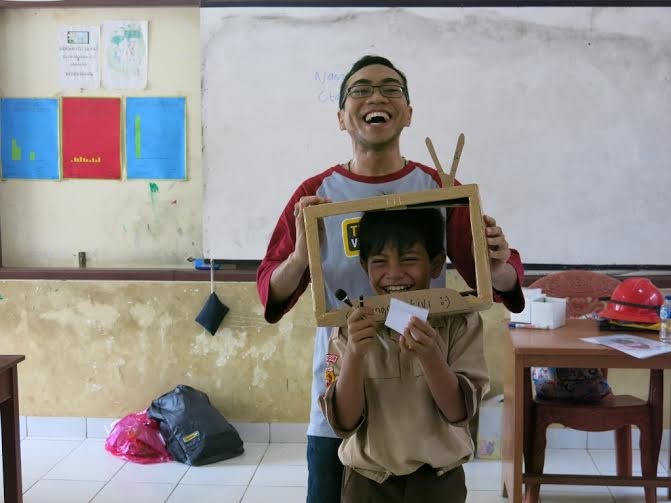 Little Village, Big Dreams: Wilibrodus Marianus
Wilibrodus Marianus, or Wili for short, is a young, upcoming social activist and television journalist with NET.TV. Now based in Jakarta, he grew up in the impoverished village of Mauponggo on the island of Flores, in East Nusa Tenggara. Wili has overcome immense disadvantages to achieve success as a student, an educator, activist and TV journalist. Wili opened up to Jane Ahlstrand on his life so far – a life built on big dreams, determination, and a passion for education, underpinned by a strong sense of empathy.
Wili, tell us about your background growing up in Flores.
Since losing our father at the age of 7, my brother, sister and I were raised by our mother. Growing up under these difficult circumstances, I always felt that I was a bit different. I had big dreams as a child that no one around me could really fathom. I felt that I was put on this earth for a reason. Looking back, I realise how strange it must have seemed that a child from a tiny village in NTT could dream of saving the world, a world that he had not yet even experienced.
I know now you are very passionate about education for young people. What about your own school days?
It was quite hard for me to attend school and my mother struggled to pay the fees. It is very common for students to drop out of school in my area, and very few go on to pursue higher education. Nevertheless, I maintained good grades and was always ranked first in my class. When the time came to think about tertiary education, I had my heart set on studying medicine at UGM. I was so thrilled when I discovered that I was finally admitted to the UGM faculty of medicine, however, due to financial constraints, I had to give up on this dream. Finally, my second chance came around when the Atma Jaya Jogjakarta University selection committee visited my school. I registered myself in the selection process and fortunately, I was granted admission with a four year scholarship.
That's wonderful. What about your life after university?
After graduating from university, I gained seven years of professional experience in TV journalism, education and community development. Working as a journalist as well as an educational activist has given me opportunities to travel around Indonesia. I have seen firsthand how so many people are still struggling with limited access to essential services such as education and health. Those experiences opened my eyes and motivated me to become a part of the solution to our nation's problems.
Please tell us more about your contribution to education in Indonesia.
In 2011, I joined the Indonesia Teaching Movement (Indonesia Mengajar), volunteering as a teacher for one year in Pulau Rupat, a secluded island on the border between Indonesia and Malaysia. For a year, I lived among the local people who were a community of practicing Buddhists. It was the most wonderful experience of my life so far. I felt Indonesia's real tolerance and diversity. Although I am a Catholic, I was accepted like a member of their own family.
After completing my deployment with the Indonesia Teaching Movement, I was inspired to initiate a project named Buku Bagi Nusa Tenggara Timur (Books for NTT) which organises book donations for children in my region. Starting in 2014, together with my friends throughout Java, we have built this community to encompass seven cities in Indonesia, with more than 50 NTT community libraries involved. We have even received support from overseas sources such as Hong Kong, headed by NTT migrant workers. Through our project, we aim to encourage those in NTT to build more public libraries, to give access to those who need books. We hope to engage as many people as possible in or outside Java to join our movement.
What are your hopes for the future, Wili?
In future, I hope to become a full-time social activist. I dream of pursuing a Master's Degree in Social Work at a university abroad. I also want to start a scholarship program for Indonesian children, particularly for those from poor families in NTT. I also hope to lecture at university and establish a School of Social Work in Indonesia. My motivation comes from knowing that changing the world starts with helping the poor and being able to empathise with them. I believe that a strong and honourable nation begins with strong and caring citizens, with a culture of service based on peace and love.
If you would like to learn more about Wili head to his Indonesia Mengajar profile or read his blog.
Jane Ahlstrand is helping the AIYA Blog relate the stories of Indonesians who have found success in youth from humble or challenging beginnings. You can read her other interviews on the Blog here.