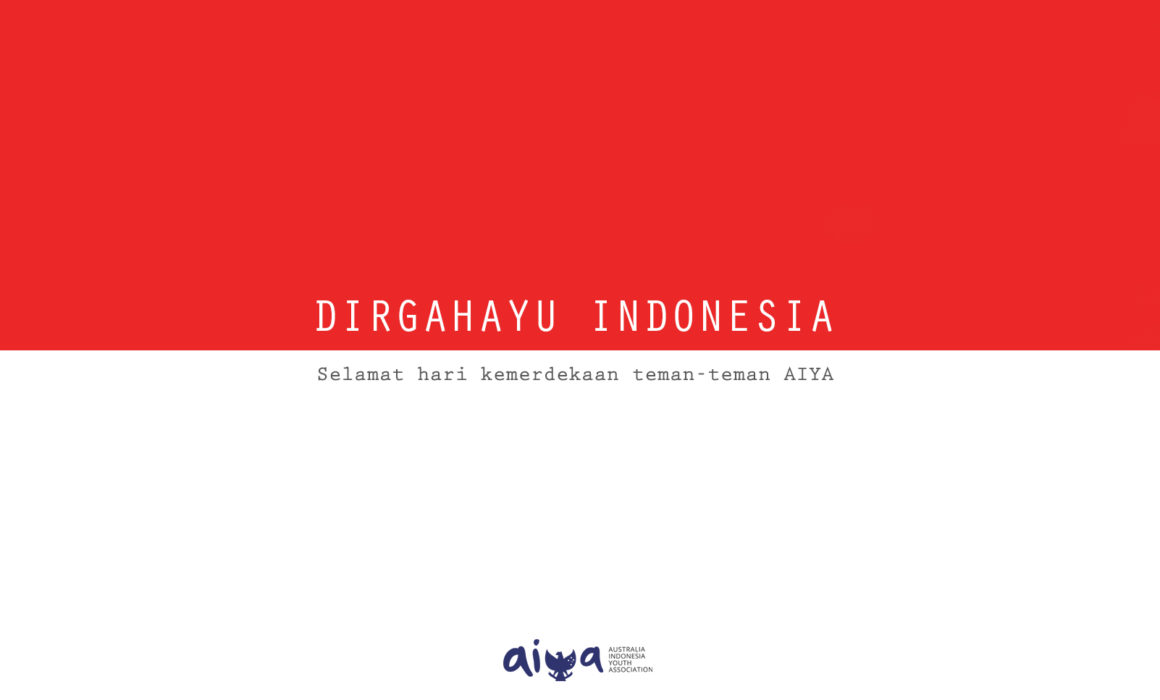 With the commemoration of 71 years of Indonesian independence on 17 August, we decided to take a look at where Australians and Indonesians in Australia are able to join in the celebrations. There is a plethora of events across Indonesia from Palembang to Makassar to Jayapura, but where might someone in Brisbane or Adelaide take part in commemorating Indonesian Independence Day 2016?
VICTORIA
The Consulate-General of Indonesia (KJRI) in Melbourne is holding a two-part celebration including a flag-raising ceremony in the morning of 17 August at KJRI and a public celebration at Federation Square in the afternoon, featuring a cultural display of music and regional dance. Find out more information on the Facebook event or the main KJRI Melbourne page.
The Indonesian Students Association of Indonesia (PPIA) Victoria presents the musical drama Temu Lawak on 20 August at Athenaeum Theatre in Melbourne. By helping to coordinate this event, PPIA Victoria aims to foster notions of nationalism and a sense of belonging as an Indonesian.
NEW SOUTH WALES
Eastlakes Shopping Centre will be the venue for one of this year's free Independence Day celebrations in Sydney from 19-20 August. Co-organised by PPIA UNSW, this event will feature traditional food, gamelan and cultural performance.
The Indonesian Hillsong Community will come together at Hillsong Church in Waterloo and Alexandria in Sydney for Indopendence 2016, a series of multiple services across two days, 20-21 August.
It isn't quite an Independence Day celebration, but you won't want to miss AIYA NSW's screening of Ada Apa Dengan Cinta 2 and live Q&A session with members of the cast at Ritz Cinema in Randwick on 22 August. Find out more information and grab tickets here, and join in experiencing the hype for the event on the AIYA NSW Facebook page.
QUEENSLAND
PPIA QLD will host its annual Pesta Rakyat (Pesra), a "one day Indonesian culture trip", at King George Square in Brisbane on 21 August. You can find some lively discussion for the event here, and the Pesra website features great highlights from the previous year's celebration.
A week later, King George Square finds itself host to the IndOz Festival 2016; not only a showcase of culture and nation but also a prime business networking opportunity. Organised by Synergy Indonesia Australia (SIA), the two-day event from 26-27 August gives a chance to "Experience the Wonderful Indonesia". Interested?
WESTERN AUSTRALIA
Over in Perth, the KJRI will also be holding an official flag-raising ceremony and networking opportunity for invitees on Wednesday at the KJRI complex in East Perth.
Later in October, you can experience the wonders of Gayana 2016, PPIA WA's Indonesian Culture and Arts Festival held at Curtin Stadium in Perth on 30 October. This promises to be a great celebration of a nation and enable people to come together as a community.
SOUTH AUSTRALIA
In South Australia, the Australian Indonesia Association (AIA) SA and PPIA SA have come together to organise a "free family event" for Independence Day at Glenelg North in Adelaide on 27 August.
TASMANIA
Interested in something a little more academic to quench your Indonesian independence thirst? Look no further than the UTAS Asia Institute's 'Islam in Indonesia' public lecture from Associate Professor Pamela Allen, held at the Centenary Building at the University of Tasmania on 25 August. The presentation will focus on the dynamic between Indonesia as having the largest Muslim population in the world while simultaneously being defined as a secular state in the nation's constitution.
NORTHERN TERRITORY
KJRI Darwin will hold day-long festivities at the Consulate on the big day, which include flag-raising, social networking opportunities, fun Indonesian games (not just for the kids!) and the impressive efforts of Darwin High School Music Ensemble. Read more information here!
AUSTRALIAN CAPITAL TERRITORY
The Indonesian Embassy in Canberra actually held its celebration of 71 years of independence last week, but this AustraliaPlus Indonesia article reveals the enthusiasm of participants (and resilience against the cold), and the photos on the Embassy's official Facebook page show the strength in numbers of Indonesian expats and visitors.
These aren't the only relevant events happening this week, so be sure to keep an eye out for more! Otherwise, use #HUTRI71 on Twitter for updates from both countries about this year's celebrations.