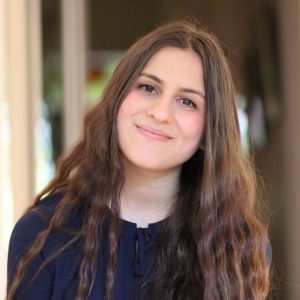 The annual AIYA Membership Survey is conducted to provide an in-depth analysis of the issues and perspectives of young people engaged in the Australia-Indonesia relationship. The much-anticipated AIYA Survey 2016 Report was released last week, and since it hit our screens we've been enjoying the extremely useful – yet sometimes surprising – results. One of the findings which may raise an eyebrow is:
"Language differences are not seen as too large an impediment to bilateral relations." 
We asked three Awardees of the 2016 National Australia Indonesia Language Awards to respond.
Penny Vakalopoulos
Senior Awardee 2016
The Australia-Indonesia relationship is fraught chiefly because of cultural misunderstanding. In this vein, language differences are obstacles only insofar as they reflect cultural differences. When considering the practical use of English and Indonesian in our diplomatic discourse, the differing languages in themselves are not culpable for bilateral tensions, primarily because we have abundant resources at our disposal to translate and convey with accuracy.
That being said, we cannot overlook the strength of the connection between language and culture. The two are so thoroughly intermingled that it is difficult to even speak of the languages "in themselves". Languages are, in many ways, direct representatives of culture. Thus language differences in fact can become a large impediment to bilateral relations, where these differences are reflective of a deeper gulf between our cultural values and perspectives. Moreover, such values are not always translatable.
Andrew Parker of The Age himself admitted that business and trade relations with Indonesia have been hampered most substantially by the fact that "we don't really understand them culturally". For this deficit of cross-cultural understanding to be addressed, we can in fact first address linguistic misunderstandings. This is because having a greater command of each other's language will help to bridge the cultural gulf between us, since language is one of the most powerful pathways into another culture.
Therefore, if the notion of language differences becomes inclusive of the notion of cultural differences, the impediment to bilateral relations is not insignificant. Reducing language differences by expanding and deepening the Indonesian-proficiency of Australian citizens is, in my view, a necessary measure to ensure the success of future relations.
Sally Andrews
Wild Card Awardee 2016
Having spent the last semester in Yogyakarta (on exchange at Universitas Islam Indonesia through the support of ACICIS and the New Colombo Plan), it seems to me that language differences are a substantial barrier to forming long-lasting connections, establishing common ground, and engaging in nuanced discourse. The significance of this barrier should not be underestimated. The fact that our two heads of state can only communicate via the use of an interpreter doubtlessly impedes the ease with which policy collaboration can be undertaken, and creates an immediate sense of distance within negotiations.
While it may be relatively easy for a native English speaker to pick up Indonesian – what with its relatively simple grammar and pronunciation – it is fiendishly difficult to learn English. English is truly a nightmare language and my experiences in learning Indonesian have given me an immense sense of admiration for all those taking on the task of trying to master English. For the millions of people across Indonesia who are labouring hard to acquire English language skills, the distance – both geographic and cultural – from Australia may not seem so large. But for those who do not have access to English language teaching, language barriers do have a substantive impact on the perceived proximity between nations. One way in which this proximity could be lessened is through a dramatic increase in the numbers of Indonesian language speakers in Australia.
Muhammad Arif Zamani
Native Speaker Awardee 2016
I believe that language is a very important instrument in social interaction. One important milestone in the history of the struggle of Indonesia in gaining independence was the Annual Youth Pledge (Sumpah Pemuda), which declares the one national language as Bahasa Indonesia. Language of the World (2005) notes that there are at least 742 different languages ​​used by the peoples of Indonesia. These languages ​​represent differences in customs from Sabang to Merauke. Perhaps, if there was no Youth Pledge at that time, it would have been very difficult for Indonesia's founding fathers to communicate the message to strengthen the national unity of Indonesia. Therefore, it is not an exaggeration to conclude that language is a unifying media, especially in the context of intercultural relations. The same thing may apply in the framework of bilateral relations between Indonesia and Australia.
Nowadays, Indonesian people are open to the concept of globalisation. In a positive sense, English is not something strange anymore as an international language, especially among young and educated people. In the framework of bilateral relations between Indonesia and Australia, language may not be a huge barrier because of this globalisation. However, from my experience in interacting with Australians both within AIYA and in everyday life, language has a deeper meaning than simply for communication. When I find an Australian who can speak Indonesian – even if just a little – I feel closer to them somehow. In return, I studied some typical Australian greetings like "G'day mate! How's it going?" It may be simple, but may dissolve the boundaries of formality between the two cultures.
The use of English as an international language means that differences in language may not be an impediment in the bilateral relationship between Indonesia and Australia. However, I believe that by studying the language and culture of the two countries we can further strengthen our relationship.
Download the AIYA Survey 2016 Report here, and for more information about NAILA visit the website.