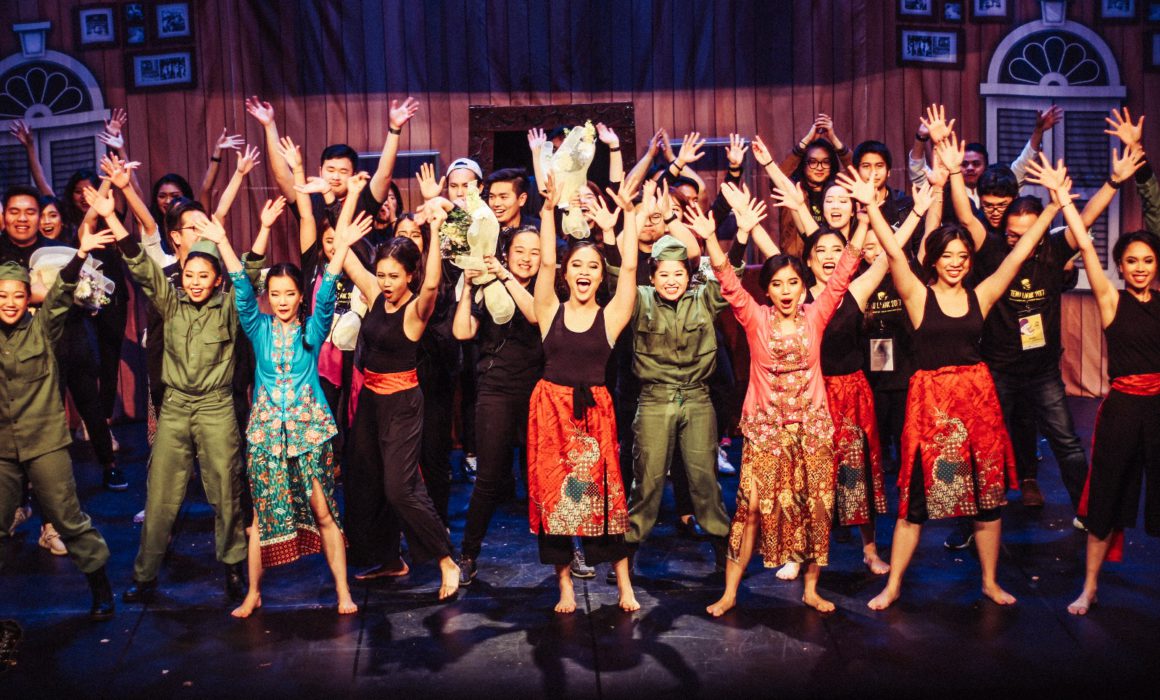 Seventy-two years of Indonesian Independence were celebrated on stage before a sold-out audience at Athenaeum Theatre in Melbourne in late August. A queue totalling more than 800 was seen outside Melbourne Town Hall. Tickets were sold out ten days before the event, showing just how enthusiastic audiences were to enjoy this year's TemuLawak, or Teater Muda Langkah Awal Merdeka 2017.
A comedy musical drama entitled Oh! Batavia was presented by the Indonesian Students Association (PPIA) in Victoria and showcased a collaboration between nine Indonesian Student Association branches, with total committee involvement numbering 111 people. TemuLawak 2017 officially began with a welcome speech by Dewi Savitri Wahab from the Consulate-General of Indonesia in Melbourne, followed by a medley of traditional songs from the TemuLawak crew.
Oh! Batavia's historical theme informed the audience about the traditional lifestyle of society in the city of Batavia during the war against colonialism in early 1930s. The drama not only touched on the war against the colonisers, but also various Indonesians' perspectives in the era along with a touch of humour and educative values.
The 100-minute show was accompanied by live music and dance performances, with a total of 40 students being involved in the drama. The three main roles were Terang (played by Hanna Melissa, University of Melbourne), Putra (Bara Adiarto, Monash), and Kuping Kiri/Goda (Axel Prasetio, Monash).
The backstage crew also put in a huge effort to make the event a successful one, and consisted of a planning and production team, a music crew led by composer Vanessa Tunggal, and a dance crew with Arnesia Ranggi as head choreographer. All elements in the drama were produced by students in Victoria, including its choreography, script and musical arrangements.
Kevin Joshua, Project Manager of TemuLawak 2017, said: 'Oh! Batavia presents the value of diversity and nationalism as well as the spirit of independence, in accordance with the message from Bung Karno, the first President of Indonesia: "Nationalism cannot flower if it does not grow in the garden of internationalism."'
TemuLawak 2017 was organised with the generous support of its sponsors: YNJ Migration, Bunyip Tour, Central Equity, RACC, Panca Prima Maju Bersama, Da Trans, The Space Dance & Art Centre, Vodafone QV, Buka Lapak, Meetbowl, Kapal Api, Y-Axis, Kaya Yoga, Garden Giggles and Atmosphere Church. Media partners included Buset, OZIP, SBS, Radio Kita, Buletin Indo, Cicak2, Radio PPI Dunia, InfoPensi, AIYA, Meld Magazine, Love & Hate Radio and Kopitoebruk.
Want to find about more about PPIA Victoria? Learn about exciting activities throughout the year on Facebook and Instagram.
Read about another recent Victoria-based event about the Aus-Indo relationship here.