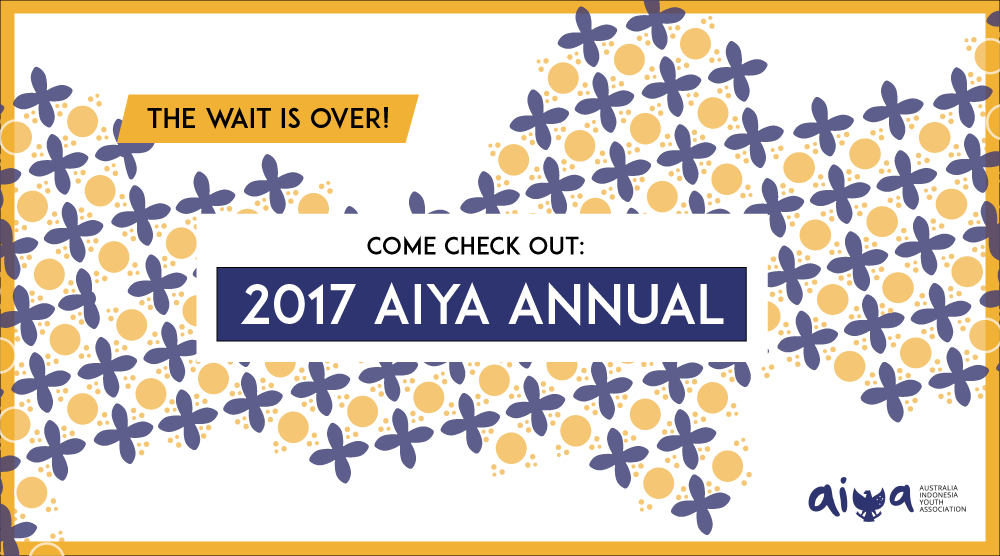 AIYA Annual 2017 is here!
Dear AIYA Members and Supporters,
The AIYA Annual 2017 is a showcase of what YOU, our fabulous chapters and members, have been up to this past year! This year, we welcomed a new chapter, AIYA Eastern Indonesia (active in both Makassar and Kupang), and energetically pursued AIYA's mission to connect, inform and inspire young people engaged in the Australia-Indonesia relationship.
click on the cover image or download here
Even bigger and better than our inaugural issue last year, the AIYA Annual 2017 includes messages of support from Australia's outgoing Ambassador to Indonesia, Paul Grigson, and Indonesia's new Ambassador to Australia, Kristiarto Legowo. It features updates from our ten most active chapters, who ran everything from sports days and film nights to careers events and debates, as well as an update on our 3rd annual NAILA initiative!
This year's AIYA Annual includes, for the first time, contributions from individual members. From a large number of submissions, we have selected three of the best pieces for your reading pleasure – Nick Dobrijevich's story of meeting East Javanese punk band Crucial Response; Steph Pearson's account of joint Aus-Indo efforts to support those affected by Mt Agung's eruption; and Martha Weruing's heart-warming story of finding her place in the Australian community. We hope you enjoy their work.
We'd like to take this opportunity to thank all of our members and partners for your ongoing support of AIYA over the years.
The AIYA Annual celebrates everything AIYA has achieved in the past year, and we encourage you to take a look (you never know – you might see your face!).
Iona Main                                                              Jayne Fendyk
Chief Editor                                                                     Assistant Editor