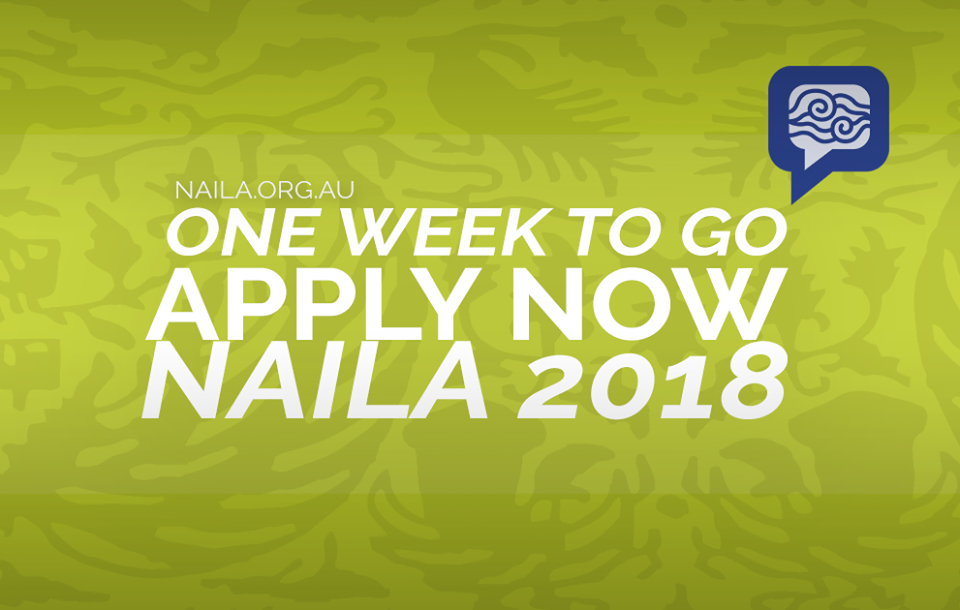 There's only one week left to enter the National Australia Indonesia Language Awards (NAILA) 2018 competition! Ayo semua, inilah kesempatan kamu untuk membuktikan bakat berbahasa Indonesia!
In the news
Keen for more news updates on all things Australia-Indonesia? Subscribe to the Australia-Indonesia Centres' Media Updates for a twice-weekly digest!
On the blog
Events
Makassar, 25 August – AIYA East Indonesia LX at 7pm! Check out their Facebook page for more details.
Melbourne, 25 August – Join leading academics on Indonesian politics for 'Dialog Dua Dekade: Democratisation and Its Challenges', a forum on the current state of Indonesia's democratisation at UniMelb. It's free, however registration is essential for nasi kuning purposes.
Jakarta, 26 August – AIYA Jakarta is putting on a Work and Holiday Visa Program & IELTS Test Simulation. The event aims to inform Indonesian people about Work and Holiday Visa Programme available in Australia. Come along to find out more!
Canberra, 29 August – AIYA ACT LX! Biginelli's School of Music Cafe (level 5), 5:30pm.
Melbourne, 29 August – The Australia Indonesia Business Council is hosting a welcome event for the new Indonesian General Consul, followed by a discussion panel with women active in Aus-Indo bilateral relationship. RSVP is essential!
Brisbane, 30 August – Come along to the Indonesia Opportunities Networking Event held by AIYA & AIBC Qld to discover all the opportunities Indonesia provides. AIYA members are eligible for discounted tickets with the code "AIYAmember".
Jakarta, 1 September – Interested in studying at Australia National University? Come to the ANU Indonesia Open Day in Jakarta to explore study options and scholarship opportunities. Register your interest here!
Sydney, 8 September – Enjoy a night of laughter at PPIA USYD's biggest event, Nusantawa at Seymour Theatre! There will be Darto and Danang, Adjis Doa Ibu & Gilang Gombloh as well as Glenn Fredly to perform. Don't miss out!
Jakarta, 15 September – Thinking about studying at the University of Melbourne? Register to attend UniMelb's September Information Day in Jakarta.
Bandung, 18 September- Register to attend the University of Melbourne's September Information Day in Bandung.
Melbourne & Yogyakarta, 26 September – The third ReelOzInd Australia Indonesia Short Film Festival 2018 is set to premiere on September 26! Click here to reserve your tickets!
Ubud, 24-28 October – Tickets for the Ubud Writers & Readers Festival are on sale now with speakers including Gillian Triggs, Kamila Andini, Fatima Bhutto, and Richard Oh. Get yours here now!
Gold Coast, 11-13 November – Save the date for the AIBC Conference 2018: Partnering for Prosperity in a World of Change! Registrations are now open for your chance to mingle with the who's who of the bilateral business community.
Opportunities
Like what we do? Want to join or support your local chapter to contribute to our exciting activities? Sign up as an AIYA member today!