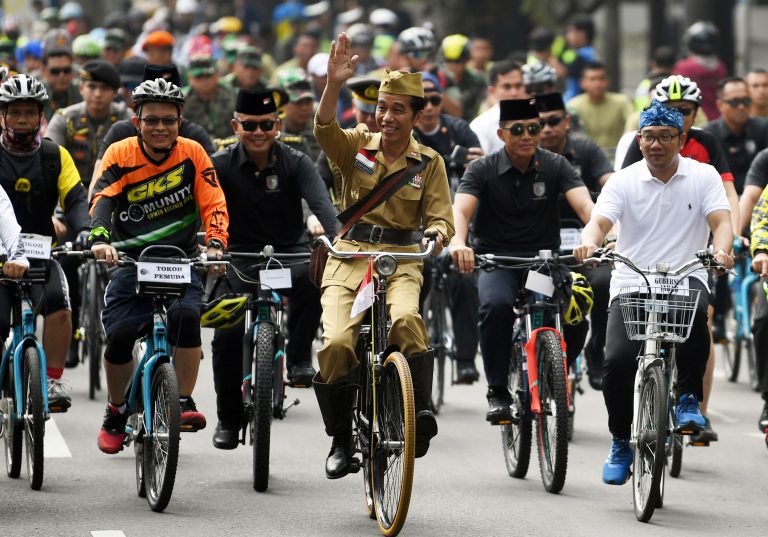 Indonesian politics in 2018 has been dominated by preparations for elections in 2019, scheduled for 17 April. ANU Professor, Greg Fealy sums up the election strategies of both candidates on the East Asia Forum.
In the news
On the blog
Kirrilly McKenzie has an amazing Indonesian language learning journey, starting young with zero knowledge of the country to becoming a dedicated Indonesian language teacher! Get her fresh perspectives on the importance of learning languages here.
Member Spotlight – We want to introduce you to the amazing, diverse range of dedicated young people involved in the organisation of AIYA. This week, we have AIYA Tasmania President, Brolin, yuk kenalan!
Events
Adelaide, 22 January – Join AIYA SA for a coffee catch up, 6:30pm at San Churro in Gouger Street.
Opportunities
AIYA South Australia is accepting Expressions of Interest to join the 2019 committee. They're looking for motivated, passionate young people seeking team and leadership experience. Send 50-100 words expressing your interest to Hannah at

[email protected]

before 10 February 2019. Positions available include secretary, treasurer, events officer, communications officer and general member/s.
AIYA Victoria is currently recruiting for 2019. If you are passionate about the Australia-Indonesia relationship, please consider applying. Positions available include Treasurer, Secretary, Media Officer, Education Officer, Sociocultural Officer, Professional Programs Officer and Education Facilitator/s (see Position Descriptions). Click here to apply!
AIYA Yogyakarta is currently recruiting its 2019 committee for position of Communications Officer, Education Officer, Sports Officer, Sociocultural Officer and Secretary. Join the excitement of having new experiences and friendship whilst contributing to the bilateral relationship. Apply via the online form before 23 January 2019. Any queries, contact AIYA Yogya on Facebook or Instagram.
Study Melbourne are looking for passionate and committed international students and alumni to join them as Study Melbourne Ambassadors in 2019. Learn more and apply here! Applications close 5pm, 28 January.

Are you currently learning Bahasa Indonesia? Want to visit Indonesia to learn more about the language and culture?

Indonesia's Ministry of Education and Culture

is inviting all foreign students to apply for

2019 Darmasiswa Scholarship

, with a chance to study in the University of your choice among 71 Universities across Indonesia. For more info,

head to their application page.

Applications close 1 March 2019.

Balai Bahasa dan Budaya of NSW is seeking anyone from AIYA NSW interested in joining their 2019 executive committee. Balai Bahasa help promote the value of learning about Indonesian language and culture across NSW. It's a fantastic opportunity for young people to build up their skills set while expanding your network. There may be also opportunities to work with schools and the Indonesian Consulate next year. If you're interested, contact Jane Ahlstrand via email:

[email protected]

or WhatsApp at: +61439248958.
If you have relevant work experience or interest in Indonesia's sustainable tourism sector, don't miss the opportunity to apply for 2019 Sustainable Tourism Development short course. This is a fully funded scholarship from Australia Awards. Apply here before 13 January to contribute more to tourism development in Indonesia!
Calling papers for the 12th International Indonesia Forum Conference "Rising to the Occasion: Indonesian Creativity, Ingenuity, and Innovation in a World in Transition", is open until 31 March 2019. The conference will be held from 26–27 June 2019 in Taiwan. Find out more & submit your proposals here!
Are you looking to improve your business development skills set by working on real problems over the summer? Participate in the Building a Social Business online course, hosted by our director of partnerships and memberships, Sam Shlansky, at econome. Take advantage of the discount to get $100 off the normal price of $199 by emailing your interest to

[email protected]

.
Check out the upcoming applications for Hamer Scholarships 2019! The scholarships offer the opportunity for language study and cultural engagement with dynamic markets such as Indonesia. Applications open 11 February 2019 and close 17 March 2019.
Do you want to make positive change in your community? If you have a bright idea, don't miss out on this opportunity to apply for the Alumni Grant Scheme (AGS). The Australian Awards are proud to have supported more than 100 projects across Indonesia since 2014, could yours be next? Applications are open to Indonesian nationals until 21 January 2019. For more information, click the link.
The WEA Sydney provides Indonesian Beginners Courses for adults and is located 5 minutes walk from Townhall Station. It's perfect for those with no previous knowledge of Indonesian language and who wish to learn the language for business, travel or everyday use. Sign up for the next course, commencing early February!
The 2018 – 2019 Short Film Competition for the 14th Indonesian Film Festival has begun. The competition is open to everyone and closes on the 3rd of March 2019. This year's theme will explore "The Unknown". Show off your creative skills for the chance to win a grand prize of AUD $750! For more information regarding competition rules and regulations, head to their website.
Learning a language? Get Indonesian & English language help with UniBRIDGE Project.
Like what we do? Want to join or support your local chapter to contribute to our exciting activities? Sign up as an AIYA member today!