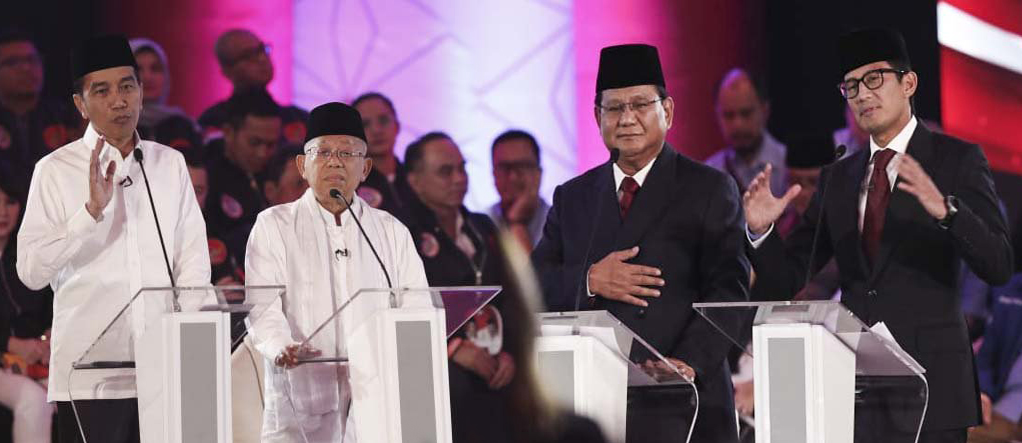 Jokowi-Ma'ruf and Prabowo-Sandiaga on their debut presidential debate
photo credit: CNN Indonesia
With less than 3 months left into the Indonesia presidential election, the first election debate was held last night at Biwara Assembly Hall, Bidakara Hotel, Jakarta. Although this is the second time around Jokowi and Prabowo face each other and not many changes of the themes (laws, human rights, corruptions and terrorism) discussed, the debate is crucial to secure the swing voters which make up 10% of the total voters. Both Jokowi-Ma'ruf and Prabowo-Sandiaga carry the same essence in their vision and mission, to bring prosperity for all with an emphasis on religious views in their own dispositions. Here are the full highlights of the night that presented by Ira Koesno and Imam Priyono.
Vision and mission of both candidates:
Jokowi-Ma'ruf: Indonesia Maju (a developed Indonesia): the optimism of a just, democracy and modern Indonesia. Enhancing economic and socio-culture rights which leads to betterment in human rights for all.
Prabowo-Sandi: Indonesia Menang (Indonesia wins): empowering the legal institutions such as judges, prosecutors and police. Enforcing a non-discriminating law and regulations by making sure the regulators getting enough salary to do their jobs.
In addressing the overlapping of legal certainty between central and regional laws and regulations for businesspeople, Prabowo believes the key is by empowering national law agencies and legal experts to coordinate and synchronised both regulations. Whilst Jokowi differ himself by stating the most important is to have a congruence of regulations by forming a National Legislative Centre which operates directly under president to avoid overlap.
In answering the conflict between law enforcement and human rights, Jokowi stated that revoking someone's freedom for detaining is not a rights violation but rather a procedure towards the available legal mechanisms. When asked to add to Jokowi's statement, Ma'ruf added, "Saya mendukung pernyataan Bapak Jokowi./I support Jokowi's statement."
Prabowo questioning the fair-balanced law enforcement under Jokowi's presidential era with an example of an arrest of a chief village who has openly shown his support towards Prabowo but none from the incumbent supporters. Jokowi responded by saying, "jangan menuduh saya seperti itu Pak Prabowo/don't accuse me like that Prabowo," and asked Prabowo to bring the case through the legal door with the evidence.
Jokowi cornered Prabowo by brought up the case of Ratna Sarumpaet to the table and asked Prabowo to stop accusing him of malicious cases and instead report the case to law enforcement with any available evidence.
No concrete answer was given about disability rights from both candidates. Sandiaga was instead giving an example of inspiring disable who created jobs for many and Jokowi bragged about the equal bonus given to para-athletes in the Asian Games. Ma'ruf spoke about creating a culture to respect the disables but got cut-off by time.
In answering the expensive civil servant recruitment which tends to caused corruptions in the office, Jokowi believes that the current recruitment process is transparent and based on their competences. Jokowi illustrated using his own child as an example, "my child couldn't get the job because he failed the tests." Whilst Prabowo emphasising on the fact that public servants don't get pay enough and often find their way out by taking public's money. He promised to raised public servants' salary if got elected.
Ma'ruf stated that terrorism is a crime and need to eradicate to its roots, MUI issued a fatwa that terrorism is haram and not jihad. Although agreeing on eradicating terrorism, Prabowo was sure that often times the problems were not from the inside but rather sent and controlled by non-muslim countries.
Jokowi questioning Prabowo's vision and mission and the statement of prioritising women's empowerment when only very few women are in the party's structure. When admitting the lack of women on his political party's roles, Prabowo doesn't believe the notion of considering gender but rather competency in doing the job.
Prabowo expressed his confusion about why Jokowi's ministers have minds on their own and gave different statements in public (referring to the statement of whether or not the nation has enough consumption stocks). Jokowi thought it was normal for his ministers to have discrepancies and have room for discussions.
Taking his data from ICW, Jokowi stated that Prabowo's political party has nominated the highest number of former grant convicts. Jokowi questioned the motives of Prabowo approving the grants, Prabowo said the data was subjective and if so, the laws allow it to happen. Prabowo said it was the part of democracy and let the people choose for themselves.