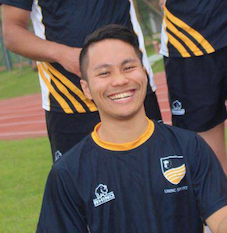 MEMBER SPOTLIGHT – Minh Bui
Welcome back to Member Spotlight where we introduce you to the personalities behind AIYA. This week, we introduce you to member of Jakarta Chapter, Minh Bui!
 What is your occupation/What do you study?
I study Economics and Indonesian studies at University of Sydney (USYD)
Fun fact you would like to share with us?
I love playing touch rugby and rugby union
What is your most memorable culture shock experience?
Because I am Vietnamese-Australian, most Indonesians don't realise I'm a foreigner until I speak Indonesian and they hear the thick Aussie accent. Even with the accent many Indonesian commonly mistake me for a Malaysian or Indonesian from a faraway place like Manado or Nias.
What is your favourite place to visit in Indonesia/Australia? 
Salatiga, Indonesia or Cabramatta, Australia
Favourite meal in Indonesia/Australia?
Lumpia Semarang with garlic sauce for Indonesian cuisine, but for Australian cuisine it would have to be Banh mi (or Bun Bo Hue) – Vietnamese-Australian food is the most delicious food ever
How about your favourite word in Indonesian/English?
Indonesian – Iya dong. Australia – yeah mate
Do you have a favourite Indonesian/Australian film? 
Don't have one
Any hopes for the bilateral relationship?
It'd be great if the bilateral relationship could be strengthened to be more than just a working relationship but more of a close friendship
What was getting involved with AIYA like? 
Pretty easy. The AIYA Jakarta president (Mbak Citra) asked me to become one of the chapter's events officers so I sent in my CV for review. Started helping the chapter committee right away by planning touch rugby meetups at Monas in Central Jakarta
What do you like most about AIYA?
I really enjoy attending AIYA's events and their success in bringing young Australians and Indonesians together to build the people-to-people connections that are so important for the bilateral relationship. Events like rugby and badminton meetups, language and cultural exchanges, or networking nights are always a great way to see the great work AIYA is involved in
Sum up your experience as an AIYA member in three words!
Fun. Fun. Fun.
How can we learn more and connect with you?
Instagram – the.wandering.koala.mbui
Terima Kasih Minh for sharing with us your passions and insights into your personal experience. Stay tuned for AIYA Blog Updates for the upcoming personas under Member Spotlight!