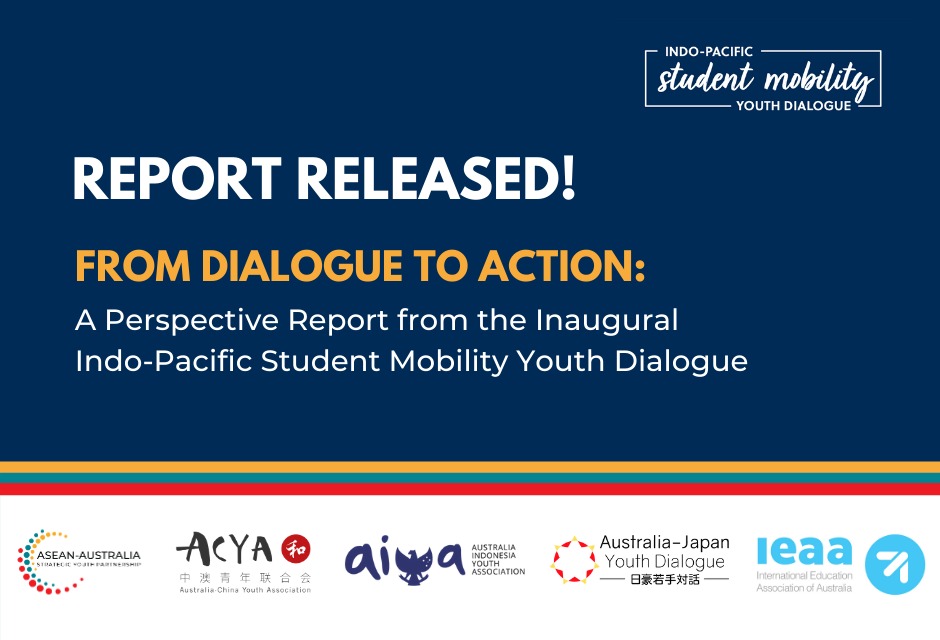 Indo-Pacific Student Mobility Youth Dialogue: From Dialogue to Action
In August 2020, 162 students came together to discuss the future of student mobility. Our report, From Dialogue to Action, reflects the rich experiences and ideas of these students. Combining personal stories with incisive commentary, this report makes 29 recommendations for improving outward mobility from Australia.
What is the Indo-Pacific Student Mobility Dialogue?
The Indo-Pacific Student Mobility Youth Dialogue is a new initiative that brings together Australian students to discuss the future of international education and mobility. The Dialogue encourages Australian students to reflect on, and provide practical recommendations for improving, overseas study programs.
The Dialogue focused on outward student mobility from Australia to the Indo-Pacific region and was conducted between 7-9pm AEST on 26th August 2020 via Zoom.
Participants were selected through a competitive process.
The Dialogue was coordinated by a coalition of youth diplomacy organisations:
All of these organisations are passionate about encouraging meaningful mobility experiences for Australian students.
Why did we organise the Dialogue?
Student mobility plays an important role for both students and governments. For students, overseas study offers an opportunity to experience new cultures and be exposed to new ways of thinking. For governments, student mobility is a strategic tool for building stronger people-to-people relations around the world. Australia has a strong tradition of international mobility; approximately one in five Australian undergraduate students complete an overseas educational experience.
COVID-19 has resulted in study exchanges and mobility programs being cancelled across Australia and the globe. Enforced immobility has made us reckon with some fundamental questions:
What is student mobility and what is its value?
Can in-country experiences be replicated online?
What can be done to build people-to-people relations when travel is impossible?
How can we improve student mobility in the future, especially through better utilisation of technology?
Now is the time to ask these questions—a pause in international travel provides an opportune moment to improve how we approach mobility. This Dialogue will document student perspectives and ideas to assist in re-imagining mobility programs in a post-COVID-19 world.
How will the Dialogue create impact?
We have worked with delegates to compile a report capturing ideas and recommendations for student mobility programs. This report will be delivered to key stakeholders and decision-makers, including universities, the Department for Foreign Affairs and Trade and the Department of Education, Skills and Employment.
This is an opportunity to get student ideas in front of the movers and shakers of international education.
What was involved in the Dialogue?
Delegates attended two hours of jam-packed discussion, reflection and ideation. The programme included:
A keynote address from Professor Ly Tran about the future of international education.
Two 30-minute discussions in small break-out groups on pressing topics relating to student mobility.
A fast-paced speed friending session with other delegates
Discussions topics include:
Mental health
Physical and psychological safety
Culture shock
Physical wellbeing and sexual health
Support for LGBTQI+ students
Making friends and building support networks
Religion
Navigating different educational systems
The logistics of student mobility
Personal finance
Working during student mobility
Language
Returning home – now what?
Future of mobility
Who supported and helped organise the Dialogue?
This event was proudly supported by:
The event was proudly organised by:
Cameron Allan, AASYP
Josh Gacutan, AASYP
Ashley Ramachandran, AASYP
Eva van Dijk, AASYP and AIYA
Emily Heng, AASYP and AIYA
Gabriel Steger, ACYA
Deborah Zhang, ACYA
Erin McCallugh, AJYD