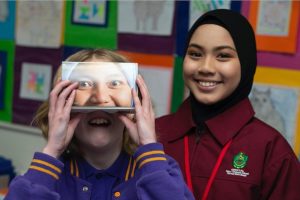 Over the past two decades, the story of Indonesian language learning in Australian schools has been one of gradual decline. If current trends continue, Bahasa Indonesia in Australian schools will experience an irreversible crisis – caught between some positive efforts in primary schools and ever-dwindling student numbers in the secondary years.
In the news
Events
JOIN AIYA ON DISCORD! AIYA would like to cordially invite you to join our new Discord, an online group-chatting platform. We will be using Discord a digital hub for AIYA activities including:
FLEX – our online language exchange is shifting over to Discord from UniBridge
Games nights – AIYA will be hosting casual and impromptu gatherings on Discord
Ngobrol santai – any AIYA member will be able to join and chat with other members whenever you want.
JOIN AIYA IN-PERSON LANGUAGE EXCHANGE! LX is back in multiple locations across Australia. Connect, chill, and converse with like-minded youth, meet new friends and engage in cross-cultural exchange. In-person language exchange is on:
WA: Every Wednesday fortnight, 6 PM, Old Shanghai Northbridge. Follow @aiya_wa on Instagram or Facebook for more info.
NSW: Every Wednesday, 6 PM, Darling Square (food court underneath library). Follow @aiya_nsw on Instagram or Facebook for more info.
Vic: Every Wednesday, 6 PM, Kathleen Syme Library Kathleen Syme Library, Multipurpose room 2. Follow @aiya_vic on Instagram or Facebook for more info
ACT:  Every Wednesday, 6 PM, Marie Ray Building. Follow @aiya_act on Instagram or Facebook for more info
On the Blog
The focus on the inequality and injustices suffered by women have become ever more pertinent.  In Australia, for example, 2021 has been marked with a greater shift of focus within public discourse towards the safety and basic human rights of women as well as the inequality that women suffer. A number of women marches took place in March of this year, following allegations of sexual misconduct in parliament. In Indonesia, a yearly women's march has taken place for a number of years in commemoration of Indonesia's hero of women emancipation, Kartini. Read this week's blog here.
Nusa Tenggara Timur, gugusan pulau- pulau tropis  yang terkenal elok dan eksotik, kumpulan dataran di ujung selatan Indonesia yang memunggungi Samudra Hindia. Di balik menawan pesonanya, tentu juga menyimpan potensi bahaya alamiah yang turut membayangi. Benar, baru saja tagar #PrayForNTT menggaung di kancah nasional seiring tangis duka di penjuru daerah di Provinsi Nusa Tenggara Timur (NTT). Ratap pilu akibat dicederai "Seroja" si Badai Siklon Tropis terjadi sangat cepat, yang sekonyong – konyong memporak porandakan manusia. Baca selengkapnya di sini.
Opportunities
Like what we do? Want to join or support your local chapter to contribute to our exciting activities? Sign up as an AIYA member today!