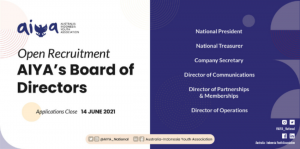 A once in a two-year opportunity has arrived! The AIYA National AGM is coming up which means AIYA is accepting applications for Board Positions!
In the news
Events
JOIN AIYA ON DISCORD!

AIYA would like to cordially invite you to join

our new Discord

, an online group-chatting platform. We will be using Discord a digital hub for AIYA activities including:
FLEX – our online language exchange is shifting over to Discord from UniBridge

Games nights – AIYA will be hosting casual and impromptu gatherings on Discord

Ngobrol santai – any AIYA member will be able to join and chat with other members whenever you want.
JOIN AIYA IN-PERSON LANGUAGE EXCHANGE!

LX is back in multiple locations across Australia. Connect, chill, and converse with like-minded youth, meet new friends and engage in cross-cultural exchange. In-person language exchange is on:
WA: Every Wednesday fortnight, 6 PM, Old Shanghai Northbridge. Follow @aiya_wa on Instagram or Facebook for more info. 

NSW: Every Wednesday, 6 PM, Darling Square (food court underneath library). Follow @aiya_nsw on Instagram or Facebook for more info. 

Vic: Every Wednesday, 6 PM, Kathleen Syme Library Kathleen Syme Library, Multipurpose room 2. Follow @aiya_vic on Instagram or Facebook for more info

ACT:  Every Wednesday, 6 PM, Marie Ray Building. Follow @aiya_act on Instagram or Facebook for more info
Throughout June – Monash Indonesia

will become Indonesia's first ever foreign University

from October 2021, and welcome people interested in its study opportunities to attend one of its many info sessions that cover study options. Register

here

.
1-15 June- Penpal Ladies

is AIYA's Women's Committee program that seeks to connect female-identifying AIYA members with others in different countries. Registrations are now open until 15 June. More info

here.
12 June- AIYA's Women's Committee

is hosting a seminar called  'Stronger Together: Advocacy of Women's Issues in Australia and Indonesia. Join two fantastic speakers on their journey in women's rights advocacy in both Australia and Indonesia. The event will take place on zoom at 10 am WIB/ 1 pm AEST. Register

here.
14 June – SSEAC

hosts a conference for postgraduate students and early career researchers to provide a forum to bring together expertise on Southeast Asia from postgraduates and early career researchers at the University of Sydney and beyond. Register

here

.
19-20 June- Taronga Zoo

will be hosting an Eid event to celebrate the end of Ramadan.

50% discount on single tickets for the festive weekend using promo code EIDIND21. More info

here.
23-26 June- AIFIS-MSU Indonesian Studies Conference

will be held featuring 10 parallel sessions on a wide range of topics from history, music, environmental issues, economy and many more. Registrations are now open

here.
27 June- Festival Sinema Australia Indonesia

is hosting a virtual screening of 'The Furnace.' This Australian film screening is free for Indonesian viewers, and will be hosted at 1pm WIB. More info

here. 
7 July- SPARK Deakin

is hosting a webinar on 'Creative Approaches to Tourism,' from experts in Melbourne and Bandung. This session aims to answer what tourism would look like in a post-COVID world. This will take place at 4pm AEDT/1 pm WIB, with more information

here.
On the Blog
In late April, AIYA Queensland held a webinar in partnership with the Indonesian Students Association (PPIA) Queensland and Universitas Indonesia's Society of Renewable Energy. The webinar, titled, 'Integrating Sustainability: Career and Day-to-day', examined how students and young professionals can be more sustainable, both in their careers and their everyday lives. Read the takeaways from the event

here

.
Opportunities
DFAT

is seeking a part-time Payroll Officer that requires a high level of attention to detail and in-depth knowledge of the Locally Engaged Staff (LES) Terms and Conditions of Employment. Apply by 13 June

here

.
Australia's CSIRO

(Commonwealth Scientific and Industrial Research Organisation) is looking for a Senior Program Manager who will be be part of the CSIRO Indonesia Office in the Australian Embassy. Submit your applications no later than 13 June

here

.
AIYA's Women Committee

'Penpal Ladies' is receiving applications. Selected participants will be paired up with women from Australia or Indonesia to experience exchanging postcards over the eight weeks. Apply by 15 June

here

.
Cardno

Towards a Strong and Prosperous Indonesian Society (MAHKOTA) is currently requesting proposals from a Firm to Undertake Evaluation Study on MAHKOTA's Contribution Towards Indonesia's National Poverty Data System. The submission deadline is on 15 June. More information

here

.
Cardno

is seeking a Business Portal Manager to take lead for operationalising and managing Katalis' business portal. This is a short-term consultancy position with up to 84 days over 6 months. Apply by June 16

here.
Scope Global

is hiring a Risk, Safety and Security Coordinator, New Colombo Plan. This is a full-time, fixed-term 4-year contract based in Adelaide. Apply by June 16

here.
Scope Global

is hiring a Communications Officer to provide administration and support services to DFAT's New Colombo Plan. This role includes a range of marketing, comms and stakeholder management responsibilities. Apply by June 16

here

.
Alkimos College

is seeking someone who can teach Japanese, Indonesian or Italian from Year 7 and build the program from the ground up. Submit your applications

here

by 17 June.
Cardno

has a Gender and Social Inclusion internship opportunity open! This role is to support the integration of gender and social inclusion issues across Prospera's portfolio work. If you are interested, apply

here

by 18 June.
Asialink

is hiring Manager, Projects & Development responsible for shaping and delivering programs and projects and supporting the Director Asialink Arts in the advancement of partnership opportunities. Apply

here

before 21 June.
Prospera

is seeking a Senior Adviser (Budget Policy) to develop and improve fiscal policies and strategies. This job requires working closely with the Indonesian government to undertake economic analysis. Apply by 28 June

here. 
Women in Asia Conference

is calling for presentations in the format of  paper, and video and audio podcasts of 8 minutes in length. Submissions open until 30 June

here

.
International Internships

has two Indonesia related positions open! They are looking for a Participant Engagement Coordinator and a Placement Coordinator. If you are interested in facilitating better Indonesia-Australia relations, this is the position for you! Apply by 5 July

here. 
ANU

is hiring a Lecturer in Indonesian Language and studies. This position will be based in Canberra, with teaching beginning in Semester 1 2022. If you are a scholar that is looking to making substantial contribution to ANU's Indonesian language program, apply by 15 July

here.
Twitter

is

currently seeking a Communications Manager to report to the Head of Communications for Southeast Asia to craft and execute PR/communications programs and activities for Twitter in Indonesia and Malaysia, based in the company's Jakarta office. Apply

here.
Youtube

is seeking a

Strategic Partner Manager on the Content Partnerships team based in Jakarta where they will provide  a unique opportunity to create long-lasting relationships with a portfolio of partners, and to apply and hone business skills in an entrepreneurial environment. More info

here.
Australian Volunteers

is temporarily suspending overseas placements but are continuing to support partner organisations through

remote volunteering

. If you're interested in volunteering in-country then check-out a range of opportunities

here

.
Have you got some stories to share about Southeast Asia? Pitch an idea to

The Sydney Southeast Asia Centre.

SSEAC is looking for a breadth of disciplinary focus including history, law, political science, agriculture, medicine, among others. For more info click

here.
Inside Indonesia

publishes original pieces on a wide range of political, social, environmental, and cultural issues in Indonesia. They accept articles from a diverse range of people who have an interest in Indonesia. To find out how to contribute, click

here.

 
Like what we do? Want to join or support your local chapter to contribute to our exciting activities? Sign up as an AIYA member today!