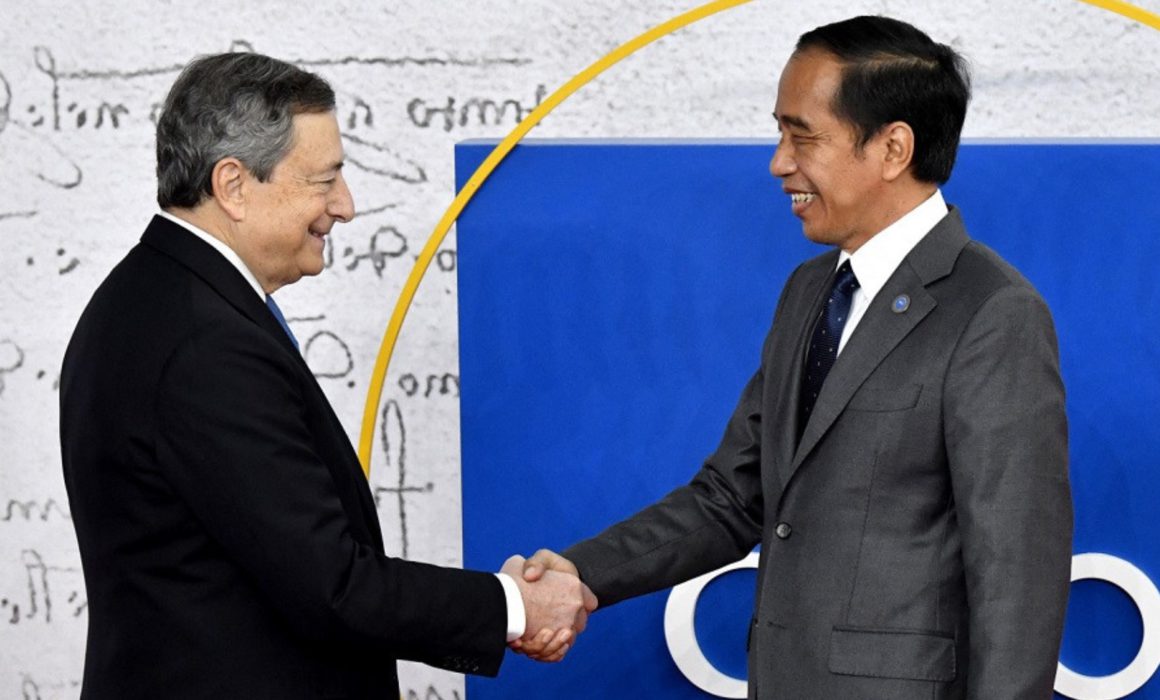 On Wednesday, Indonesia officially took over the Group of 20 presidency from Italy. President Joko "Jokowi" Widodo will be responsible for leading the policy direction of the club of the world's 20 largest economies, which includes Australia, until next November. In his acceptance speech, Jokowi promised "inclusive, people-centred, environmentally friendly and sustainable growth" as Indonesia's main commitment to its G20 leadership.
In the news
Events
AIYA Indigenous Engagement Events! Kumpul, AIYA's Indigenous Engagement Committee have worked to construct and host some events in celebration:

Kumpul's First Nations Book Club launched earlier this year. Through the Book Club, we hope to learn from indigenous perspectives. On 23 Jan 2022 at 7pm AEDT/3pm WIB, we'll be meeting online to discuss The Yield by Tara June Winch. Tara is a Wiradjuri woman, an acclaimed writer and winner of the 2020 Miles Franklin Award (for this book!). Interested? Join the WA group here and/or the FB group here.

JOIN AIYA ON DISCORD! AIYA would like to cordially invite you to join our new Discord, an online group-chatting platform. We will be using Discord a digital hub for AIYA activities including:

FLEX – our online language exchange is on Discord and open to anyone with any level of Indonesian and English.
Games nights – AIYA will be hosting casual and impromptu gatherings on Discord
Ngobrol santai – any AIYA member will be able to join and chat with other members whenever you want.

JOIN AIYA IN-PERSON LANGUAGE EXCHANGE! LX is back in multiple locations across Australia. Connect, chill, and converse with like-minded youth, meet new friends and engage in cross-cultural exchange. In-person language exchange is on:

WA: Every second Wednesday, 6pm, Old Shanghai Northbridge. Follow @aiya_wa on Instagram or Facebook for more info. 
VIC: Every Wednesday, 6pm, Carlton Gardens (outside IMAX). Follow @aiya_victoria on Instagram or Facebook for more info.

3 Dec NAILA 2021 Awards Ceremony, over 130 students and professionals showed off their Indonesian language skills in 7 categories on the topic of 'Travel'. Throughout the evening we will hear from a range of highly regarded professionals in the Australia-Indonesia space as well as announcing the 2021 winners from each category and listening to their winning speeches. The ceremony will be held at 5pm AEDT via zoom. Register here.
3 Dec 'The Future of the Study of Indonesia in Australia' is an event that brings together voices on Indonesia-related scholarship, education and engagement; it will involve a panel discussion on Australia's capability to rise to challenges. More info here.
3-4 Dec The University of Melbourne is hosting the Indonesia Graduate Lecture Series 2021. Engage in discussions with academic experts on current issues and experience what life in the classroom is like. Register here.
6 Dec 'Where Oceans Meet' is a charity concert in Perth that features traditional instruments of the Indo-Pacific region, such as the Indonesian gamelan. Get tickets here.
6 Dec 'Reimagining Creative Digital Industries: Indonesia' is an event where you can Learn about major trends in the NFT ecosystem from Balinese Illustrator MONEZ and the current and future applications of UX Design from Dr Eunice Sari, CEO and Co-Founder of UX Indonesia. Register for free here.
6-10 Dec Ever wanted to learn a Yolŋu language and culture? The Yolngu Studies team is running a fantastic short course for 5 days! For more info and registration here.
7 Dec COVID-19: Indonesia's health, society and economic recovery. PAIR (Partnership for Australia-Indonesia Research) Digital Summit features discussions with influential thought leaders from academia, policy, business and community organisations. The summit draws on a series of COVID-19 research reports, register here.
9 Dec marking International Human Rights Day, the ANU Indonesia Institute is hosting a discussion on women's rights and gender equality in Indonesia. Join the discussion here.
11 Dec DogMilk film is screening, in Melbourne, their cross-cultural exchange project; The film is described as an emotional topography of DSTV's work over the last 15 years, a living and growing archive of Torajan life, individual and communal. Watch the teaser here, and buy tickets here.
14-16 Dec The International Conference and Cultural Event of Lampung 2021, organised by Monash University, consists of keynote addresses and an array of presentations centred on the visual and performing arts of Lampung, South Sumatra. Register here.
19 Dec The Australian Embassy and Australia Global Alumni in Indonesia are hosting the 2021 Australian Alumni Awards Virtual presentation. Register here.
Opportunities
Austrade is open for applications for its National Graduate Program 2022. So if you're a collaborative, outcomes-focused and high-performing graduate with an interest in making a difference to Australia's economic prosperity, apply by 3 Dec here. 
Flinders University is hiring a Teaching Specialist (Academic) – Indonesian, with its primary focus on teaching and teaching-related activities. Apply by 5 Dec here.
DFAT is looking for a Senior Economic Research Officer (here) and a Policy Adviser (Economic) (here) who will work as part of the Treasury's team at the Embassy to assist the Minister-Counsellor in undertaking research, providing advice and reporting to Canberra. Both positions close by 6 Dec. 
Cardno isrecruiting an International Climate Change & Environment Adviser for developing sustainable urban mobility plans for Denpasar, Semarang and Makassar metropolitan areas. Apply by 8 Dec here.
Arkblu Capital is looking for a bilingual English/Bahasa Corporate Support Officer to work in the Sydney-based office. Apply by 11 Dec here.
Aust Gov Singapore is seeking an energetic and professional person with experience to work as the Project Coordinator in the Singaporean CSIRO office. Apply by 14 Dec and more info here.
Fair Ventures Social Forestry is a social enterprise and is hiring a Business Development and Fundraiser for the Asia Pacific, based in Indonesia. Apply by 15 Dec here.
Palladium is hiring a Senior Disaster Management Adviser to provide technical leadership and management support for the design and implementation of activities related to disaster management systems. Apply by 17 Dec here.
BIPA Scholarship Program welcomes applications from Current undergraduate students, practicing teachers, and company staff members to undertake a partially-funded Indonesian program. Apply by 18 Dec for the January program. More info here.
Asialink Leaders Program is Australia's premier program for Asia capable leaders, offering a transformational experience with the latest insights, capabilities, and connections to position you for success with the region. Apply by 31 Dec here. 
ASAH Emerging Scholar Award is receiving submissions for academic papers on any subject in Asian Humanities. Submit your academic papers here and get the chance to win the award of 200 AUD. Submissions closed on 31 Jan 2022.
Do you have a great Indonesia-Australia business development idea that needs connecting and support?Submit your ideas to Katalis through its business portal here. Proposals can be submitted all year, and will be subject to approval from the governments of Indonesia and Australia.
Kemlu (Indonesia's Ministry of Foreign Affairs) are conducting their annual survey of how Indonesia is viewed by the world. Take it here. 
Stream the ReelOzInd! 2021 film festival on demand here. The film festival, now in its 6th year, saw winners announced for several categories on the theme of 'connection'. Read more about it here. 
DFAT has established the Emerging Markets Impact Investment Fund (EMIIF) which seeks to support development ideas across the Indo-Pacific region. If you have a bright development idea consider applying for support here. 
Australia Awards Indonesia have created an OzAlumni podcast, catch up on episodes here. 
Lakoat Kujawas is calling for proposals for the art residency program 2021-2022! The community of Taiftob Village, Mollo, NTT is open for collaboration with interdisciplinary artists and food activists. More info here.
Asia Options has two vacant positions; Marketing Specialist and Country Correspondent Roles to join the team. See here for more info.
Australian Volunteers is temporarily suspending overseas placements but are continuing to support partner organisations through remote volunteering. If you're interested in volunteering in-country then check-out a range of opportunities here.
Inside Indonesia publishes original pieces on a wide range of political, social, environmental, and cultural issues in Indonesia. They accept articles from a diverse range of people who have an interest in Indonesia. To find out how to contribute, click here. 
The Australian National University is seeking a Senior Partnerships Manager (here) and Senior Partnerships Officer (here) to be based in Jakarta. The role will primarily focus on student recruitment activities and partnerships in Indonesia.
Education Centre of Australia is looking for an energetic In-Country Manager in Indonesia. The ideal candidate will assist the Senior Regional Manager (South East Asia) to develop strategies and implement plans to recruit outstanding students to the ECA Group and to meet commencing student targets for Indonesia. Apply here.
Like what we do? Want to join or support your local chapter to contribute to our exciting activities? Sign up as an AIYA member today!