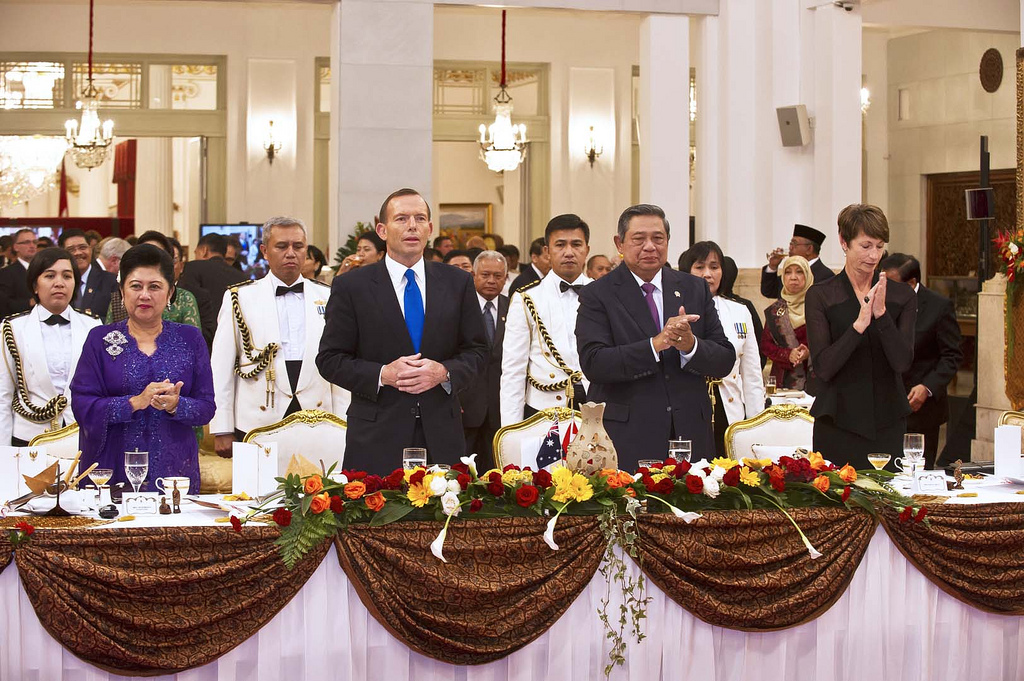 Prime Minister Tony Abbott threw away his 'get-out-of-jail-free' card when he decided not to accept an invitation earlier this month to meet Indonesian President, Susilo Bambang Yudhoyono (SBY ) in Bali.
This was a huge lost opportunity for our PM as the Indonesian president sought a face-saving way of mending the strained relations between his country and Australia before he leaves office in the next few months.
Now Mr Abbott will need to travel to Jakarta in an effort to repair the bi-lateral relationship following a stoush in late 2013 over Australia's handling of spying allegations and the tough turn-back-the-boats policy implemented by his government.
So will the prime minister's Jakarta trip be enough to get relations back to normal? Well, it depends on what we call 'normal'.
Whilst there is still significant resentment in Indonesia over Australia's stance on these two 'irritating' conflicts, the asylum seeker issue, as a matter of public interest, does not rate highly in Indonesia. And with boat people no longer having any real access to Australia via people smugglers, there is anecdotal evidence to suggest there has been a significant drop in people entering Indonesia illegally as the transit country, potentially providing a 'win-win' for both countries against people smugglers.
The other major issue – the alleged spying that was at the heart of the diplomatic spat – was carried out against a president who, in the next few months, will retire from office with very little credibility or respect amongst most Indonesians.
The incoming Indonesian president looks like being the hugely popular Joko Widodo (known as 'Jokowi') and whilst he lacks any real international experience, upon being elected he – or one of his opponents if elected – would possibly want to put any previous regional spats behind them, and be open to rebuilding the bi-lateral relationship with Australia, given that both countries need each other in areas of regional security, intelligence, terrorism, and food supply.
'Jokowi' would however, be a president who would focus on domestic issues during his first term, so relations with Australia may get far less attention than previously; and herein lies a potential difficulty if Australia tries to rebuild the relationship too late, and discovers that Jokowi – with his party leader, Megawati Sukarnoputri (who has no real love of Australia) in the background – appears ambivalent towards his large southern neighbour.
The 'wild card' in this scenario is the possibility of the aging but astute Yusuf Kalla being elected as Indonesia's Vice-President (for the second time). This would be good for Indonesia and Australia, as Mr Kalla is business-friendly, likes Australia and has a strong international relations background. He would complement 'Jokowi' well and together provide Indonesia with stable and popular leadership.
In the meantime, SBY would probably prefer to mend the relationship with Mr Abbott's government now, to enhance his own legacy as a president who built close links with Australia and Australians. His preparedness for Mr Abbott to meet him in Bali and subsequently Jakarta, plus the decision that the Indonesian ambassador, H.E. Nadjib Riphat Kesoema, return to Canberra before the July presidential election, are all signs that SBY does in fact want the relationship 'normalised' soon.
SBY doesn't have much time. With his legacy ambitions, and Indonesia's focus on the upcoming presidential election, despite our 'hard-line' and sometimes arrogant approach to our northern neighbour, Mr Abbott may be able to mend the relationship without any compromise on his tough border protection policies.
As to whether the longer-term relationship under Mr Abbott can move beyond 'normal' and progress sufficiently to take advantage of the huge opportunities that await a country like Australia, as Indonesia emerges as a major world economic power on our doorstep, is an entirely different manner.
If we are to avoid being sidelined by regional competitors – including China, Japan and Singapore – and truly seize the opportunities with Indonesia, we are going to have to move beyond a relationship that, for the past ten years, has been dominated by asylum seekers issues and Bali holidays gone wrong.
Ross B. Taylor AM is the President of the WA-based Indonesia Institute.
This article from the West Australian, Saturday 15th March originally appeared at Our Indonesia Today. The opinions expressed in this article are the author's own and do not necessarily reflect the views of the Australia-Indonesia Youth Association or its partners.