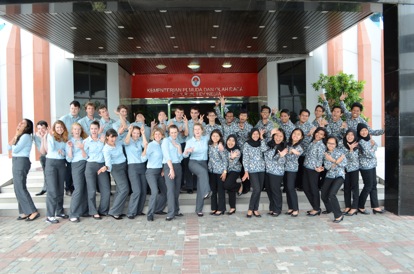 Inside AIYEP: Breaking Down Cultural Barriers
The Australia Indonesia Youth Exchange Program, widely known as AIYEP, is a dual government initiative between the Australian Department of Foreign Affairs, the Australia Indonesia Institute and the Indonesian Department of Youth and Sport (Kemenpora). In its 32nd year, it is the longest running and foremost exchange program serving the bilateral relationship. The program brings together 18 Indonesian and 18 Australian participants, 9 males and 9 females from each country. Amongst its aims are fostering people-to-people ties, building a lasting legacy and developing an integrated history for Australia and Indonesia.
The initial phases involve flying the Indonesian participants to an Australian state where they partake in work experience placements and live with host families. This year's group spent October in Perth, followed by a month in the rural locale of Margaret River. There was an exciting mix of work placements in prominent companies and agencies across the media, law, government, hospitality and teaching. One day a week was also spent putting on the group's cultural performance piece, which comprises dances and songs from across the archipelago.
Last Monday, the Australian participants met for the first time in Perth for an opening orientation. We were briefed on the many facets of AIYEP and complexities we might encounter during our time in Indonesia. A big part of the orientation was bonding as a group and making sure we were on the same page about our projects, despite the different levels of interaction we have each had with Indonesia. The week was jammed packed; electing coordinators, creating a cultural performance routine illustrating Australian culture, and finally meeting our Indonesian counterparts on Thursday.
Cultural Performance
The first task our group prepared to tackle was creating a cultural performance that reflects Australian culture. We were faced with the difficulty of defining 'what is Australian culture.' The piece we created, whilst not elaborating on every aspect, draws upon our long history of indigenous cultures and modern multicultural society with the influence of international music and drama.
Our first test was a performance at the Indonesian Consulate in Perth. We began with a chorus of Australian participants singing Inanay Gupuana of the Torres Strait Island people. The song then led into a medley of popular Australian and Indonesian songs, with a small band of guitars, a violin and shakers leading the enthusiastic chorus. The chorus then reconfigured into rows for the Australian and Indonesian participants to perform the Saman dance. Saman is a complicated, extremely cool looking dance from Aceh. We spent a few hours learning the moves before putting the performance together. The final piece featured a pastiche of Indonesian dances performed by the Indonesian participants.
Information Sessions
The week also consisted of a number of talks including DFAT, AIYA WA, AIBC Young Professionals and the Consulate. We had an opportunity to ask a number of questions to people who hold various positions within the Australia-Indonesian relationship. A particular interest-point was how young Australians will be able to use their Indonesian language skills to continue advancing the relationship; a point that met varied responses from young people, government and the business side.
Counterparts
On our last day in Perth, we were paired up with counterparts from the Indonesian group, who we will live with for the remainder of AIYEP. Our group leaders revealed our counterparts by hiding two halves of a playing card around the room for us to find and match together. We were lucky enough to get Venna who is from Yogyakarta and Chris from Sumatera Utara. We were all wished happy marriages because we will be living in the same bed for the next two months in both the village phase and the city phase.
Village Phase
We have just finished our in-country orientations in Jakarta and Banjarmasin and are about to embark on a month's stay in Mattone village, South Kalimantan. We will live with our counterparts in a host family and carry out a number of Community Development projects relating to education, sports, health, waste management, local business and tourism. Our hope is that we can integrate into the community and do our best to meet the needs of the village.
City Phase
The city phase will commence in January and finish off the program. Every Australian participant will be assigned a work experience placement to complete with one of the Indonesian participants. At this stage, we will return to Banjarmasin to live with a host family in the city.
To follow this years AIYEPer's go to:
Facebook: fb.com/aiyeptcn
Twitter: @aiyeptcn
Instagram: aiyep2014
For more information about the program visit: http://aiyep.tcn.com.au/