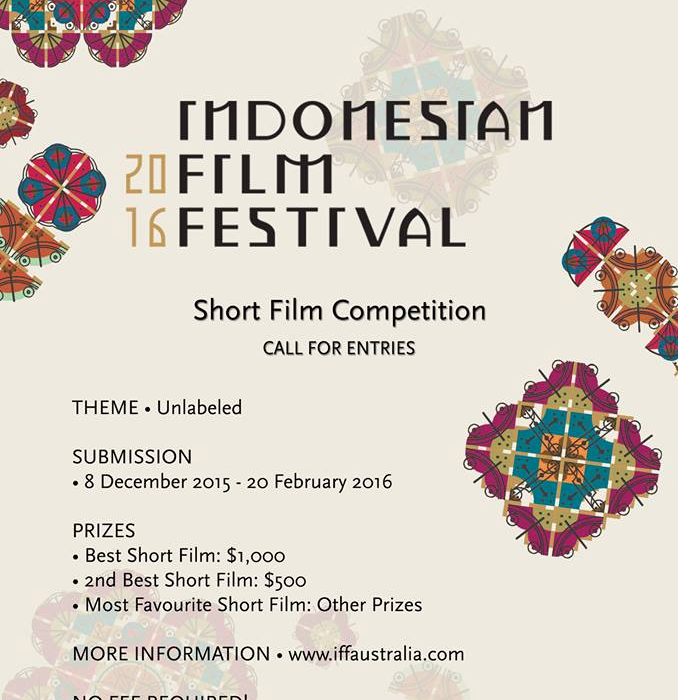 Indonesian Film Festival (IFF) 2016 Submissions NOW OPEN
Interested in Indonesian culture? Interested in expressing your ideas through a movie? Do you have a passion to participate in the filmmaking industry? Calling all short filmmakers — Indonesian Film Festival's Short Film Competition is back in 2016 to open up opportunities for every film enthusiast!
This Short Film Competition aims to promote Indonesian culture by inviting filmmakers across the world, regardless of your experience in creating short film related to Indonesia. Three short independent films will be selected to be screened during the festival.
The theme for this year's competition is "Unlabelled", where you can make a short film that challenge different stereotypes that exist in the society!
Eligibility criteria includes:
A member of the main production staff (Director, Producer, or Actor) must be Indonesian
The film incorporates Indonesian language or culture
Must contain Indonesian dialogue or narration
English subtitles must be included in the film
Running time maximum 20 minutes, including title and credits
Please click here for T&C's and more information.
With the entry submissions free of charge – what are you waiting for?
To submit your film, please follow the instructions as addressed in the Registration Form.
Get in quick! Submissions close on 20th February, 2016. 
For enquiries, please send an email to the organising team at [email protected].
We are proud to announce that AIYA members will be able to receive discounted tickets to the Film Festival, which will be running from 14th-23rd April! Further details to come soon.