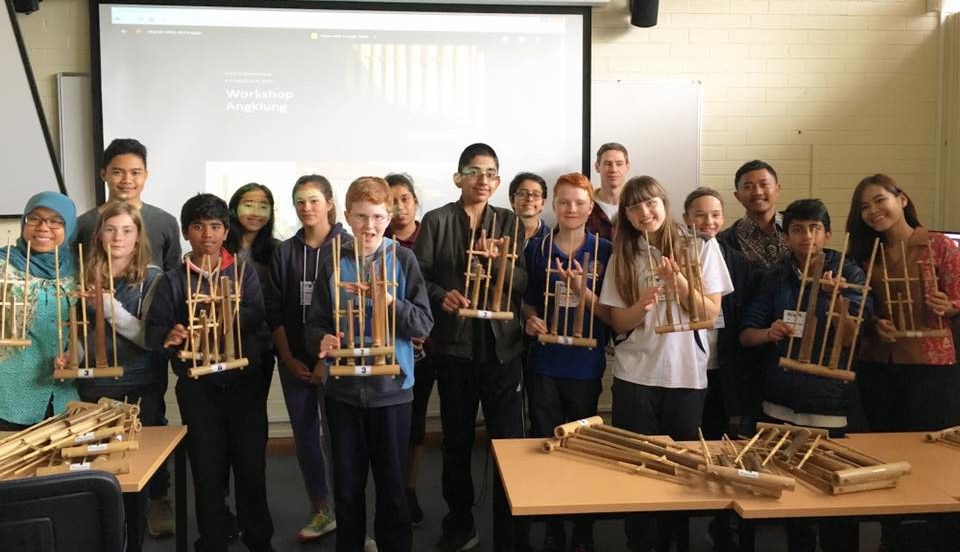 The future of Australia-Indonesia relations is in safe hands with secondary students in Canberra demonstrating a keen interest in their language studies.
The annual Indonesia Day event run by the Australia-Indonesia Youth Association – ACT Chapter (AIYA ACT) has again proved to be a massive success for the third successive year with attendance by 170 students.
High school and college students from across the ACT studying Indonesian came to ANU where they had the opportunity to participate in a wide variety of cultural, linguistic and history workshops.
The workshops gave students an insight into the diversity of Indonesian culture across the archipelago.
University student volunteers had the opportunity to showcase their skills to students as well as the wide variety of opportunities that are available to students who speak Indonesian.
Australian students who studied the Indonesian martial art pencak silat and the traditional Acehnese dance Saman were able to showcase the opportunities that they had to learn these skills in-country through programs such as the Australia-Indonesian Youth Exchange Program (AIYEP) and in-country university study.
Indonesian university students showcased their skills to students in various areas of Indonesian culture, such as the bamboo instrument angklung, getting an opportunity to share their culture to young Australians.
Education is vital to a healthy relationship and it is important that we foster students' keen interest in Indonesia from a young age whether that be in language or other.
Language classes battle with 'more fun' subjects in the elective part of the curriculum in later secondary school, damaging the progression language skills making programs like this vital to demonstrating the importance of learning languages.
Canberra students choosing to study Indonesian have the added difficulty of the continuation of their studies as the schools from primary to high school, and finally college, may not offer Indonesian.
Indonesia from Canberra can feel like a whole world away, but with growing interest in the region and Indonesians making up 2.5 per cent of Canberra tourism, it will become increasingly important for the ACT to make themselves more open to engagement with Indonesia.
Read about various past Canberra and ANU events hosted by AIYA ACT here. The team also regularly organises Language Exchange events, which you can keep up to date about on their Facebook page.