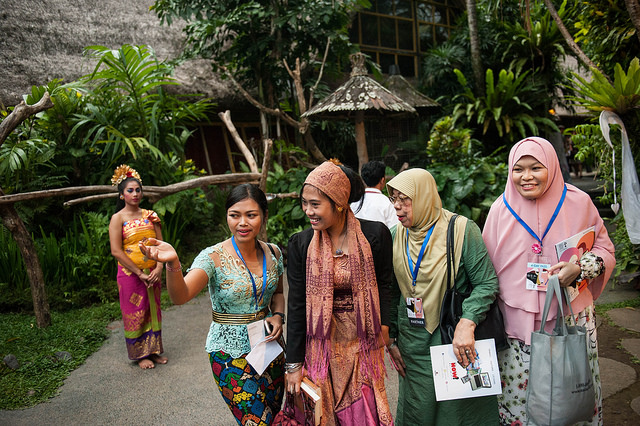 Ubud Writers & Readers Festival 2016: a feast of Indonesia-focused content
From human rights and politics in Asia to the role of activism and art, Ubud Writers & Readers Festival 2016 (UWRF16) traversed five days of enthralling panel discussions, dynamic performances, readings, film, poetry, exhibitions, workshops and food, cementing its position as Southeast Asia's leading festival of words and ideas.
In its 13th year, the UWRF again saw strong attendance figures of over 30,000, and significantly greater diversity in ticket sales, with Indonesian audience numbers up by 31.5% from 2015. Eminent historian and Festival stalwart Ian Burnett remarked during the Festival: "There is no country more diverse – culturally, ethnically, linguistically – than Indonesia." The following is a wrap-up of the many Indonesia-focused UWRF16 highlights.
Indonesian literary luminaries Seno Gumira Adjidarma, Dewi Lestari and Eka Kurniawan delighted fans and snared the attention of unfamiliar listeners. Fearless environmental and human rights activists Agustinus Wibowo (East Java), Emmanuela Shinta (East Kalimantan), Bayu Wirayudha (Bali) and Shandra Woworuntu (West Sumatra) shook audiences to the core. The remarkable resilience of human trafficking survivor Shandra Woworuntu, whose organisation Mentari helps fellow survivors reintegrate into the community and find meaningful work, brought many to tears. After her in-conversation with revered journalist Janet Steele, an audience member tweeted: "Incredible session, a heartbreaking and inspiring story that needs to be heard."
The 16 Emerging Indonesian Writers selected from 894 entrants to be included in the Festival's annual Bilingual Anthology – a treasure trove of Indonesian writing and essential Festival souvenir – were a prominent force throughout. Many of these rising stars lauded the linguistic diversity of Indonesia – and the urgency to preserve it – writing and speaking in Minang, Madurese and Balinese. Emerging Writer Deasy Tirayoh said at the launch of the Anthology, "Ubud Writers & Readers Festival shows us that Indonesian writers can rightly stand alongside the global greats."
Dalam Bahasa Indonesia was an extremely engaging panel for speakers, and learners, of Indonesian. Moderated by writer, actor and musician Ketut Yuliarsa, it featured much-loved Indonesia commentator Elizabeth Pisani, esteemed literary and academic translator Jennifer Lindsay (the long-time translator of Goenawan Mohamad's essays), and Gemi Mohawk, a poet from Palembang, and one of the Indonesian Emerging Writers.
The panelists discussed the origin and rapid evolution of Indonesian, with Jennifer Lindsay addressing the marked increase in the number of Indonesians whose first language, or co-first language, is Bahasa Indonesia, rather than the local language of their mother or father. "There is a depth to Indonesian that wasn't there in the '70s," she remarked.
Indonesians' rampant device and social media addiction was unraveled in the panel Screen Addicts. Moderated by writer and journalist Michael Vatikiotis, it also featured Pisani alongside Dewi Lestari and Triyanto Triwikromo, the 2015 Tokoh Seni Pilihan Tempo. Triwikromo was decisively negative about social media, claiming "We are entering a different kind of war. A war of thoughts, of ideas. It's virtual but we take it literally."
Dewi Lestari declared that Indonesians' screen addiction is a "national problem", lamenting sadly, "I don't look at the trees and sky anymore. My screen keeps occupying me. It has become the everyday scenery." She did, however, speak at length about the huge benefits of social media marketing for her books, and that she has witnessed "a lot of positive social communities arising from social media", even comparing her Twitter communities to arisan [a neighbourhood lottery gathering].
Intrepid and incisive independent Indonesian cinema has long been a pillar of UWRF. As well as the Film Program, which was a mini Indonesian film festival in its own right, there were two panel discussions devoted to it – Camera Obscura, which analysed Indonesia's film industry, and Cinematic Indonesia, addressing cinema's role in shaping and narrating Indonesian identity. The film screenings and both panels attracted major audiences.
Bringing celebrity status to the Festival were firebrand Indonesian auteurs Slamet Rahardjo, Djenar Maesa Ayu, Richard Oh and Joko Anwar, along with wunderkind filmmaker Wregas Bhanuteja. At just 23 Wregas received the Leica Cine Discovery Prize for Short Film at Cannes for Prenjak (In the Year of Monkey). Wregas was a firm Festival favourite – the showcase of his short films was packed and over the course of the Festival he probably snapped at least 100 selfies with adoring fans!
No UWRF wrap-up would be complete without a special mention of the veritable army of 300 volunteers working tirelessly across all areas of the Festival – as MCs, photographers, venue supervisors, technical support and as writers' liaisons. The vast majority of them hail from across the archipelago, and many return year after year having formed lasting friendships.
At the closing night ceremony Janet DeNeefe noted that the UWRF – at 13 years old – is now a teenager. "It has truly found its feet in the international literary festival environment," said DeNeefe, "while staying strong to its commitment of raising up regional voices alongside recognised names. This is evident in the increased audience diversity which, in line with the wider goals of Yayasan Mudra Swari Saraswati, to which the UWRF belongs, we're incredibly proud of, and we look forward to building on this in the future."
DeNeefe continued, "I applaud the brave artists and speakers who joined us this year, and the audience – from young Indonesian students to our UWRF stalwarts – who helped create the powerful, magical space for which the Ubud Writers & Readers Festival has become famous."
Be sure to keep an eye on the AIYA Blog in the lead-up to UWRF 2017 for special discounts on UWRF tickets for AIYA members, or perhaps you'd even like to volunteer! For more info about the Festival head to the website.