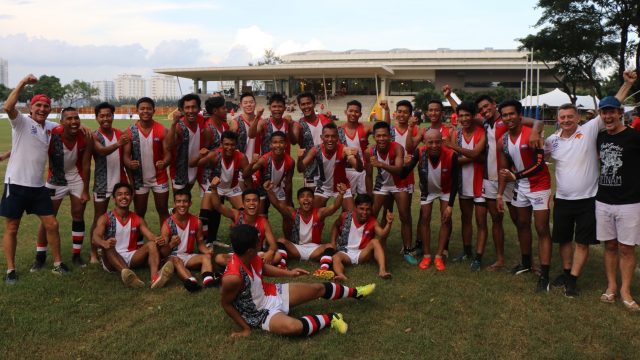 The Indonesia Garudas, a team of young Indonesian footballers from clubs, schools and orphanages across Indonesia, are heading to Melbourne to join the AFL International Cup from August 5-19 2017.
The AFL International Cup is held every three years. In 2014, Papua New Guinea won the men's final while Canada won the women's final.
This Sunday 6th August, the opening round of the 2017 AFL International Cup (AFLIC) will be played at Melbourne's Royal Park. Reining 2016 AFL Asia All-Asian Cup winners, the Indonesia Garudas are ready for the 2017 tournament.
The 2017 AFLIC is comprised of 18 men's teams and eight women's teams competing. The men's fixture will be played across two divisions, and 6 of the eight teams in the new Division 2 are from Asia. All teams will play a total of 4 round games with 1v2, 3v4, etc. Grand Finals to follow.
The Indonesia Garudas are set to make their mark in this year's AFLIC after winning the inaugural AFL Asia All-Asian Cup in Ho Chi Minh City, Vietnam in October 2016.
More recently in May 2017, through sponsors, raffles, selling hats and t-shirts they raised enough money to send some players to play in China. They joined the curtain raiser match to the AFL's first ever match in China, between Port Adelaide vs. Gold Coast.
As the 2017 AFLIC approaches, the Indonesia Garudas are keen to do one better and take on the best teams in the world.
Check out this video of the Indonesia Garudas to hear their story.
The Garudas have worked hard to get to Melbourne this year fundraising through Fundrazr to meet costs for a place to train and equipment to train with, passports, visas, flights, accommodation, warm clothes, and new playing gear.
The Indonesian Garudas will open their campaign for the Cup against Sri Lanka on Sunday.
You can catch the Garudas at the below matches:
Indonesia vs. Sri Lanka – Sun 6th Aug 9.30am, Royal Park – Western Oval
Croatia vs. Indonesia – Wed 9th Aug 11.45am,
Indonesia vs. China – Sat 12th Aug 12.00pm, Diggers Rest
Semi finals – Tues 15th Aug
Grand finals – Fri 18th Aug
The Indonesia Garudas v Team China game on Saturday 12 August in the outer-Melbournian suburb of Diggers Rest is a big game for fans of footy in Asia and is crucial for both teams if they want to challenge for the 1v2 Grand Final.
"Having seen first hand the improvement in Asia's local players and knowing how hard these guys have been training for this occasion, I'm confident we will see a massive improvement in skills and game awareness from teams like Indonesia and China where the local development programs managed by our clubs are strongest." – AFL Asia President Grant Keys
The Garudas narrowly defeated China at last year's inaugural All-Asian Cup, but Team China showed their improvement at the Shanghai Cup in May 2017 beating the combined Asian Lions team that featured many of the Indonesia Garudas players.
Through AFL Indonesia, some of the Indonesia Garudas players now have jobs, teaching AFL football in local schools and orphanages. They run free weekly football sessions at over 20 schools throughout Jakarta, with plans to expand further.
For more information on the AFLIC and tickets visit their website, here.