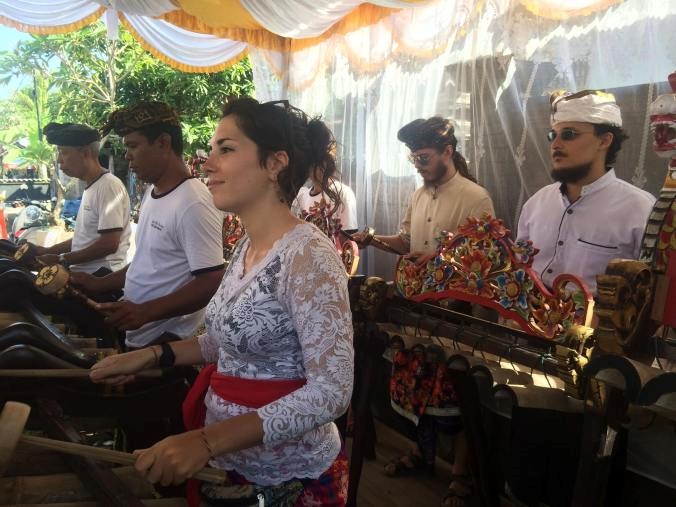 What is gamelan jegog? The instrument has been encouraging Australians to visit and experience more than just the common tourist attractions in Bali. Read on for more information from Jane Ahlstrand (originally published on the JembARTan blog).
Since the 1970s, a quick trip to Bali has become a way of life for many Australians. Until now, however, the majority of Australian tourists still tend to wear the same beaten path along Kuta, Seminyak and Nusa Dua with a few who 'escape' to the yoga haven of Ubud. In reality, there are plenty of other destinations in Bali worth visiting beyond the limits of these highly congested touristic areas. These days, the 'Cultural Tourism' movement has taken off in Bali with the aim of finding a way to pry tourists away from the walls of the villa and out of their comfort zone. This movement also draws upon the creativity of the Balinese people as a powerful cultural asset. According to Adi Hartawan, a young artist who now runs a successful cultural tourism program in Jembrana Regency, this new movement in the industry has the potential to deliver positive results for the local population as well as Australian tourists.
In 2015, Adi joined forces with his elder, I Wayan Gama Astawa to establish a music and dance studio specialising in the arts of Jembrana Regency, named Sanggar Adi Gama. With meticulous care, they developed a program especially tailored for overseas tourists interested in getting to know more about the distinctive music of Jembrana Regency. Located on Bali's west coast, Jembrana has its own traditions, far different to the arts and culture of other areas of Bali. This difference endows Jembrana with a unique cultural and artistic identity.
Jegog is a bamboo musical instrument played in an ensemble. Together, these instruments produce a sweet and resonating sound, unlike the cacophonous sounds of the gamelan. This instrument is associated explicitly with Jembrana Regency, known as the home of jegog. In Jembrana, jegog draws the interest of overseas visitors who venture out to the west in the hopes of learning more about its intricacies. According to Professor I Nyoman Darma Putra from the Faculty of Literature and Culture at Udayana University, the cultivation of the tourism industry in Jembrana aligns with the emergence of jegog as a cultural asset. "Jegog and tourism have a reciprocal relationship," says Professor Darma. "Jegog has developed in line with the growth of tourism, while at the same time, the tourism industry gains a new form of entertainment through the music and dance of the jegog," he explains.
The proses of teaching international guests about jegog is no easy feat and requires a special educational technique focusing on detail. "The most important thing for a teacher is to be patient as we teach others who have never ever played a gamelan instrument," says Adi. "First of all, I explain the definition of gamelan jegog, and then I tell them a little about my personal experience when I first started learning this instrument so they feel more interested and comfortable when encountering the new instrument," he adds.
With great care, Adi then explains the correct technique for holding the mallet, proceeded by an introduction to the different sounds as well as how to hit the instrument correctly; moving from one instrument to the other. Finally, he gives his students a simple and easy song to play so they can enjoy the process of making music on the jegog. "Aside from teaching the correct technique, a teacher should also pay attention to the response from students so they don't get bored and disengage. I always manage the time. When to take a break an when to study – because if I just keep on teaching, I'm sure they will get tired and lose focus," he stays. "So, in that sense, I have to invite them to laugh, making a quiz or some jokes so they relax before moving on to the next stage in the lesson. I also invite them to visit some local tourist sites like the waterfall, ricefields, the river and hills around the studio," he adds.
According to Adi, the process of sharing knowledge also helps to build a stronger relationship between countries and people. "Because I don't just give them knowledge of music, but also my culture. From my students, I also gain knowledge about their own cultures," says Adi. "Tourists who visit my sanggar feel very happy and comfortable here. When the time comes for them to return home, they feel sad because they say they want to stay here in the forest," he adds.
In future, Adi hopes that the people of Jembrana can make a living from their artistic activities. "I hope local arts like jegog from Jembrana can gain a stronger reputation abroad, including in Australia. I hope that overseas visitors who come to Bali don't just go and hang out in Kuta or Nusa Dua but also visit, Jembrana, especially my sanggar, Adi Gama," says Adi. Jembrana Regency is blessed with a beautiful environment that has not yet been touched by large scale industrial development. "The natural resouces in this regency provide an opportunity to the local populations to make the most of what nature offers in a useful and respectful way," says Adi.
Discover more about Indonesian arts and culture in Australia on the JembARTan blog.