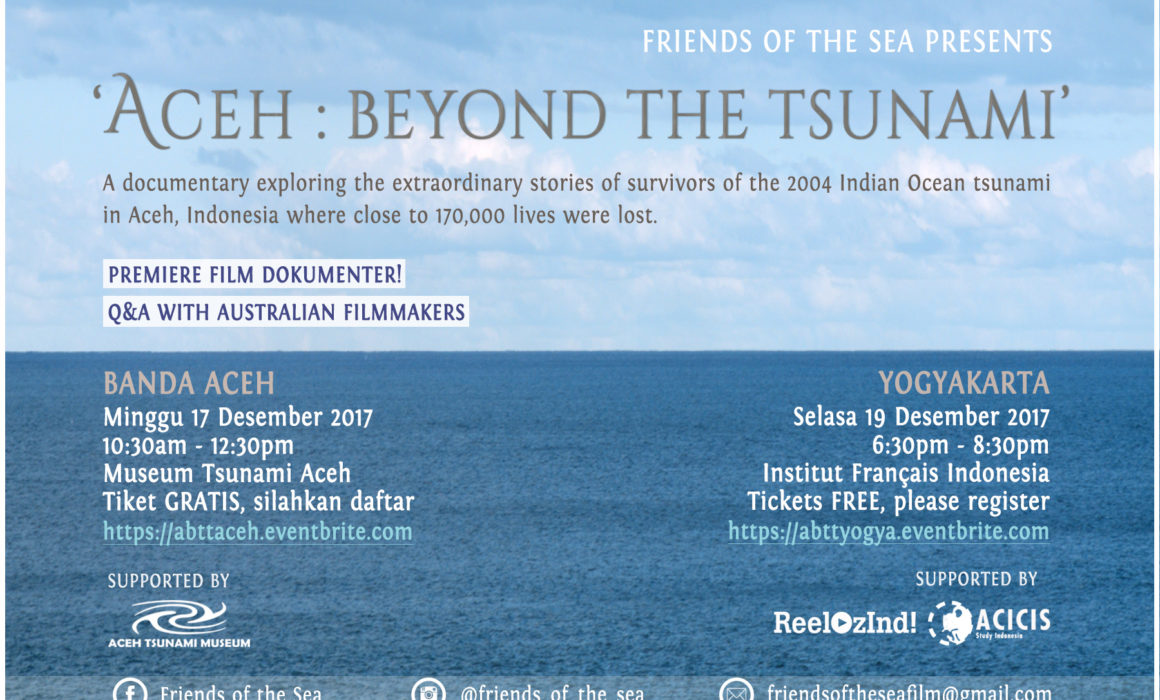 The ReelOzInd short film festival brings together Australian and Indonesian filmmakers in the hope of highlighting our friendship and common bilateral struggles. This week we hear from producer Ben Mortley, one of the people behind Mukhtar's Story, a short film originally shot as part of the feature-length documentary Aceh: beyond the tsunami, which has upcoming screenings you can find out about at the end of this post.
Aceh: beyond the tsunami explores the extraordinary stories of survivors of the 2004 Indian Ocean tsunami in the province of Aceh, Indonesia, where approximately 170,000 lives were lost. Watch the short film HERE.
How did Mukhtar's Story come about?
Mukhtar's Story was just one of about 25 interviews we recorded for our feature length documentary called Aceh: beyond the tsunami. His story did not ultimately make it into the final cut of the film, but it was such an incredibly evocative and powerful story that we cut it into its own short documentary.
We were over in Aceh filming during the 10th anniversary commemorations of the 2004 Indian Ocean tsunami. The idea came from the director, Tim Barretto, who was interested to see how the survivors had rebuilt their lives in Aceh. Aceh had been the area that was worst affected by tsunami with close to 170,000 lives lost, and yet most media coverage (especially in the West) had been about areas that hosted lots of Western tourism. Local Acehnese stories had remained largely unheard.
What is your background in film and acting?
My background began in acting. I performed in my first film when I was 13. Later I went to drama school at NIDA and began to work in the industry in theatre, film and television.
About five years ago I decided to act on the urge I had to be more involved behind the camera, so I did a post-grad diploma in Film and Television. Not long after that I met Tim, and we made a short film while travelling together through Indonesia (it is a country we both love). Then a few years ago Tim and the [ReelOzInd] film's other producer, Melanie Filler, approached me with the idea that ended up becoming Aceh: beyond the tsunami and Mukhtar's Story.
Why did you decide to submit to ReelOzInd, and what was the filmmaking process like?
It was really just a process of serendipity. After we cut together Mukhtar's Story, Tim came across the ReelOzInd! Short Film Festival, which seemed to have the same ethos we did. It wanted to help foster a greater understanding and healthier relationship between the two neighbouring countries, and on top of that the theme of this year's festival was 'water'. It seemed a perfect match.
The filmmaking process was hard work, as it always is, and this was amplified by the language barrier. It increased the workload dramatically in post-production, especially with having to get translations and transcripts of every single interview. Even through our translator on location, when we were receiving delayed and abbreviated translations of the interviews, we knew the stories were incredibly powerful, and sometimes it was hard not to be emotionally affected.
In your eyes, how does the production of a documentary differ from a work of fiction?
The biggest difference that comes to mind immediately is the sense of responsibility one feels in a documentary. There is a responsibility to the stories that our participants shared with us. And it is very difficult thing to wrangle with at times. After filming nearly 50 hours of interviews we have had to whittle it all down to a story of 71 minutes. And it has to be crafted in such a way as to keep an audience's attention. There is so much that is left out, and yet you still want to represent people in a fair and honest way. It makes me painfully aware of how easily people can be misrepresented in the media.
What would you say is the foremost piece of advice you could give to emerging filmmakers and actors?
Know what you want to say with your work and why you want to say it. Then get as much experience as you can on as many projects as possible. Learn how other people work, and steal from the best.
Any future plans?
I hope I continue to get to travel and work – both in front of and behind the camera. Travelling is one of my favourite aspects of this business, both in Australia and abroad. I love meeting new people, in new cultures, and celebrating what is different, and finding the commonalities that make us the same.
Read more interviews with ReelOzInd filmmakers here and here. Mukhtar's Story also has upcoming screenings in Yogyakarta and Banda Aceh: