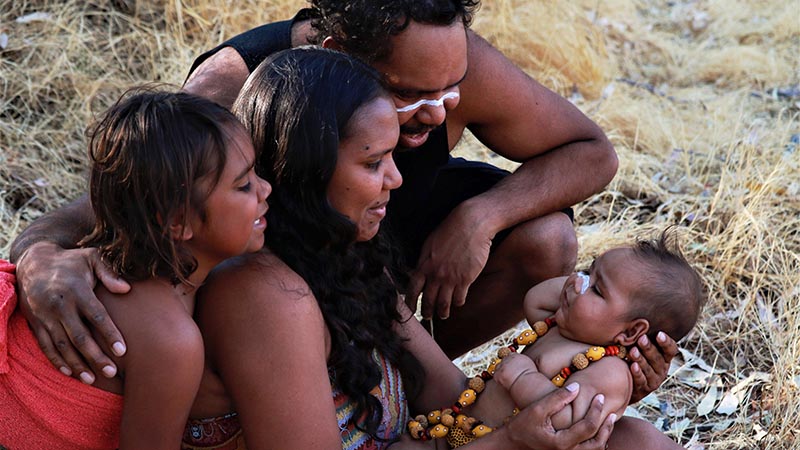 A recent study funded by the Australia-Indonesia Centre, focusing on a child's first 1000 days of life and families in the Indigenous communities of Australia and Indonesia, has highlighted the importance of health and wellbeing strategies that are culturally protective, place-based and community driven.
Read more: http://australiaindonesiacentre.org/the-first-1000-days-building-the-best-possible-start-for-indigenous-children/?mc_cid=67db52b481&mc_eid=5d69e6fbf3
In the news
Events
Bendigo, 5 August – Join AIYA Victoria for a road trip and gamelan workshop with Mugi Rahayu. No experience required – so anyone can join! Cost includes workshop, lunch and transport. Registration is essential.
Melbourne, 5 August – Want to be part of an inclusive and fun futsal team? Join AIYA Victoria to play weekly futsal matches every Sunday! If you're interested please see their Facebook for more details and fill out the expression of interest form to join the Whatsapp group to get game details. Contact Stephen at

[email protected]

for further information.
Melbourne, 8 August – Language Exchange is on every week at 6pm, Building 80, RMIT Swanston St. Come along to improve your Indonesian and English Language skills! For more info follow them on Facebook.
Canberra, 8 August – AIYA ACT will be holding regular Language Exchange sessions at LLewellyn Hall for those looking to brush up on the latest Indo slang. For more info see the event page here.
Adelaide, 14 August – AIYA SA will be having their Annual General Meeting at 6pm at Flinders at Vic Square so make sure to come along to have your say! Positions for President, Vice-President, Treasurer, Secretary and General Executive Members will be voted in so if you're interested in applying please visit the link.
Melbourne, 14 August – Berbahasa is back for semester 2! If you're around Monash University, Clayton on a Tuesday make sure you come by AIYA Victoria and PPIA Monash's Berbahasa sessions, it's free, fun and a great way to improve your language skills.
Canberra, 15 August – AIYA ACT LX! Llewellyn Hall, 5:30pm.
Melbourne, 15 August – AIYA Victoria LX! Building 80, RMIT, 6pm.
Brisbane, 17 August – AIYA Queensland goes to IndoOz Business Networking Dinner with the Indonesian Ambassador to Australia, Pak Yohanes Kristiarto Legowo. Tickets are limited so please check the event for details.
Opportunities
Join AIYA National! We are recruiting a social media officer, web officer, and graphic designer in the Communications team. For more information and how to apply, head over to the position descriptions here. Applications are due 10 August!
The AIYA South Australia AGM will be held on the 14 August. To apply, please nominate yourself before 10 August! For more info on the positions available and how to apply, visit their Facebook page.
Join AIYA Jawa Barat! The Chapter in Bandung is recruiting for Semester 2. All Indonesian and Australian ACICIS students are welcome to apply. Fill out an expression of interest form here! Applications are due 15 August.
Australia Awards in Indonesia is offering another Short Term Award which aims to introduce participants to Australian start-up ecosystems. Leaders, entrepreneurs and innovators of start ups in Indonesia, apply for this fully-funded, two-week course in Australia. Send your applications before Sunday, 5 August 2018.
Calling all Community Development/International Development students, academics and practitioners, Real Indonesia are partnering with the International Association for Community Development to offer an exclusive 10-day practice exchange in Bali this October! Book by 9 August to secure your place!
The Australian phase of Australia-Indonesia Youth Exchange Program (AIYEP) will be hosted in Melbourne and Bendigo in October and November this year which means the program is looking for host families and host organisations in both locations! If you would like to be a host family or a host organisation for one of the lovely 18 Indonesian participants please apply here.
Calling all Indonesian speakers to join National Australia Indonesia Language Awards (NAILA) 2018 competition. Submit a video of yourself speaking in Indonesian on this year's theme "Diversity". Head to the NAILA website for more information. Applications are open until 31 August!
Recruitment consultant, Legal Eagles are seeking qualified solicitors who are fluent in Indonesian for a paid temporary role (1-2 months) starting soon. This is a great opportunity to work as a paralegal on an e-Discovery project for an international firm and can be based in Sydney or Brisbane. Contact Jo on 3231 1200 or email [email protected].
Early Bird tickets for the Ubud Writers & Readers Festival are on sale now! The first round of speakers has also been announced, including Gillian Triggs, Kamila Andini, Fatima Bhutto, and Richard Oh. Learn more here.
Learning a language? Get Indonesian & English language help with UniBRIDGE Project.
Like what we do? Want to join or support your local chapter to contribute to our exciting activities? Sign up as an AIYA member today!