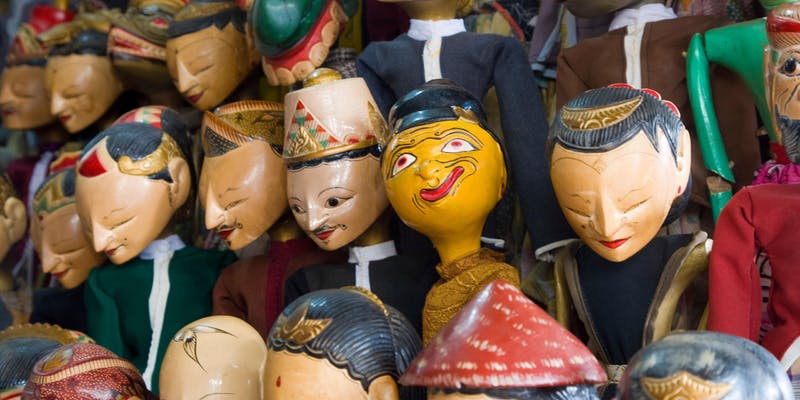 A Buddhist mother of Chinese descent was recently sentenced to 18 months' jail for complaining about the volume of the call to prayer from a nearby mosque under Indonesia's blasphemy laws. ANU Professor, Greg Fealy reviews Indonesia's treatment of its minorities ahead of ANU's annual Indonesia Update entitled 'Contentious belonging: the place of minorities in Indonesia', taking place today and tomorrow. Follow the Facebook page for updates & to livestream the talks!
In the news
Keen for more news updates on all things Australia-Indonesia? Subscribe to the Australia-Indonesia Centres' Media Updates for a twice-weekly digest!
On the blog
Check out our interview with Jess, dessert queen and 2018 MasterChef finalist! Jess, who credits much of her passion for food to her Indonesian upbringing, shares about her MasterChef journey and the power of connecting people through food.
Read the highlights from AIYA Jawa Barat's Welcome Night for Semester 2! Get involved with AIYA JaBar's upcoming activities & their exciting discussions with ACICIS.
Events
Bandung, TOMORROW– Join the team in Bandung as they help keep Jawa Barat beautiful with World Cleanup Day! Check out their Facebook page for more details!
Bandung, 18 September – Join the team at LX! Come along to Cafe Oz at 6:30-8:30pm.
Bandung, 18 September- Register to attend the University of Melbourne's September Information Day in Bandung.
Bandung, 22 September – Join the JaBar and Jakarta AIYA teams to watch the AFL Final and enjoy a BBQ together! Meet at the Bamboo Shack from 3pm. Check out the Facebook page for more details.
Gold Coast, 11-13 November – Save the date for the AIBC Conference 2018: Partnering for Prosperity in a World of Change! Registrations are now open for your chance to mingle with the who's who of the bilateral business community.
Jakarta, 15 September – Thinking about studying at the University of Melbourne? Register to attend UniMelb's September Information Day in Jakarta.
Jakarta, 18 September – Cepat Kaya 7.0 is back! Join the team to hang out from 7pm at Coffee Toffee. Check out their Instagram for more details and the RSVP contact!
Melbourne, TONIGHT – Come along to the world premiere of 7 Bidadari (7 Angels) at this year's Melbourne Fringe. Shot in Ararat, Victoria, 7 Bidadari is an Indonesian horror-thriller feature film premiering in Melbourne ahead of its Indonesian release later this year. Get tickets here!
Melbourne & Sydney – 17 & 18th September – Unable to make it to ANU Indonesia Update in Canberra this weekend? Come along to the mini-update at Sydney's Lowy Institute on 17 Sept or the University of Melbourne on 18 Sept.
Melbourne, 19 September – AIYA Victoria LX! RMIT Building 80, 6pm.
Melbourne, 22 September – PPIA Monash proudly presents #SOUNDSEKERTA2018, one of the biggest Indonesian Music Festivals held at the Melbourne Town Hall. This year's theme is "Serenade for The Nation". Tickets are $35, get yours now! Doors open 5:30 pm.
Melbourne & Yogyakarta, 26 September – The third ReelOzInd Australia Indonesia Short Film Festival 2018 is set to premiere on September 26! Click here to reserve your tickets! For a taste of what's to come, check out the festival trailer.
Sydney, 20 September – Come along to hear the inspirational story of Agung Nugroho, one of Indonesia's most successful tech entrepreneurs. In Sydney as part of the the City of Sydney's Visiting Entrepreneur Program, come and check out this great event hosted by TechSydney and PwC with support from community partners Haymarket HQ and CAUSINDY.
Sydney, 21 September – Organised by Macquarie University's PPIA, Soundquriang 5 "The Fifth Act" showcases critically-acclaimed Indonesian artists to promote the diverse culture of Indonesia. 100% of the profits earned will be donated to Rumah Faye, which helps to eradicate child trafficking in Indonesia. Find out more here!
Sydney, 27 September – Join SSEAC for the launch of Nurturing Indonesia: Medicine and Decolonisation in the Dutch East Indies (Cambridge University Press), by Hans Pols from 5:30pm. The launch will be followed by a Balinese dance performance and refreshments. Register online here.
Sydney, 27 September – Attend the AIYA NSW AGM 2018! The 2017-2018 Committee will sum up the year's progress before elections for the 2018-2019 Executive Committee take place. Watch this space for further details.
Sydney, 28 September – AIYA NSW and PPIA UNSW are proud to bring back Malam Karier: Starting a Career in Australia! Soon to graduate from University? Interested in pursuing a career in Australia? Are you an international student as well? Come along and listen to a distinguished panel share their own experiences, challenges, and successes in the Australian job market. See their Facebook event!
Sydney, 1 October – Join 'Table for Generations' Pop Up Charity Lunch 2018 for a 5 courses charity lunch and art installations from aspiring local and Indonesian artists. The money raised will go to Lanjut Sekolah, a local nonprofit aiming to cultivate future leaders by providing access to education for children from remote areas of Indonesia. Follow the FB event page for more details.
Ubud, 24-28 October – Tickets for the Ubud Writers & Readers Festival are on sale now with speakers including Gillian Triggs, Kamila Andini, Fatima Bhutto, and Richard Oh. Get yours here now!
Yogyakarta, 18 September – Are you a keen futsal player, or interested in making new friends? Come along to AIYA Yogya's futsal event, every Tuesday 5-7pm at Pro Futsal. No skills required, just rock up! Check out their Instagram for more details!
Opportunities
Join AIYA NTT Kupang! If you're a young, passionate person based in Kupang and are interested in the Australia-Indonesia relationship, join the Kupang team at their AGM on 21 September. See their Instagram for more details!
Join AIYA NSW! If you're keen to play a role in the 2018-2019 AIYA NSW, nominate yourself for one of the following positions and attend their AGM on 27 September.  Apply here & follow the facebook event for updates.
Join AIYA Yogaykarta! If you're interested in joining the team in Central Java, come along to their AGM on 28 September. Nominate for positions via

[email protected]

, and check out the Facebook event for more details!
Our partner at UniAir Cargo is now offering AIYA members in Australia a discount for over 50kg shipments to Indonesia. Contact your local chapter on how you can take advantage of this opportunity!
ACICIS Yogyakarta is hiring! We are looking for a Marketing & Student Recruitment Officer (MSRO). This position is open to Indonesian nationals only. Applications close Sunday, 30 September 2018. For more information about the position, see here.
Are you a Sydney Uni student commencing Honours on a topic relating to Southeast Asia? SSEAC has five Honours Scholarships available worth $5000 each to help support your research. Applications close 21 September. Find out more here.
Want to host a pop-up ReelOzInd! Festival screening at your school/university/office or park? Choose any date within the Festival period (26 September-31 December 2018) to hold your event. Any gathering large or small is fabulous! To register, contact:

[email protected]

The Asia Education Foundation in partnership with Footscray City College are hosting an Australia-ASEAN Youth Forum on 24 October and are inviting schools to register one or more team(s) of 6 students (across years 9-11). Registration is free for government school students thanks to Vic Gov't funding. Learn more here!
Learning a language? Get Indonesian & English language help with UniBRIDGE Project.
Like what we do? Want to join or support your local chapter to contribute to our exciting activities? Sign up as an AIYA member today!