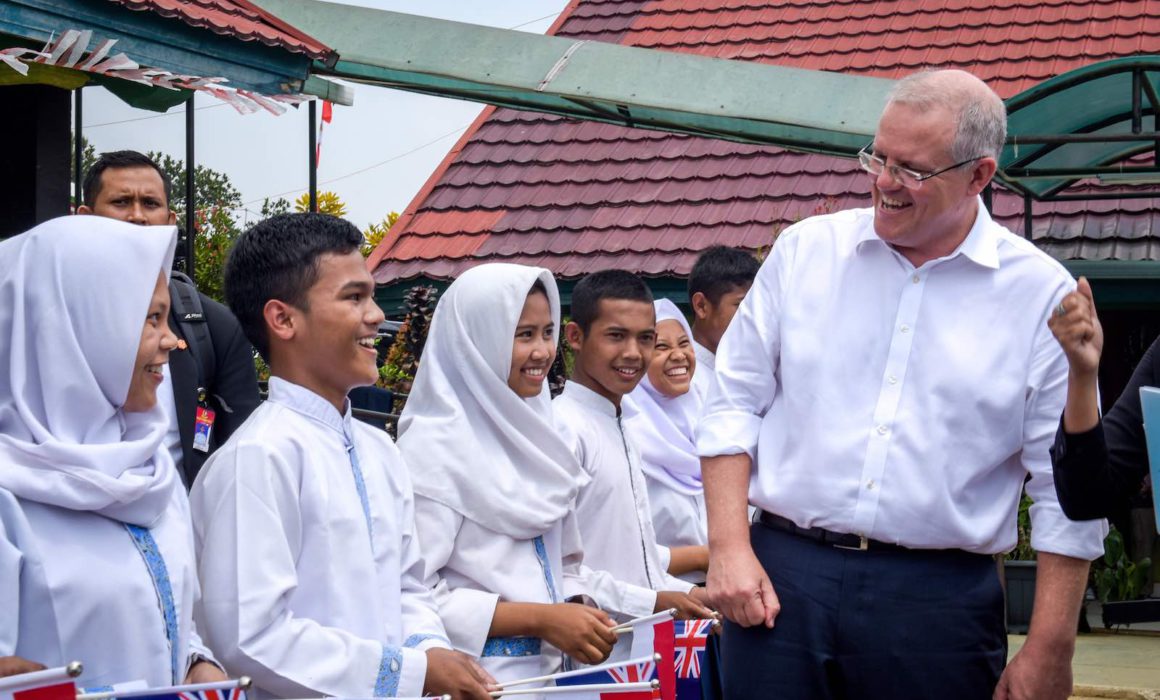 "Say it softly, for no-one wants to jinx it, but there have been some promising signs in the last year or so that bilateral ties could be entering a new period of relative stability", according to Ben Bland, on the Australia-Indonesia relationship. 
In the news 
On the blog
Member Spotlight –

It's time to learn more about the lives of those behind AIYA. This week, meet AIYA Yogyakarta Events Officer,

Puspita Wardhani

!
Event
Opportunities
AIYA is recruiting!

We are currently seeking applications for a number of national committee positions including: Company Secretary, Director of Operations, Director of Communications, Director of Partnerships & Memberships, Communications Officer, Finance Officer and Operations Officer (Indonesia).

Read the position descriptions here

. Join the AIYA team today – applications open until 24 June 2019. 

The

ASEAN-Australia Strategic Youth Partnership

invites written submissions to publish on the official

AASYP blog

and book. SUBMIT your abstract(s) to

[email protected]

. Submission deadline is 20 July 2019.

Learn more here

!

The

International Organisation for Migration

has a number of job vacancies in their offices throughout Indonesia, including in Medan, Riau, Banten and Jakarta.

Read more here

– applications close 22 July 2019. 

AIA ACT's Term 3 Indonesia Languages Classes

with skilled native speaker teachers start the week beginning 22 July. There will again be classes from total new Beginners through to Advanced.

Book in here

. 

The

International Forum for Future Leaders 2019

(12 – 14 September) has opened applications! The forum is a great opportunity for future leaders to improve their leadership skills, exchange and share ideas as well as make new friends! More information can be found on their

website

. Applications close 22 July 2019.

Deakin University

(Melbourne's Burwood Campus) is seeking a Senior Lecturer/Lecturer in Indonesian (full-time). You will be required to teach, undertake research and publish work in the area of Indonesian and contribute to the School's teaching, research and program development. Applications are due on 26 July 2019.

Apply now

. 

KIAT

provides a variety of opportunities to support infrastructure projects throughout Indonesia and are currently seeking to employ two Short Term Advisers – Probity Policy for Public Private Partnerships and Legal Drafting for Preparatory Agency Regulation. Applications close 31 July 2019.

Click here to apply

. 

Asia Society

are seeking a new Communication and Media Coordinator (full time), based in Melbourne. View the

full position description here

.

Click here to apply

. Applications close COB 31 July 2019

University of New South Wales

is inviting all international students to apply for a range of scholarships and awards. More information can be found on their website. Deadline for scholarships is 31 July 2019. 

The

International Graduate Merit Scholarships

are available to all international students who apply to a coursework program within the Faculty of Business and Economics at the University of Melbourne. The scholarship will cover 25%-50% of fee remission and admission will be based on the academic results of your most recent year of study.

More information can be found on their website

.

The

ASEAN-Australia Young Leaders Forum (AAYLF)

is a funded four-day intensive workshop which aims to cultivate the next generation of leadership in the ASEAN-Australia relationship. The forum will be held on 28 November – 3 December. Applications close 4 August 2019.

Apply now

! 

Are you an emerging Asian-Australian leader? Do you work with talented and diverse peers who are real leaders in their field? Applications are now open for the '

40 Under 40: Most Influential Asian-Australian Awards

,' a new initiative from Asialink, PwC, ANU and Johnson Partners, celebrating the achievements of the next generation of AsianAustralians.

Find out more and apply here

. Applications close 5 August 2019. 

Australia Awards

in Indonesia invite emerging leaders from Disabled People's Organisations (DPOs) with experience in providing advocacy for policy implementation to apply for a two-week short course on the 'Role of Disabled People's Organisations in the Implementation of Policy Reform in Australia' held in January 2020. This is a fully funded scholarship. Apply through

this link

(English) or

this link

(Indonesian) by 8 August 2019. 

The

New Colombo Plan Scholarship Program

provides opportunities for Australian undergraduate students to undertake semester-based study and internships or mentorships in 40 participating Indo-Pacific locations. Applications from nominated students open on 16 July and close on 14 August 2019. Students interested in the program are advised to contact their international liaison office.

Learn more here

!

Applications to participate in the

University of Sydney's first ever university-wide multilingual speech competition

are officially open! The event will be held 29 August 2019. Applications are open to all current USYD students, until 15 August 2019.

Apply here

. You can also

apply for a volunteer position

. Follow the

FB event

!

ReelOzInd! 2019

is open for submissions! Take part in another spectacular tour of Indonesian and Australian storytelling and creativity. Filmmakers, aspiring filmmakers and anyone who can get their hands on video recording device are invited to submit a film of 10 minutes duration or less, in keeping with the theme 'berubah/change'. Baca lebih lanjut dalam

Bahasa Indonesia

.

Submit here

by 16 August! 

Applications for the

Language Assistant Program in Western Australian Public Schools 2020

are now open! If you are an Indonesian (under the age of 29, living in Indonesia and recently graduated in the field of education (with little teaching experience) and you are passionate about promoting Indonesian language and cultures, then this opportunity is for you! Applications close 30 August 2019! For more information and to apply,

head to the online application form

. 

Registration is now open for the

2019 Indonesia Update

titled 'From stagnation to regression? Indonesian democracy after twenty years', to be held on 6 – 7 September 2019! This is an annual conference held at the Australian National University. An updated program is available.

Register now

. 

The

Herb Feith Scholarships scheme

is a new initiative of the Monash Herb Feith Indonesian Engagement Centre. Scholarships support graduate researchers to complete an MA or PhD at Monash University on a topic related to Indonesia. Submit your expression of interest for the January – June 2020 enrolment period by 11 August (International Students) and 11 October (Domestic Students).

Find out more here

!

Monash Herb Feith Indonesian Engagement Centre

will have their 2019 Conference entitled, 'Chinese Indonesians: Identities and Histories' on 1 – 3 October.

See the

flyer

and

register here

. Discounted registration available for students and AIYA members. 

Applications for

Westpac Asian Exchange Scholarships

for Semester 2, 2020 have opened.

Apply today!

The Australia Indonesia Youth Exchange Program (AIYEP)

is seeking host families in Canberra for the period 14 October to 1 November 2019. AIYEP Host families will be provided with supermarket and/or fuel vouchers to the value of A$600 for the period as a token of thanks for sharing their home.  If you are able to host an Indonesian youth,

click here

for more details and to contact DFAT. 

The

AIMEP

is a prestigious international program which invites emerging Muslim leaders in Australia and Indonesia to engage in an intensive two-week visit of cultural, social, interreligious, and intellectual exchange with their neighbouring country. While you wait for applications to open have a look at the key selection criteria and information you'll need.

Follow the website for updates

!

ACICIS

is inviting all of its alumni to join the all-new

alumni platform

. The new alumni platform is packed with new features such as alumni directory, jobs and opportunities page, events page, interest-group pages, as well as other exciting features that will be added regularly. To sign-up, please visit

their alumni website here

.

Learning a language? Get

Indonesian

&

English

language help with

UniBRIDGE Project. 
Like what we do? Want to join or support your local chapter to contribute to our exciting activities? Sign up as an AIYA member today!