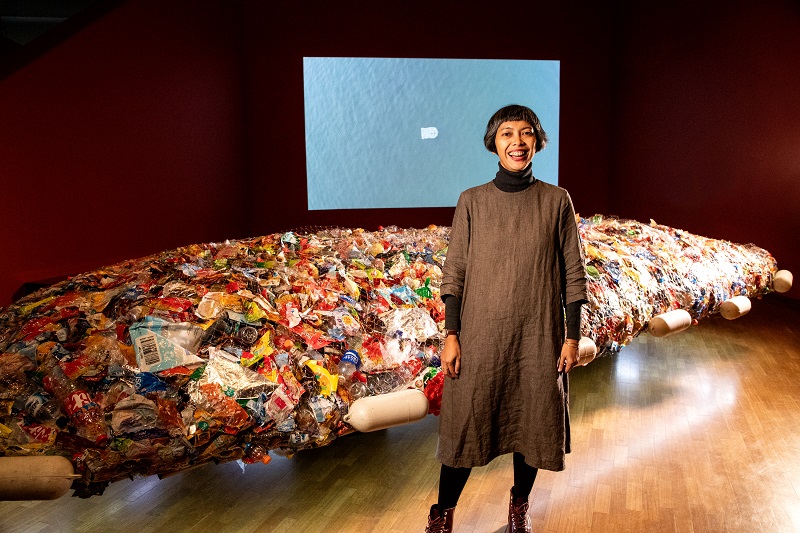 As Australia grapples with a waste management crisis, Indonesian artists campaigning against pollution have been recognised by Australian curators for their innovative approach to the issue.
Australia's unsatisfactory waste management was highlighted in July when 210 tonnes of contaminated waste from Brisbane was dumped at Indonesia's Surabaya shipping port. Indonesians meanwhile have become so addicted to plastic packaging that it is now the world's second-largest contributor of plastic pollutants to the oceans according to the scientific journal Science. The works by Indonesian artists communicating the cost of environmental degradation are now available to the Australian audience.
"It's a chronic issue that inspired me", explained Tita Salina, who is taking part in the National Gallery of Australia's Contemporary Worlds: Indonesia exhibition until October. Her work, 1001st island – the most sustainable island in the archipelago (2015), made from rubbish collected with her local community, evokes the island of Java where rubbish-clogged rivers channel waste into Jakarta's bay.
Tita Salina with 1001st island – the most sustainable island in the archipelago (2015). Photo citynews.com.au
A 14-minute video accompanying Salina's work, filmed in collaboration with local fishermen whose livelihoods are threatened by the plastic plague, exemplifies Indonesian art's focus on cultural communication and empowerment as the artist gives disadvantaged fishermen a voice.
Senior Research Fellow at Victorian College of the Arts and former director of Asialink Arts, Alison Carroll, notes Salina's work is "Visually Impressive" and easy to understand as "the content concerning plastic is very clearly articulated", a material Tita uses to highlight "the source of the problem".
Made Muliana Bayak, whose works were displayed at RMIT's 2019 Bruised: Art Action and Ecology in Asia exhibition, has pioneered a "plasticology" movement in Bali. "Plasticology is a combination of "plastic and ecology" Bayak explained, visualising our plastic-ridden environment.
Plasticology responds to what Bayak terms the "plastiliticum" or "Age of Plastic". "Thousands of years from now archaeologists will discover plastic objects as the legacy of our time. The plastiliticum threatens the survival of humans, animals and plants which have polluted water sources."
Bayak critically engages with Bali's commodified exotic image by reproducing Balinese tourism icons on a plastic waste canvas. "Bali's beauty is being sold… The island is threatened by waste produced by both the local and tourist population. I feel compelled to respond by providing solutions through art."
Rarung, the dance of anger. Made Muliana Bayak, 104 x 136, permanent ink on plastic trash
His work refers to Balinese cultural symbols to better convey his messages to Balinese audiences. Each year before Hari Raya Nyepi, the Balinese Day of Silence, ogoh-ogoh demon effigies are ignited to banish negative energies and restore the harmony between humanity, nature and the gods. Bayak has constructed his ogoh-ogoh using plastic waste, symbolising the evils that disturb Bali's environmental equilibrium.
Salina also alludes to folk tales in her art to raise awareness of the cost of pollution. For instance, her work Kancil Crossing the Street (2013), which involved walking a "trashball" through traffic congestion, makes reference to the story of a cunning mousedeer that deceives a crocodile to cross a river. "Many folk tales are still relevant today… They also contain many moral messages."
Trashball in traffic. Photo titasalina.com
Like Salina, Bayak's art prioritises community engagement through collaborative artworks with schoolchildren. "Education through workshops with youth will end the cycle of ignorance and carelessness in relation to environmental issues".
Indonesian creative industries academic, Dr. Edwin Jurriens, said this didactic and socially engaged art was pioneered by Moelyono in the 1980s, whose projects with local communities and schools earned him the title of "Guru Gambar" or "Art teacher".
Carroll also observed "communal art activity in Indonesia is very strong, much stronger than Australia". She sees the exhibitions as an opportunity for cultural exchange. "Indonesia is a rich, vibrant culture and we don't know enough about it. These inspiring artists will absolutely help us to understand Indonesian culture."
Carroll, who established links between Australian and Indonesian artists through Asialink Art's artist in residence program, hopes the two countries can create an "equal dialogue" with more engagement in each other's art. Salina also noted that art can be a form of dialogue to bridge cultural divides as it contains universal values, while Bayak relished the opportunity to come to Melbourne and "build links" with Australian artists that could lead to future collaborations.
Jurriens emphasised the benefits of Indonesian community art projects. "More can be done in Australia. Indonesia would definitely be a place to learn from." He is happy to see Victorian galleries are increasingly engaging with Indonesian artists, who will again be taking part in the second edition of the Asia Triennial of Performing Arts in January 2020.
Jurriens noted artistic movements encouraged the Balinese government's decision to ban single-use plastics as of July. "These policy shifts really come from individuals like Bayak," who affirmed, "Art can encourage a solution to environmental issues in a creative and unique way."
For reference and further reading please refer to Edwin Jurriens study about Balinese environmentalist art, here.