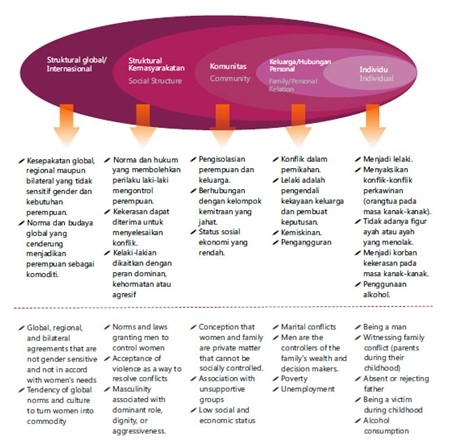 Domestic Violence in Indonesia and Rifka Annisa
Hi there! We're Erin and Sabrina, lovely to meet you all! We're two students from Australia on exchange in Yogyakarta through the ACICIS Development Studies Immersion Program. We are currently undertaking an 8-week internship, and we're here at Rifka Annisa, a women's crisis centre.
Now that the introductions are out of the way, we'd like to thank you for taking the time to read our piece. We hope you can go away knowing a little something more about domestic violence in Indonesia. Happy reading!
What is Rifka Annisa?
Rifka Annisa, meaning "Female Friend", is a non-governmental organisation involved in domestic violence issues. The organisation was established on 26 August 1993 by several women's activists. Rifka Annisa aims to create a gender-just society. They work to achieve this goal through principles of social justice, awareness and advocacy, encouraging independence and integrity and by maintaining local wisdom.
Rifka Annisa believes that violence against women occurs due to many interrelated factors. They use an ecological framework to explain the problem of domestic violence. In this framework there are five circles:
The individual
Family/personal relationships
Community
Social structure
Global/international structures
Rifka Annisa provides services for women who experience domestic violence, as well as the perpetrators. These services include male and female psychological counselling, consultations, legal assistance, and safe housing.
Domestic violence in Indonesia
Domestic violence continues to be a significant social issue in Indonesia and the overall impression is that cultural and patriarchal attitudes are slow to change. Domestic violence is often seen as a private family matter rather than a public one in which the government has a role to play. Due to the cultural and religious landscape of Indonesia, what constitutes "violence" within the family context is often problematised. One example is that social control of women in the home is not often regarded by the majority of women as a form of domestic violence. On a local scale, we've painted a rather dark picture of Indonesia's normalised attitudes toward violence against women, however, when turning to Indonesia's criminal code it doesn't get much better.
''Article 285 of the code defines 'rape' as an 'act of forced penetration or threat by men towards women that takes place outside of marriage'. It does not recognize marital rape and domestic violence, as it only regulates penalties for the perpetration of violence or rape in public spaces. The Criminal Code also does not recognize the existence of other forms of abuse, such as psychological (verbal and emotional abuse), economic violence, threats of violence and sexual abandonment''
So that's rough, and unfortunately, it's the reality for women all over Indonesia.
But there is hope! Many NGOs and other social services are working hard towards changing attitudes. Rifka Annisa is one of many in Indonesia by providing counselling, legal and medical support (if needed) and safe houses. These NGOs are readily available and frequently engage in awareness campaigns alerting women in Indonesia to the options of aid in matters relating to domestic violence. They make up an important part of Indonesia's response to domestic violence and reflect that change is happening.
We had the opportunity to interview one of the psychological counsellors here at Rifka Annisa, here's a small excerpt of what we talked about! (Please note entries have been edited for length and clarity)
''Apart from physical violence, what other types of violence are experienced by victims?
"I meet with clients who have experienced different forms of domestic violence such as physical violence and psychological abuse. Often clients come to Rifka Annisa because their husbands are having an affair and have left them. In the area of economic abuse, the day to day living expenses of a housewife in Indonesia with three kids in school maybe 50.000 rupiah ($5.00 AUD), however, her husband might only allocate her 10.000 rupiah ($1.00AUD). Therefore the wife's psychological health is ignored by the husband and he doesn't pay attention to the conditions of the household in which he is the primary income earner.''
"What do you think should be the main priority to overcome domestic violence in Indonesia?
"Empowerment and awareness. That the client understands in dangerous situations, in violent situations, what they need to do. For example, a "safety plan" so when she is beaten she screams or says "no", or by building a support system she can tell her family that she is often beaten, she can also prepare important documents, including her identity card, in case she has to run away… So what we really build is empowerment and awareness when the client comes to us." 
If you'd like to read more about Rifka Annisa check out their website here: http://www.rifka-annisa.org/id/
Also have a listen to the BBC podcast 'Behind Closed Doors: Solutions to Domestic Abuse in Indonesia' which features Rifka Annisa!
https://www.bbc.co.uk/programmes/w3csw5y4