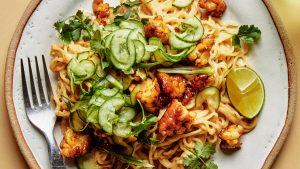 Pan-fried or deep-fried, battered or braised, simmered or steamed, tempe can do it all. This cultured soy-based protein might finally be gaining the cult status it deserves.
In the news
On the Blog
In celebration of Harmony Day & the UN International Day for the Elimination of Racial Discrimination held each year on 21 March, AIYA's Kumpul: Indigenous Engagement committee held a creative writing competition. The competition was judged by published author and former journalist, Lily Yulianti Farid who is the founder and current Director of the Makassar International Writers Festival. Read the winning piece titled "I.D.E.A as Idea Bank", written by Michelle Marietta Secoa here.
Events
JOIN AIYA ON DISCORD! AIYA would like to cordially invite you to join our new Discord, an online group-chatting platform. We will be using Discord a digital hub for AIYA activities including:

FLEX – our online language exchange is shifting over to Discord from UniBridge
Games nights – AIYA will be hosting casual and impromptu gatherings on Discord
Ngobrol santai – any AIYA member will be able to join and chat with other members whenever you want.
JOIN AIYA IN-PERSON LANGUAGE EXCHANGE! LX is back in multiple locations across Australia. Connect, chill, and converse with like-minded youth, meet new friends and engage in cross-cultural exchange. In-person language exchange is on:

WA: Every Wednesday fortnight, 6 PM, Old Shanghai Northbridge. Follow @aiya_wa on Instagram or Facebook for more info.
NSW: Every Wednesday, 6 PM, Darling Square (food court underneath library). Follow @aiya_nsw on Instagram or Facebook for more info.
Opportunities
Like what we do? Want to join or support your local chapter to contribute to our exciting activities? Sign up as an AIYA member today!