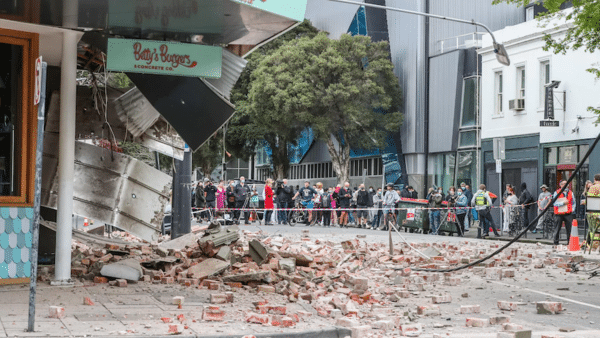 Melbourne has been struck by a rare earthquake, with tremors felt across South-East Australia.
The 5.9 magnitude quake, with an epicentre near Mansfield in North-East Victoria was felt as far away as Launceston, Adelaide, and Newcastle in regional New South Wales.
The destruction was limited, with no reported deaths, although a Chapel Street burger restaurant suffered significant damage.
Thousands of Victorians were evacuated from their buildings as the earthquake struck at 9:15am on September 22.
How Significant Was the Damage?
The earthquake caused limited damage, with few buildings enduring the same fate as the Chapel Street burger shop.
The SES (State Emergency Service) received over 100 calls for assistance, but most related to minor building damage, as opposed to total collapse.
Melbourne residents were fortunate that the epicentre was 130km away from the city, limiting the scale of the damage. Had such an earthquake occurred directly under a major city, far more significant damage would be expected.
Were there aftershocks?
There have been aftershocks, but none have been nearly as significant as the initial quake, with the largest aftershock measuring at a magnitude 4.1.
Victorians have been told to expect aftershocks to continue for a number of weeks. These will likely continue to decrease in magnitude over time, and only be felt close to the epicentre.
Authorities have confirmed that there is no Tsunami risk.
How Common Are Earthquakes in Australia?
Earthquakes in Australia are relatively rare, given Australia is not situated in a tectonic plate boundary. As such, the earthquake risk is much lower in Australia than in neighbouring countries such as New Zealand and Indonesia.
Associate Professor Mark Quigley told the ABC that a quake of such magnitude occurs every 6-10 years in Australia, but usually goes unnoticed by humans.
Whilst earthquakes in Australia are rare, they can cause significant damage, with the 1989 Newcastle earthquake killing 13 people, and damaging 35,000 homes.