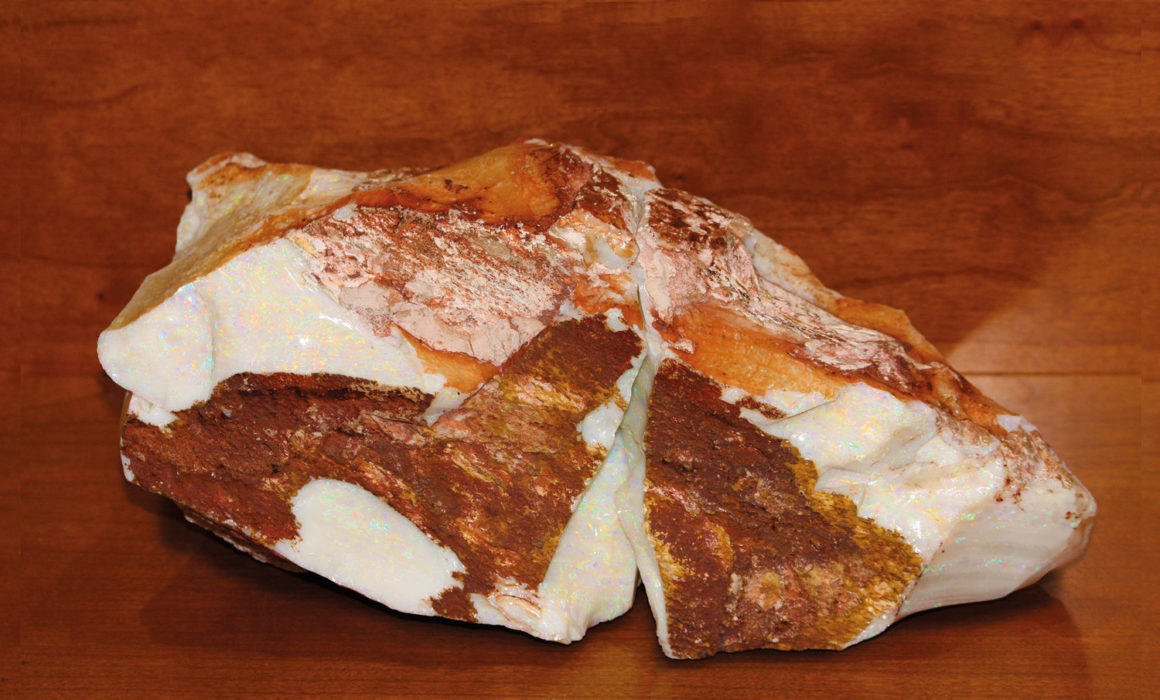 The Opal Capital of the World
Written by Maddie Crothers – AIYA National Blog Editor
Indonesian translation by Gabriella Pasya – AIYA National Translation Team
Click here for Bahasa Indonesia version.
Located over 800km North of South Australia's capital, is the world-famous town of Coober Pedy. With a meagre population of 1700, what brings over 150,000 tourists a year to this isolated town? Why does over half the population live underground? And how is water sourced in this outback desert?
Coober Pedy's 'mock' Hollywood sign. Image: @parky.au (Instagram), posted on South Australia's Facebook.
A Mining Town
Based on the local Aboriginal language, the name Coober Pedy roughly translates to 'white man's hole', referencing the mining culture of the town. In 1915, a teenage boy found the first opal in Coober Pedy, after leaving his camp in search of water. This event encouraged an influx of miners to the town.
Coober Pedy is surrounded by dirt mounds where mining shafts have been built. Image: Australian traveller.
In 1945, Aboriginal lady Toddy Bryant found a major fresh opal source only 20 centimetres below the earth's surface. This was the start of the 8-mile opal field, where in 1956, the largest opal in the world was found. The 'Olympic Australis' opal weighed 17,000 carats worth approximately 2.4 million Australian dollars (26 billion IDR).
The Olympic Australis Opal. On display at the Altmann + Cherny showroom, Sydney, Australia. Image: Altmann + Cherny.
Opal is a unique gemstone due to its ability to reflect light and flash fiery colours. Compared to other regions of the world, opal found in Australia is of superior quality, therefore is increasingly expensive. Quality is usually based on colour, play of colour, pattern, body tone, brightness, shape and origin. Types of Australian opal include black opal, white opal, crystal opal, fire opal and boulder opal. Different types of opal have different values. For example, Australian 'fire opal' has pale colours on a lighter background, and is more affordable, compared to 'black opal', which is the most expensive type due to its dark background and contrasting bright colours of greens, reds and purples, this type is more valuable. Opal is important to Australians, not only because of its beauty but also because of its economic value. Opal production was worth approximately 47 million Australian dollars (approximately 510 billion IDR) in 2007-2008.
Coober Pedy's Sustained Fame
Today, mining efforts have decreased, however, Coober Pedy remains most famous for its opal. In the 1970s, Coober Pedy had over 1000 miners, today, there are only about 100. Even so, Australia remains to produce 95 per cent of the world's opals, where 85 per cent of opal is located in Coober Pedy, rightfully achieving the title of Opal Capital of the World. The town's main street is full of shops that contain opals of all shapes, forms and sizes becoming a popular souvenir purchase for tourists.
Additionally, film fanatics have been brought to the town. Coober Pedy has been the location for many popular films like 'Mortal Kombat', 'Mad Max', 'The Adventures of Priscilla, Queen of the Desert', 'Pitch Black' and many more.
Recently, Coober Pedy has been thought to attract many tourists due to its progressive sustainability. The area has optimised the climate through the use of solar panels and windmills that power the town with 70 per cent renewable energy.
For most Australians, Coober Pedy is a popular camping stopover when on a road trip to visit Uluru, Alice Springs or Adelaide, therefore, the town is always likely to be a popular tourist destination.
Who Lives There And Why?
Approximately, 60 per cent of residents are of European heritage, who relocated to Coober Pedy after the second-world war. Additionally, Antakirinja people live particularly around Coober Pedy and Oodnadatta, with 17 per cent of residents being Aboriginal or Torres Strait Islander.
In Coober Pedy there are many homes above ground, however, most locals opt to live underground. With homes being converted and extended from old mining holes. Locals have found underground homes to be the coolest and most sustainable way to live, as temperatures can reach up to 53 degrees celsius. It has been said that some residents would use explosives in their homes to find opal and sometimes accidentally blast into their neighbour's homes. While some families in Coober Pedy have accidentally found opal during the process of renovations. With one of the residents saying, 'Coober Pedy is probably one of the only places in the world where you can do renovations or extensions and make money' due to discovering opal. It is not only locals that live in this unique way, but churches, shops and hotels can also be found underground.
Serbian Orthodox Church of St. Elijah. Image: Steve Collins.
Water In The Desert
The harsh environment of Coober Pedy has made it challenging for residents to obtain safe and adequate amounts of water. In 1922, the government built a water tank that held 2 million litres of water. However, there were continued efforts to introduce a more reliable water source. In 1967, a solar desalination plant was implemented to utilise saltwater from underground to produce fresh water. Now, a modern treatment plant manages the sanitation of the town. However, Coober Pedy continues to struggle with the challenge of water supply. Ageing infrastructure and pipes has led to 35 per cent of treated water being lost in the ground. Therefore, locals are paying three times more for water compared to the rest of the state. The state government is currently actively working to find increasingly suitable solutions.
Coober Pedy is an iconic town with a rich history. The combination of rare gems, underground homes and the desert, makes this a unique Australian town.