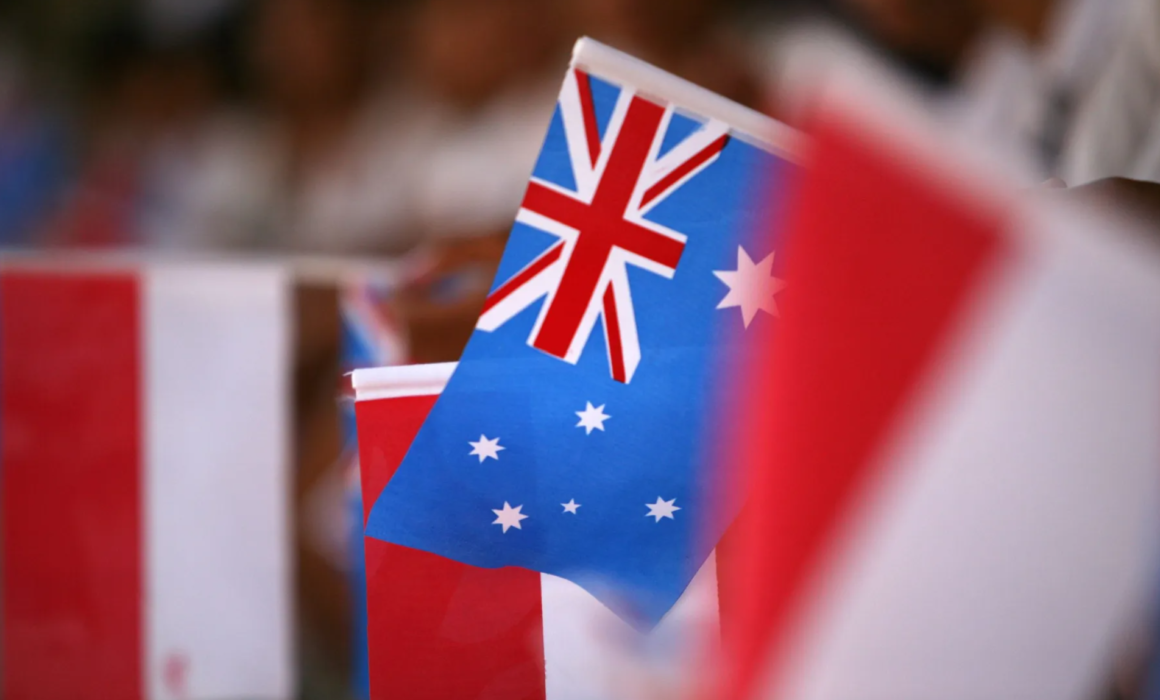 The Most Useful Resources for Australian University Students to Learn Indonesian.
In the news
Tune In
Aoura Lovenson Chandra, a Film Producer and Chief of Finance and Business of BASE Entertainment, and Hermina Manlea, a Film Enthusiast and Lecturer at Timor University, take you behind the scenes to talk about their hopes for Indonesia's future film industry and how it can be leveraged to build cultural understandings between Indonesia and Australia. Listen to this OzAlum podcast episode here.
Events
Join NAILA (the National Australia Indonesia Language Awards) for a zoom webinar about career opportunities that can be gained from having Bahasa Indonesia skills. This online event will be held on 28 Apr, 7pm. Register here
Katalis has organised you to meet leading Indonesian and Australian businesses that are catalysing the bilateral economic relationship and find out how your business too can benefit from Katalis support. Event will be held on Apr 8, 10.30am WIB. Register here
AIYA Indigenous Engagement Events! Kumpul, AIYA's Indigenous Engagement Committee have worked to construct and host some events in celebration:
JOIN AIYA ON DISCORD! AIYA would like to cordially invite you to join our new Discord, an online group-chatting platform. We will be using Discord a digital hub for AIYA activities including:

FLEX – our online language exchange is on Discord and open to anyone with any level of Indonesian and English.
Games nights – AIYA will be hosting casual and impromptu gatherings on Discord
Ngobrol santai – any AIYA member will be able to join and chat with other members whenever you want.

JOIN AIYA LANGUAGE EXCHANGE (IN-PERSON or ONLINE!) LX is back in multiple locations across Australia. Connect, chill, and converse with like-minded youth, meet new friends and engage in cross-cultural exchange. In-person language exchange is on:

VIC: Every Wednesday, 6pm, Carlton Gardens (outside IMAX). Follow @aiya_victoria on Instagram or Facebook for more info.
NSW: Every Wednesday, 6pm, Online on Zoom. Follow @aiya.nsw on Instagram or Facebook for more info.

MISS 2 Investing in the future of language studies by learning from the past – In this talk Melissa Crouch will consider the importance of mainstreaming the study of Asia as a complimentary strategy to support language studies. Talk will be held on 7 Apr, 4 – 5pm. More information here
Some reflections on Indonesia and the resource curse – Natural resources – blessing or curse? Indonesia provides an excellent case study for an examination of these issues. Session held on 12 April, 2 – 3.30pm. Register here
Wominjeka Song Cycle – A night of celebration and reconciliation. Audiences will be taken on a journey through the traditional languages of the Boon Wurrung, Yorta Yorta and Wadawurrung nations in this powerful and evocative performance. Held on April 12 at Melbourne Recital Centre, get your tickets her
A group of young Indonesian Australian artists are showcasing their talents at the Fox Lane Activation from 7 – 8pm, 23 Apr.. More information here
PPIA University of Sydney brings 'Zoom into Your Future'; 4-part panel discussions by industry experts to provide Indonesian youth, from students to young professionals, with skills and knowledge needed to prepare for their future! Held on 26 Mar, 9 & 23 Apr, register here.
AIATSIS Summit calls for papers! This year's theme, Navigating the spaces in between, foregrounds the brilliance and value of Indigenous ways of knowing and seeing the world. Attend the summit on 30 May – 3 Jun. More info here.
Opportunities
Career Insights: Graduate Programs in International Affairs. In this article, YAIA has pulled together a curated list of graduate programs with an international focus, across federal Government departments and agencies, state and territory governments, and the private sector, that are available to apply for in 2022 (with most commencing in 2023). Find out morehere
Young Australians in International Affairs (YAIA) is looking for a Digital Events Officer to help organise weekly online events including panels, workshops and social events. Applications close 6 Apr. More information here
The Conversation Indonesia is looking for a talented bilingual podcast producer to create engaging and creative content for their readers. Apply here before 8 Apr.
ACICIS' longest standing in-country study program is The Flexible Language Immersion Program. Hosted by UGM, the language immersion program offers participants great flexibility in designing a study program to meet home university equivalency requirements or to suit a student's personal interests. More info here.
The Australian National University is calling for applications for Ruth Daroesman Graduate Study Grant and ANU Indonesia Project Research Travel Grant. Submit your application before 3 Apr.
Australia RTO operating in Indonesia is hiring a Country Development Officer as an in-country marketing officer and to grow recruitment channels for Indonesian students. Apply here.
Prospera is looking for a Research Officer (Policy and Strategy Unit) to provide the analytical foundation for Prospera's works in addressing the analytical needs of engagement areas, responding to new and emerging policy trends, and framing economic policy issues. Apply here before 15 Apr.
Australia for ASEAN Scholarships are now open! Australia for ASEAN scholarships are prestigious international awards offered by the Australian Government to the next generation of leaders from ASEAN member states.Applications close on the 29 Apr. More information here
ACICIS intends to provide in-country study again from semester 2, 2022. In the meantime, we encourage you to register your interest by completing the first part of their online application form.
Australian Awards Scholarship sudah buka! Dengan beasiswa ini, kamu bisa mendapatkan beasiswa fully-funded saat kuliah di Australia! Daftar sebelum 29 April, info lebih lanjut di sini.
Totallyawesome Australia is looking for an account manager (digital media) with a sharp eye for attention to detail and ambition for growth within the kids' media space.The company is based in Singapore with offices across Asia. Apply here
Bukalapak, an Indonesian-based tech unicorn with over 100 million users, 2 thousand plus employees, and a brand new office opening right here in Melbourne! They are looking for multiple positions in Software Engineering in Sydney and Melbourne. Apply here.
Australian Government is receiving applications for Working Holiday Maker program that allows young adults to have a 12 month holiday, during which they can undertake short-term work and study. More info here.
Asialink has opened their 2022 Asialink Leaders Program. With over 26 years of history, the Asialink Leaders Program is Australia's premier program for the Asia capable leaders of today and tomorrow, empowering over 950 alumni globally. More info here
Do you have a great Indonesia-Australia business development idea that needs connecting and support?Submit your ideas to Katalis through its business portal here. Proposals can be submitted all year, and will be subject to approval from the governments of Indonesia and Australia.
TechieRank.com is a free service from an Aussie Startup that is aiming to help young Indonesian techies stand out to recruiters and employers. Find out more here.
DFAT has established the Emerging Markets Impact Investment Fund (EMIIF) which seeks to support development ideas across the Indo-Pacific region. If you have a bright development idea consider applying for support here.
Lakoat Kujawas is calling for proposals for the art residency program 2021-2022! The community of Taiftob Village, Mollo, NTT is open for collaboration with interdisciplinary artists and food activists. More info here.
The Australian National University is seeking a Senior Partnerships Manager (here) and Senior Partnerships Officer (here) to be based in Jakarta. The role will primarily focus on student recruitment activities and partnerships in Indonesia.
The Australian National University is offering a course on introduction to Indonesia's economy and policy environment. This is a chance to learn from world experts on the Indonesian economy in a two-day intensive course. More info here.
Asia Society is looking for a Special Assistant and Advisor to the President. Apply here.
Australian Volunteers is temporarily suspending overseas placements but are continuing to support partner organisations through remote volunteering. If you're interested in volunteering in-country then check-out a range of opportunities here.
Inside Indonesia publishes original pieces on a wide range of political, social, environmental, and cultural issues in Indonesia. They accept articles from people who have an interest in Indonesia. To find out how to contribute, click here.
Like what we do? Want to join or support your local chapter to contribute to our exciting activities? Sign up as an AIYA member today!