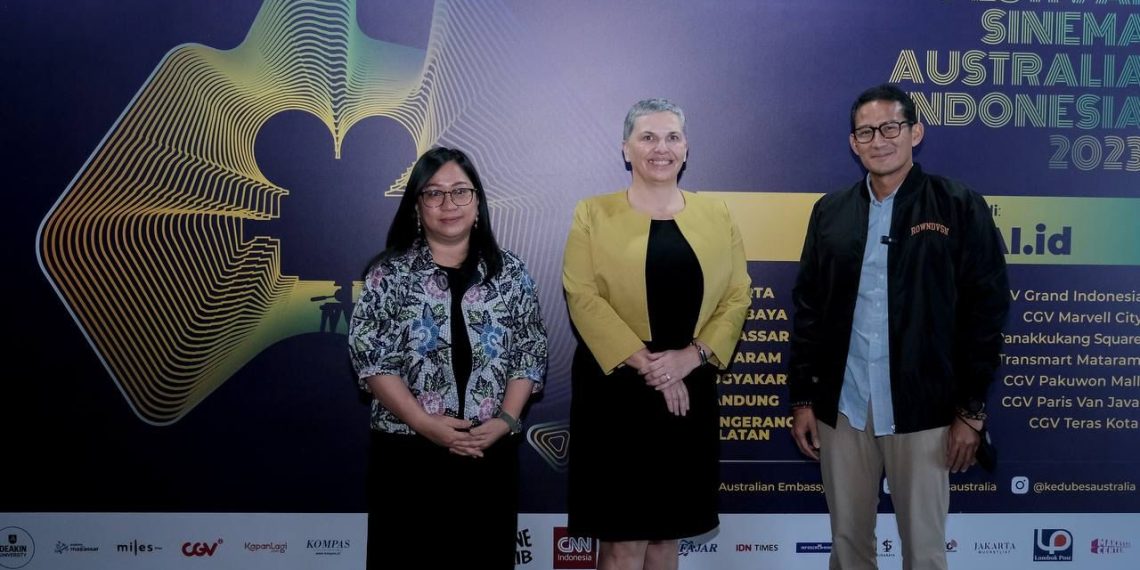 Keberhasilan Australia memajukan industri perfilmannya di tingkat dunia menarik perhatian banyak pihak. Salah satunya, Kementrian Pariwisata dan Ekonomi Kreatif/ Badan Pariwisata dan Ekonomi Kreatif Baparekraf.
In the News
Events
AIYA Indigenous Engagement Events! The Kumpul Committee was established to connect with and celebrate the Indigenous cultures of both Australia and Indonesia.
JOIN AIYA ON DISCORD! AIYA would like to cordially invite you to join our Discord, an online group-chatting platform. We will be using Discord a digital hub for AIYA activities including:

Games nights – AIYA will be hosting casual and impromptu gatherings on Discord
Ngobrol Santai – any AIYA member will be able to join and chat with other members whenever you want.

JOIN AIYA FLEX – our online language exchange now moved to Zoom! It is open to anyone with any level of Indonesian and English, and held monthly on the first Sunday of the month at 1pm WIB/4pm AEST. Starting on 4 September, join FLEX here (a recurring link).
JOIN AIYA LANGUAGE EXCHANGE (IN-PERSON or ONLINE!) LX is back in multiple locations across Australia. Connect, chill, and converse with like-minded youth, meet new friends and engage in cross-cultural exchange. In-person language exchange is on:

ACT: Every Wednesday, 6pm, Marie Reay Building, ANU. Follow @aiya_act on Instagram or Facebook for more info.
NSW: Every Wednesday, 6pm, Online on Zoom. Follow @aiya.nsw on Instagram or Facebook for more info.
VIC: Every Wednesday, 6pm, Gallery Room, Multicultural Hub, 506 Elizabeth St, Melbourne VIC 3000. Follow @aiya_victoria on Instagram or Facebook for more info.

YOGYA: Biweekly on Mondays, 7pm, Lokio Cafe. Follow @aiya.yogyakarta for more info.

AIYA SulSel will host a LPDP Sharing Session to talk about the LPDP program for those interested in continuing their master's and doctoral programs in University by getting scholarships from LPDP on 25 February at 1pm at STIE NOBEL Aula. Register here.
AIYA Jawa Barat will host an online webinar in collaboration with Ivy League Bandung to share information about studying abroad and a preparation to get scholarships such as AAS or LPDP on 25 February. Link here.
ANU will host a book launch of 'In sickness and in health: Diagnosing Indonesia takes a snapshot of the state of health and healthcare provision in Indonesia' will be held at the Coombs Tea Room in Canberra at 3:30pm on 22 February. Register here.
Monash University is leading a hybrid seminar about 'How Ternate is leading a food revolution' on 24 February at Sir Louis Matheson Library, Meeting Room L1.02, Clayton Campus & via Zoom at 3pm. Register here.
Monash University is hosting a LPDP Sharing Session on 24 February at 7pm. Register here.
Festival Sinema Australia Indonesia is on until 18 March. Check out the dates and the line up here.
Opportunities
Like what we do? Want to join or support your local chapter to contribute to our exciting activities? Sign up as an AIYA member today!