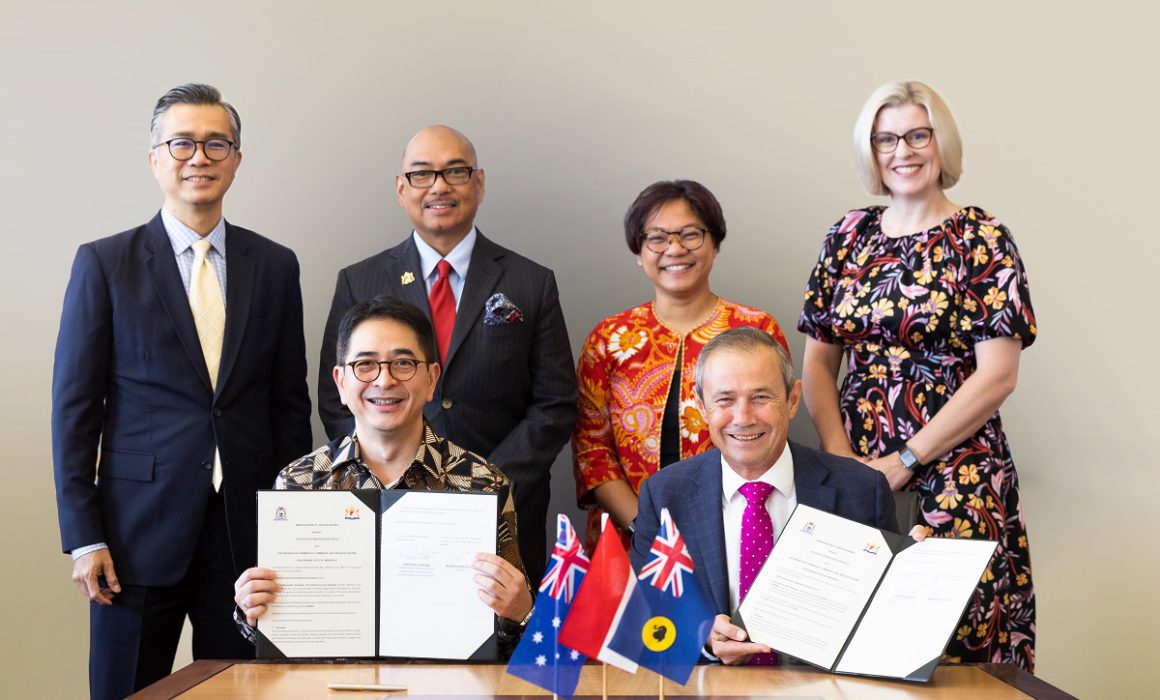 The Western Australian Government has signed a new Memorandum of Understanding (MoU) with the Indonesian Chamber of Commerce and Industry (KADIN) to collaborate in the area of critical minerals. The signing of the MoU demonstrates Western Australia's commitment to engaging with key Asian markets, such as Indonesia, as part of the Asian Engagement Strategy 2019-2030.
In the News
Australia's closest international neighbour is only a three-hour boat ride from Darwin however less than 1 percent of ACT college students are learning the Indonesian language, with opportunities to take up such studies diminishing each year. The Asia Education Foundation has released a pre-budget submission calling for funding of Asian languages. (The Canberra Times)
By examining the major industrial facility of the port of Makassar, it has been found that significant gaps exist in digital literacy between the education system and industrial needs, as well as within the current workforce. (Australia Indonesia Centre)
Balai Bahasa dan Budaya Indonesia (BBI) di Australia mengajak diaspora Indonesia di negara itu untuk turut mempromosikan Bahasa Indonesa di negara Kangguru tersebut. (Antara News)
Globally, among 232 countries, there has been an increasing trend of carbon emissions. Many historical events have slightly reduced emissions yet only faced failure as it has been going upward. Based on the projection, the scenario that will be implemented by the Government of Indonesia might bring us to travel back in time up to 2010. (Medium)
Tune In
It's no secret that trade improves women's economic empowerment. In indonesia especially, women's entrepreneurship continues to boost economic activities, support families, and promote gender equality. In 'Empowering Women in Trade', we explore how to take women's entrepreneurship to the next leve. This episode features an interview with Dewi Harlas, CEO of Diva Prima Cemerlang, and manda Robbis, Founder, Equity Economics. Listen here.
Events
AIYA Indigenous Engagement Events! The Kumpul Committee was established to connect with and celebrate the Indigenous cultures of both Australia and Indonesia.
JOIN AIYA ON DISCORD! AIYA would like to cordially invite you to join our Discord, an online group-chatting platform. We will be using Discord a digital hub for AIYA activities including:

Games nights – AIYA will be hosting casual and impromptu gatherings on Discord
Ngobrol Santai – any AIYA member will be able to join and chat with other members whenever you want.

JOIN AIYA FLEX – our online language exchange now moved to Zoom! It is open to anyone with any level of Indonesian and English, and held monthly on the first Sunday of the month at 1pm WIB/4pm AEST. Starting on 4 September, join FLEX here (a recurring link).
JOIN AIYA LANGUAGE EXCHANGE (IN-PERSON or ONLINE!) LX is back in multiple locations across Australia. Connect, chill, and converse with like-minded youth, meet new friends and engage in cross-cultural exchange. In-person language exchange is on:

ACT: Every Wednesday, 6pm, Marie Reay Building, ANU. Follow @aiya_act on Instagram or Facebook for more info.
NSW: Every Thursday, 6:30pm, alternating between in-person and online on Zoom. Follow @aiya_nsw on Instagram or Facebook for more info.
VIC: Every Wednesday, 6pm, Gallery Room, Multicultural Hub, 506 Elizabeth St, Melbourne VIC 3000. Follow @aiya_victoria on Instagram or Facebook for more info.

YOGYA: Biweekly on Mondays, 7pm, Lokio Cafe. Follow @aiya.yogyakarta for more info.

IA-CEPA Katalis is hosting a seminar on "Preparing Indonesian Nurses for Global Healthcare" on 7 March at the Ayana Midplaza, Jakarta. Register here.
Monash University's Herb Feith Indonesian Engagement Centre is hosting a dialogue with Dr Anies Baswedan, who will explore the topic of Indonesia and Urban Transformations, which will be followed by an interactive Q&A session, moderated by Professor Andrew MacIntyre, President of Monash University, Indonesia and Associate Professor Sharyn Davies, Director of the Herb Centre, on the 8th of March. Places are limited, register here.
Join YAIA on International Women's Day in Melbourne to discuss Women in 21st Century Foreign Policy and launch the 2023 Young Women to Watch list. Register here.
The ANU Indonesia Institute is hosting an Indonesian Student Social on 9 March, where students and scholars can meet and learn about study abroad programs, uni courses, student groups, and more opportunities, over a selection of Indonesian food. Register here.
AIBC is hosting a networking event with The Australian Ambassador to the Republic of Indonesia, Her Excellency Ms Penny Williams PSM on 9 March in Perth. Click here for more information and to register.
AIBC is hosting a hybrid lunchtime conversation with Andrew Parker, Senior Trade & Investment Commissioner, ASEAN, Investment NSW, on 16 March. It will highlight some of the opportunities for NSW Business from the MOU that was recently signed between the NSW Government and the city of Jakarta. Register here.
Opportunities
Like what we do? Want to join or support your local chapter to contribute to our exciting activities? Sign up as an AIYA member today!