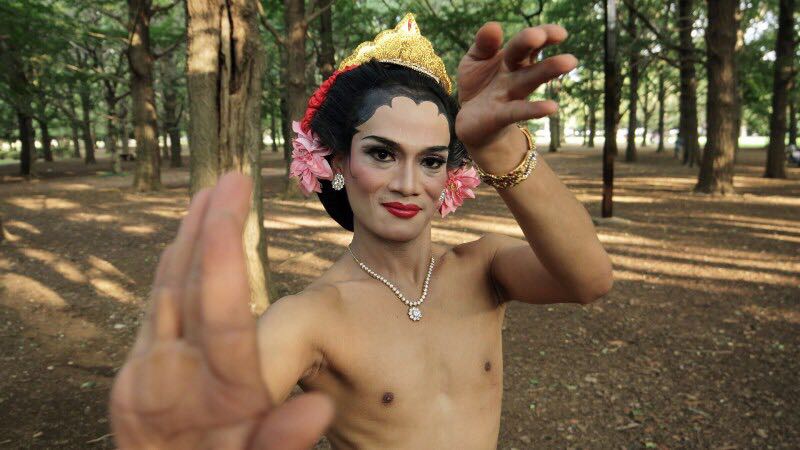 New digital technologies at the Victorian College of the Arts (VCA) are helping to preserve Lengger Lanang, a centuries old cross-gender dance from Central Java.
In the news
Tune in
Events
AIYA Indigenous Engagement Events! Kumpul, AIYA's Indigenous Engagement Committee have worked to construct and host some events in celebration:
JOIN AIYA ON DISCORD! AIYA would like to cordially invite you to join our new Discord, an online group-chatting platform. We will be using Discord a digital hub for AIYA activities including:

FLEX – our online language exchange is on Discord and open to anyone with any level of Indonesian and English.
Games nights – AIYA will be hosting casual and impromptu gatherings on Discord

Ngobrol santai – any AIYA member will be able to join and chat with other members whenever you want.

JOIN AIYA LANGUAGE EXCHANGE (IN-PERSON or ONLINE!) LX is back in multiple locations across Australia. Connect, chill, and converse with like-minded youth, meet new friends and engage in cross-cultural exchange. In-person language exchange is on:

VIC: Every Wednesday, 6pm, Gallery Room, Multicultural Hub, 506 Elizabeth St, Melbourne VIC 3000. Follow @aiya_victoria on Instagram or Facebook for more info.
NSW: Every Wednesday, 6pm, Online on Zoom. Follow @aiya.nsw on Instagram or Facebook for more info.

AIYA Jakarta and AIYA National are hosting a Malam Karier panel at Tanamera Coffee at 5pm on 30 July. Register here.
Suara Dance will be holding an open Indonesian dance class on 30 July. More information here.
The University of Sydney is hosting a webinar – ASEAN in Focus 2022: What does Australia need to know about ASEAN? On 4 August at 5pm. Register here.
AIYA Victoria is hosting a workshop on How to Ace Your Job Interview: Australian Edition. Professional recruiter Anna Gradoboeva is here to give you the tips and tricks on landing your next job at the Kathleen Syme Library and Community Centre on 6 August. Register here.
PPIA of South Australia is hosting a treasure hunt for Independence Day on 13 August at 10am at the South Australia Museum. Register here.
The Indonesia Project by Australian National University is presenting the 39th Indonesia Update. Gender Equality and Diversity in Indonesia: Identifying Progress and Challenges. The conference will be held in Canberra and online on 16-17 Sept. More info here.
Are you interested in learning Indonesian dances and music virtually? Come and join KJRI Melbourne for their Virtual Indonesia Arts and Culture Scholarship (IACS) "Aku Rindu Indonesia". Find info and register here.
Opportunities

The University of Melbourne is hiring a Digital Marketing and Communications Officer, you will support the delivery of key communications, content and digital marketing activities to support the awareness and advocacy of AEF education program. Register by 3 August here.
Australian Government is looking for a Strategic Communications Manager to work independently from DFAT's strategic engagement team and promote Australian Defence activity in Indonesia as well as Australian Indonesian Defence Alumni Association. Apply here by 3 August.
Cardno is looking for a Business Contract Manager to assist Katalis in identifying, managing communication with, and brokering partnerships between businesses in Indonesia and TVET providers in Australia. Apply here by 9 August.
KBRI Canberra is hosting a Bahasa Indonesia speech competition for Indonesia's 77th Independence Day celebrations. They are accepting entries until 10 August here.
University of Melbourne is looking for a Learning Programs Designer as part of a collaborative project team on the design and development of core programs for the Asialink Business Academy. Apply here by 10 August.
Australia Awards Scholarship (AAS) is receiving applications for a G20 "Recover Together, Recover Stronger" Scholarship that will be awarded specifically for courses that fit under Indonesia's G20 priority areas, namely Global Health Architecture, Sustainable Energy Transition and Digital Transformation. Apply by 12 August and find more info here.
​​Katalis 
The Australian Consortium for 'In-Country' Indonesian Studies (ACICIS) is offering a second round of applications for ACICIS Summer 2023 programs. Up to $4,000 New Colombo Plans grants available. Apply by 14 August 2022. More info here.
The Australian Consulate-General in Makassar is calling for Australian alumni residing in the 11 eastern Indonesia provinces covered by its jurisdiction to apply for a University of New South Wales online short course, "Leading an Organisation Through Dynamic Environments". Eleven applicants will be selected to join the course, from 3 to 23 August 2022, to develop their skills and links with Australia. More details here.
RMIT is looking for Indonesian participants to fill a survey about 'Sexual and Reproductive Health Information Access, Sources and Information-Seeking Behaviour Amongst Indonesian Young Adults'. Survey can be found here, the last participants will be accepted on 23 August.
NAILA submissions are open, and will close on 31 August. This year's theme is relationships/hubungan. Submissions can be made here and information about the competition can be found here.
The University of Sydney is offering a postgraduate research scholarship for in Opioid policy and use in Indonesia. Apply here.
ACICIS is looking for campaign volunteers to be part of a national initiative aimed at shifting Australia's monolingual mindset and promoting the study of languages among Australian university students. Apply here.
South Pole is looking for a Climate Projects Regional Director to own and grow the Climate Projects Business Line presence in South East Asia & Australia. Apply here.
ReelOzInd! Short Film Competition and Festival is back in 2022 and can't wait to share its festival of short films with audiences in Indonesia, Australia and beyond. This year our theme is 'suara/voice'. Submit your entry here.
Bukalapak, an Indonesian-based tech unicorn with over 100 million users, 2 thousand plus employees, and a brand new office opening right here in Melbourne! They are looking for multiple positions in Jakarta, Sydney and Melbourne. Apply here.
Do you have a great Indonesia-Australia business development idea that needs connecting and support? Submit your ideas to Katalis through its business portal here. Proposals can be submitted all year, and will be subject to approval from the governments of Indonesia and Australia.
Australian Government is receiving applications for Working Holiday Maker program that allows young adults to have a 12 month holiday, during which they can undertake short-term work and study. More info here.
DFAT has established the Emerging Markets Impact Investment Fund (EMIIF) which seeks to support development ideas across the Indo-Pacific region. If you have a bright development idea consider applying for support here. 
Lakoat Kujawas is calling for proposals for the art residency program 2021-2022! The community of Taiftob Village, Mollo, NTT is open for collaboration with interdisciplinary artists and food activists. More info here.
The Australian National University is offering a course on introduction to Indonesia's economy and policy environment. This is a chance to learn from world experts on the Indonesian economy in a two-day intensive course. More info here.
Australian Volunteers is temporarily suspending overseas placements but are continuing to support partner organisations through remote volunteering. If you're interested in volunteering in-country then check-out a range of opportunities here.
Inside Indonesia publishes original pieces on a wide range of political, social, environmental, and cultural issues in Indonesia. They accept articles from people who have an interest in Indonesia. To find out how to contribute, click here.
Career Insights: Graduate Programs in International Affairs In this article, YAIA has pulled together a curated list of graduate programs with an international focus, across federal Government departments and agencies, state and territory governments, and the private sector, that are available to apply for in 2022 (with most commencing in 2023). Find out more here.
YAIA (Young Australians in International Affairs) A is seeking to appoint a new Chief Executive Officer (volunteer). The CEO is responsible for driving the strategic direction of the organisation, ensuring it delivers against its vision and overseeing the operations of the organisation. More info here.
Australia RTO operating in Indonesia is hiring a Country Development Officer as an in-country marketing officer and to grow recruitment channels for Indonesian students. Apply here.
Like what we do? Want to join or support your local chapter to contribute to our exciting activities? Sign up as an AIYA member today!