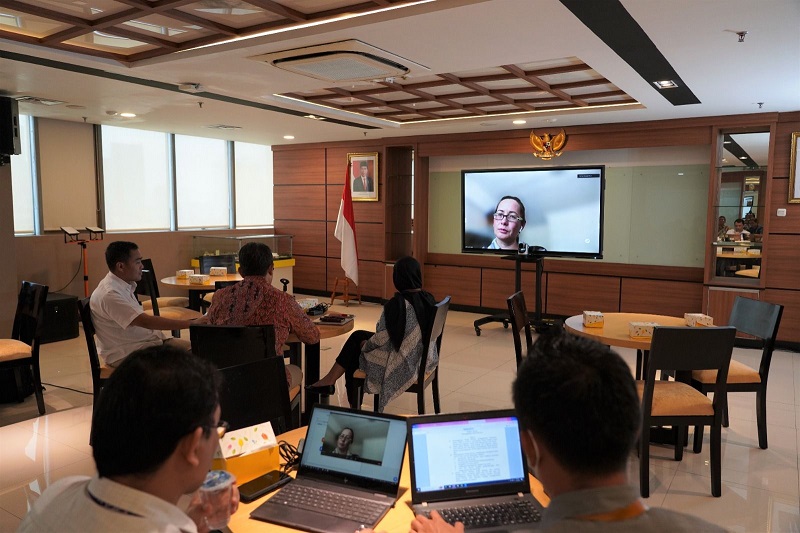 Direktur Pembinaan Program Migas Direktorat Jenderal Minyak dan Gas Bumi Kementerian ESDM, Mustafid Gunawan  menyampaikan bahwa kolaborasi ini akan menjadi dasar hubungan kerjasama antara Indonesia-Australia serta mendorong dan mempromosikan kerjasama bilateral di bidang energi bersih dan terbarukan di Indonesia.
In the News
Tune In
In late February, Joko Widodo's official social media feed showed him conducting the affairs of state from a small hut set amongst a forest of trees. This was his second overnight stay on the site of the future Presidential Palace in the yet to be built new capital city (Ibu Kota Negara, IKN). Since announcing the move from Jakarta to East Kalimantan in 2019, this has become a pet project for the second term president, which many interpret to be his final legacy before he steps away from the top job in 2024. Dr Jemma Purdey chats to Associate Professor Eka Permanasari, Associate Professor in the field of urban design, architecture and Southeast Asian Studies at Monash Indonesia. Listen here.
Events
AIYA Indigenous Engagement Events! The Kumpul Committee was established to connect with and celebrate the Indigenous cultures of both Australia and Indonesia.
JOIN AIYA ON DISCORD! AIYA would like to cordially invite you to join our Discord, an online group-chatting platform. We will be using Discord a digital hub for AIYA activities including:

Games nights – AIYA will be hosting casual and impromptu gatherings on Discord
Ngobrol Santai – any AIYA member will be able to join and chat with other members whenever you want.

JOIN AIYA FLEX – our online language exchange now moved to Zoom! It is open to anyone with any level of Indonesian and English, and held monthly on the first Sunday of the month at 1pm WIB/4pm AEST. Starting on 4 September, join FLEX here (a recurring link).
JOIN AIYA LANGUAGE EXCHANGE (IN-PERSON or ONLINE!) LX is back in multiple locations across Australia. Connect, chill, and converse with like-minded youth, meet new friends and engage in cross-cultural exchange. In-person language exchange is on:

ACT: Every Wednesday, 6pm, Marie Reay Building, ANU. Follow @aiya_act on Instagram or Facebook for more info.
NSW: Every Thursday, 6:30pm, alternating between in-person and online on Zoom. Follow @aiya_nsw on Instagram or Facebook for more info.
VIC: Every Wednesday, 6pm, Gallery Room, Multicultural Hub, 506 Elizabeth St, Melbourne VIC 3000. Follow @aiya_victoria on Instagram or Facebook for more info.

YOGYA: Biweekly on Mondays, 7pm, Lokio Cafe. Follow @aiya.yogyakarta for more info.

Australian National University will host a webinar on 'Linking economic nationalism with global value chain: Indonesia's nickel sector industrial policies' on 22 March at 12:30 AEDT. Register here.
University of New England is hosting "Nongkrong Yuk!", a chill, weekly online Indonesian conversation gathering where speakers/learners of all levels are welcome. The 2nd episode of this event will be held on 22 March, 14.00-15.00 AEDT/10.00-11.00 WIB. Dyo Pamungkash will lead the conversation. If interested, please contact Jane pr Indra via email for the Zoom link: [email protected] (Jane), [email protected] (Indra).
AIBC NSW is hosting a networking event with The Australian Ambassador to the Republic of Indonesia Her Excellency Ms Penny Williams PSM at Austrade in Sydney on 3 April at 5:30pm. Register here.
AIY ACT and AIBC ACT are hosting a networking event at the Duxton on 23 March at 6pm. Register here.
Monash University is hosting a seminar about 'The Indonesian Dream of Studying Abroad: Understanding its Implications for Subjectivity, Political Futures, and the Analysis of Intellectual Exchange' at the Monash Clayton Campus and on Zoom at 12pm on 31 March. Click here for more information and to register.
Opportunities
Like what we do? Want to join or support your local chapter to contribute to our exciting activities? Sign up as an AIYA member today!