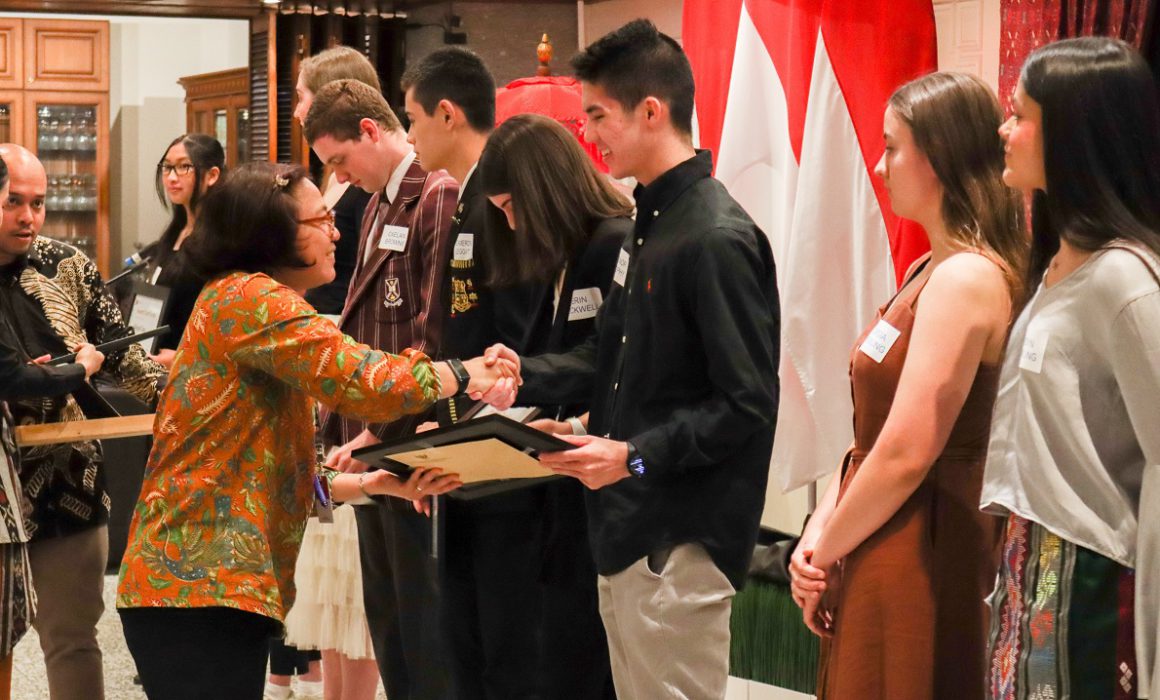 Last Thursday, the 1st Annual Indonesian Student Awards ceremony was held at the Indonesian Consulate General in Perth. The awards were presented to school students in grades 8 and 11 who achieved the highest grades in Indonesian language subject at their respective schools. (Kementrian Luar Negri)
In the News
Dubes RI untuk Australia Siswo Pramono mengapresiasi Victorian Indonesian Language Teacher's Association (VILTA) telah memfasilitasi pengiriman guru bantu Bahasa Indonesia untuk sekolah-sekolah di Victoria. (ANTARA News)
Australia's Oldest Coal-fired Power Plant, the Liddell Power Station, located in the Australian state of New South Wales (NSW), was powered down on Friday, April 28 after almost 52 years of operation. (Tempo)
State-owned Enterprises (BUMN) Deputy Minister Kartika Wirjoatmodjo revealed that LRT Jabodebek will be officially inauguratedone day after Indonesia's 78th Independence Day on Aug. 18, 2023. But the light rail transit system will be up and running a month before that, and we all get to ride for free for a month! (Coconuts Jakarta)
On the Blog
The New Colombo Plan (NCP) scholarship is a signature initiative of the Australian Government that aims to lift knowledge of the Indo-Pacific in Australia by supporting undergraduates to study and undertake internships in the region for up to 19 months. In 2023, 150 scholars were selected as recipients of the NCP Scholarship, with only eight being awarded the scholarship for Indonesia. Read NCP scholars' experience in submitting successful applications on AIYA Blog here.
Tune In
Apple podcast SBS Indonesian gave you the latest independent news and stories connecting you to life in Australia and Indonesian-speaking Australians. 
Events
AIYA Indigenous Engagement Events! The Kumpul Committee was established to connect with and celebrate the Indigenous cultures of both Australia and Indonesia.

AIYA Kumpul has an upcoming book club, spotlighting one perspective of Australia's multicultural history based on Ryan Butta's "The Ballad of Abdul Wade". The book features the lives of the Afghan cameleers who were pioneering forces of national transportation in colonial Australia. Mark your calendar and join this event on Sunday, 4 June at 5pm AEST / 2pm WIB here.

JOIN AIYA ON DISCORD! AIYA would like to cordially invite you to join our Discord, an online group-chatting platform. We will be using Discord a digital hub for AIYA activities including:

Games nights – AIYA will be hosting casual and impromptu gatherings on Discord
Ngobrol Santai – any AIYA member will be able to join and chat with other members whenever you want.

JOIN AIYA FLEX – our online language exchange now moved to Zoom! It is open to anyone with any level of Indonesian and English, and held monthly on the first Sunday of the month at 1pm WIB/4pm AEST. Starting on 4 September, join FLEX here (a recurring link).
JOIN AIYA LANGUAGE EXCHANGE (IN-PERSON or ONLINE!) LX is back in multiple locations across Australia. Connect, chill, and converse with like-minded youth, meet new friends and engage in cross-cultural exchange. In-person language exchange is on:

ACT: Every Wednesday, 6pm, Marie Reay Building, ANU. Follow @aiya_act on Instagram or Facebook for more info.
NSW: Every Thursday, 6:30pm, alternating between in-person and online on Zoom. Follow @aiya_nsw on Instagram or Facebook for more info.
VIC: Every Wednesday, 6pm, Gallery Room, Multicultural Hub, 506 Elizabeth St, Melbourne VIC 3000. Follow @aiya_victoria on Instagram or Facebook for more info.

YOGYA: Biweekly on Mondays, 7pm, Lokio Cafe. Follow @aiya.yogyakarta for more info.

The University of Sydney is having an online webinar titled "Politics in Action 2023: Indonesia update" as part of its annual forum. List of experts from SEA countries will each present for 20 minutes. Time & Date: Tues 2 May, 1.15pm(AEST) | 10.15am WIB. Click here to register.
Monash University is hosting a day of thought provoking conversations and networking and private screening of "The Endangered Generation". Time & Date: Fri 12 May 2023, Monash University Indonesia, Green Office 9 Building, Jl. BSD Green Office Park. Click here for more info.
AIYA NSW is hosting a 2 Weeks to Canberra step-a-thon event on the 15-29 May 2023. Working in teams of 4, the end goal of this event is to walk the equivalent amount of steps from Sydney to Canberra over the course of two weeks. Tickets are $5-$10 and can be bought here.
Ikatan Australia Nusantara (IKAN) PPIA Australia and AIYA Victoria to held the Indonesian Literary Symposium: A Slight Introduction. This event seeks to raise awareness and appreciation for Indonesian literature, poetry and artists. Time & Date: Saturday 27th May 2023. Click here to register.
Footscray Arts Exhibition is celebrating the continuity of art styles based on Balinese Hindu belief and local influences within the contemporary context with the Sekala Niskala exhibition. Time & Date : Tue 18 April – Sun 25 June, Footscray Community Arts. Click here for more info.
Opportunities
Like what we do? Want to join or support your local chapter to contribute to our exciting activities? Sign up as an AIYA member today!